Audi A3 Cabriolet Review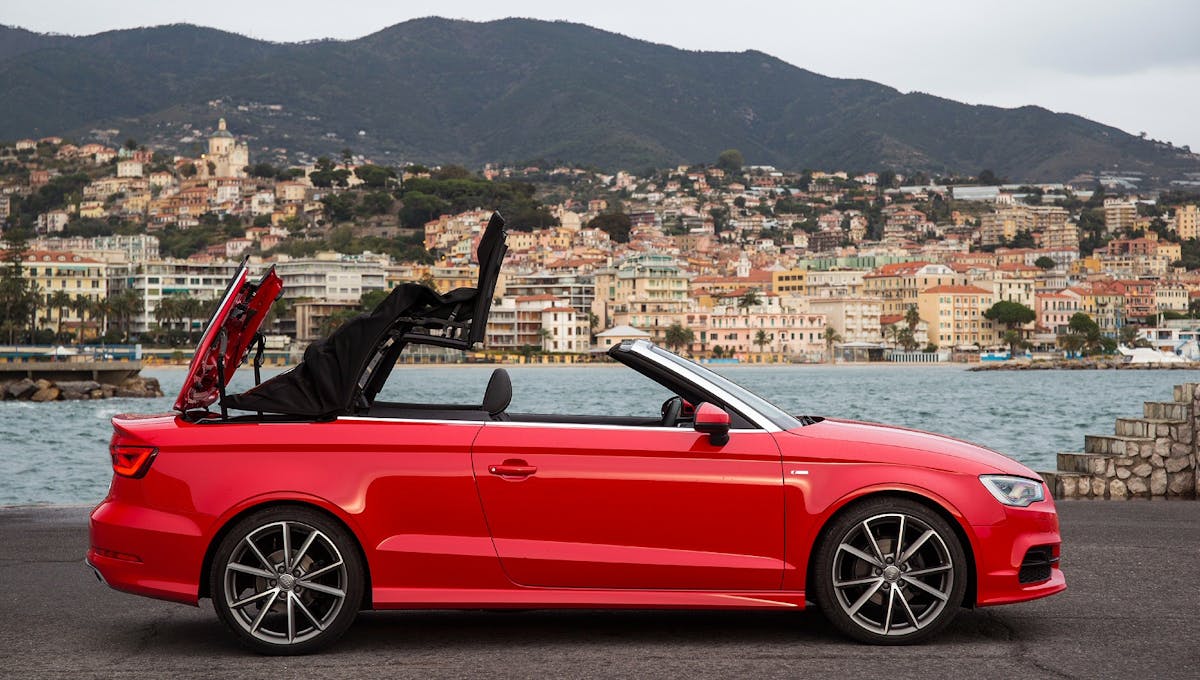 Snazzy yet effective, the Audi A3 Cabriolet is one of the best convertibles cars going. It truly is a cracking car with the performance to match it's high profile interior and sporty looks.
Let's take a look at some of the Audi A3 Cabriolet's pros and cons.
Pros
High-performance engines

Swanky cabin
Cons
Cramped rear seats

Rather expensive and boring
---
Overall Verdict
Dainty yet powerful - an oxymoronic description of one of the top-performing and best-selling open-top sports cars. The Audi A3 Cabriolet is a flexible and comfortable drive that offers a welcome escape for hard-working professionals and couples to explore the great outdoors with a front-row seat. Some of the A3 Cabriolet rivals include the BMW 2 Series Convertible and the Volkswagen Golf Cabriolet.
If you're looking to save a bit of money on your running costs, the entry-level 1.4-L engine is a trooper. It's mightily efficient thanks to its decent fuel economy and low CO2 emissions.
Boot space varies depending on whether the A3 Cabriolet's roof is up (320 litres) or down (275 litres). Legroom is pretty good in the front, but we wouldn't advise sticking tall passengers in the back for any length of time. Headroom can be pretty tight in the rear seats with the roof down, so just be aware of this if you decide to open the roof on the move. It only takes 18 seconds to fully open or close and can be done at speeds of up to 31mph.
The Audi A3 Cabriolet comes with a whole host of standard equipment to get excited about such as front sports seats, dual zone climate control, a leather steering wheel, a 7" colour MMI infotainment system as well as Audi's Drive Select system.
---
Available Trims
Sport
As you may know, the Audi A3 Cabriolet is the drop top version of the Audi A3 Saloon, which means trim highlights also go hand-in-hand. The Sport is kitted out with 17" '5-arm' design alloy wheels, SD Card Satellite Navigation, classy 'Rallye' front sports seats and dual-zone climate control when the weather isn't playing ball. You'll also get to meet Audi's Drive Select which allows you to adjust technical components like the throttle sensitivity and steering weight to ensure you receive the optimum driving experience.
S Line
Next on the pecking order, and our personal favourite - the S Line. Opt for the upgrade and you'll get a whole host of gorgeous new features, in addition to those available with the Sport level trim.
Inside, your hands will be graced with a flat-bottomed 3-spoke leather multi-function steering wheel. The exterior of the S Line trim is where most of the money is going - 18" 'parallel-spoke' design partly polished alloy wheels look all the more sporty alongside the quirky LED headlights with LED daytime running lights.
You'll also be treated to a souped-up body kit with sportier front and rear bumpers, side skirts, and a boot-mounted spoiler.
Exterior
---
The sleek design of the Audi A3 Cabriolet epitomises Audi's detailed craftsmanship. Sharp lines, striking contours and a soft-top fabric roof that transforms it from the A3 Saloon to a convertible in just 18 seconds.
On a hot summer's day, you have the luxury of the warm sun radiating on your face while the wind flows through your hair. In contrast, when the weather starts to take a turn, you can get cosy with the roof up. If you really feel like treating yourself you can opt for heated front seats, which come as standard if you go for the high-performance S3 Cabriolet - the best of both worlds!
---
Driving Experience
In terms of engine noise, you don't get much better in the drop-top game. The 148bhp 1.4-litre turbocharged 35 TFSI is a popular choice thanks to its near-silent yet gutsy engine that becomes extremely appreciated when the roof is down.
It's also the cheapest model in the range and compared to the 187 bhp 2.0-litre turbo 40 TSFI alternative, there's no real unique selling point (USP) for the sizeable step up in price apart from the speed it travels at.
Unsurprisingly, the Usain Bolt of the class belongs to the S3 306bhp turbocharged TFSI 300 quattro four-wheel drive engine. Apart from offering impeccable performance, the S3 has the capacity to rival much noisier sports cars for pace whilst hardly peeping a whistle - bravo Audi.
A six-speed manual gearbox is standard for the A3 Cabriolet, but you've also got the option of Audi's automatic seven-speed S Tronic gearbox for most engines and standard with the quattro 4WD. If you decide on the automatic gearbox watch out for a little jerky-ness while driving at slow speeds.
---
Driving Position
We can ensure you that you won't struggle to find a comfortable driving position aboard the Audi A3 Cabriolet.
The steering wheel has plenty 'in and out' movement, while the seats are equipped with a wide range of adjustment.
Both trims get trendy sports seats with supportive side bolsters, but you'll have to pay extra for adjustable lumbar support which is rather frustrating.
---
Handling
If you intend on taking the A3 Cabriolet out for a weekend jaunt through twisting country roads and tight bends it will hold its own thanks to its super strong grip.
Steering is as accurate as expected, and the A3 Cabriolet changes direction without strain.
It's not the most enthralling convertible to drive fast around corners, as it's more geared up for banal, warm-weather cruises to the park or even the beach for you lucky ones.
---
Suspension
As with most of the models in the A3 range, the Cabriolet's Sport suspension has failed to impress a large proportion of punters. The Sport suspension comes with firmer springs that lower the car by 15mm, making the ride rather unsympathetic to the rear end. The softer, standard dynamic suspension is the popular choice at no extra cost so make sure you take this into consideration when setting up your order.
Breaking the bank and settling for the S3 Cabriolet allows you the luxury of Audi's Magnetic Ride that lets you choose your preferred suspension.
Compare Deals
---
Compare deals from over 42 brokers
Find a great deal in under 1 minute
Comparing car leasing deals is free, fast and simple!