Audi A5 Cabriolet Review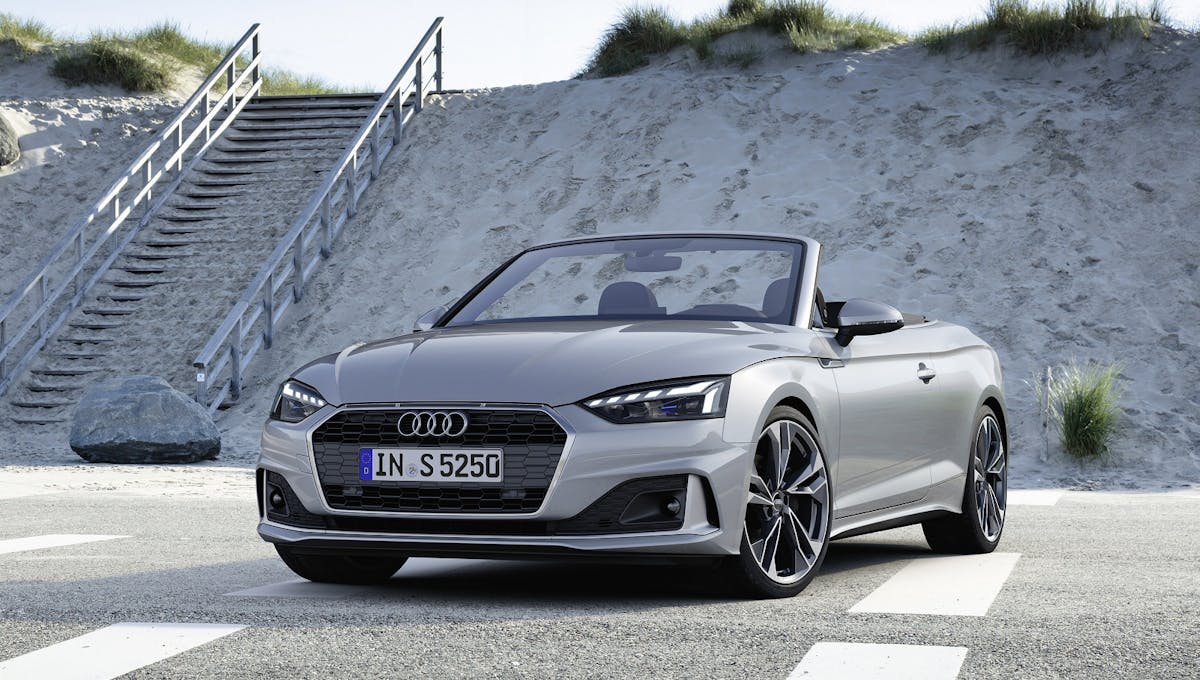 The Audi A5 Cabriolet is real feast for the eyes thanks to its sleek body and convertible roof. It also boasts a refined interior cabin that is packed with innovative technology.
Pros
Refined interior packed with tech

Impressive body control
Cons
Not as reliable as competitors

Added extras can become very expensive
---
Overall Verdict
The Audi A5 Cabriolet is a beautiful machine. Teaming sleek, sumptuous styling with punchy engines and a fantastic array of standard tech makes for a top tier driving experience. This drop-top Audi A5 variation is sporty yet still offers as much practicality as the hard-top A5 Sportback, so it's a possible option for small families too.
Good looks aside, driving the A5 Cabriolet is quite an experience. The petrol engines are smooth whilst the diesel options are a little more prone to vibrations, but still really pack a punch. For many, the top petrol engine pick is the less expensive 40 TSFI 2.0-litre turbo whilst the 40 TDI quattro diesel engine is the most powerful overall.
Audi has honed the handling so you can reign in the powerful engines with ease. Entry models are kitted out with a six speed manual gearbox, but automatic transmission is recommended. The mid-range models are equipped with a seven speed twin-clutch automatic transmission. Not all models have Audi's signature quattro all-wheel drive but it's well worth the added cost, and Adaptive Cruise Control is also worth chucking into the mix while you're at it.
Audi's are renowned for their gorgeous interiors - the A5 Cabriolet certainly doesn't disappoint. The MMI infotainment system with Bluetooth interface is just a fraction less impressive than BMW's iDrive but is cracking nevertheless.
Unlike many convertible cars, you won't need to compromise on space in exchange for rolling back that hood. The boot space is impressive, boasting 380 litres of space, reducing to a still very reasonable 320 litres when the roof is down. There are two rear seats and the headroom is a bit squished for even an average adult, but this is to be expected with a convertible - it ain't advertised as a people carrier!
When it comes to emissions and fuel economy, the A5 Cabriolet boasts pretty decent stats. Audi claim a combined mpg of 43.5 (more like 35mpg in real life conditions) and the cleanest engine emits 127g of CO2 g/km, which is just marginally higher than the greenest 4 Series and the same as the C Class, so it's nothing to be sniffed at.
Giving the Mercedes C Class Cabriolet and the BMW 4 Series Convertible a run for their money, this Audi A5 Cabriolet review shows that this set of wheels is a strong contender in the open-top car category. If you're in the market for a new car, you may want to make it a brand new Audi A5 Cabriolet.
---
Available Trims
The Audi A5 Cabriolet in its second generation is available in three trims: Sport, S Line, and Vorsprung. Let's take a closer look at what each trim level offers.
Sport
The entry-level Sport trim has received raving reviews from motoring experts far and wide. On the outside, it comes with 18" '5-arm star' design alloy wheels, Xenon headlights with LED daytime-running lights. Step inside and you can melt into front sport seats in Twin leather. The Comfort Dynamic suspension smoothens the ride and it also comes with MMI Navigation with Audi Sound System
S Line
The next step up is the popular S Line trim which has larger 19" '5-parallel-spoke' design alloy wheels and LED headlights (front and rear),and dynamic rear indicators. The sporty front seats are dressed in your choice of Leather or Alcantara and decorated with an 'S' embossed logo. Sports suspension is also included.
Vorsprung
The ultimate trim level for the Audi A5 is Vorsprung. Kitted out with 20" '5 star-design' alloy wheels, matrix LED headlights, heated front sport seats in Fine Nappa leather, and adaptive comfort suspension, this trim practically has the full she-bang. It also comes with the Audi Virtual Cockpit at no extra cost.
---
Exterior
When that soft-top is down, the Audi A5 Cabriolet is a machine to behold. Based on the Audi A4 which is also praised for its good looks, there are no complaints in this department.
The body is constructed using a lightweight and smart-looking aluminium hybrid and the fabric roof is a multi-layered 'acoustic' hood which can be opened at the click of a button.
First impressions are important and the A5 Cabriolet looks sleek and premium.
---
Driving Experience
Like others in the A5 range, the A5 Cabriolet offers a superb driving experience. Let's take a closer look at how Audi have achieved this first-rate drive.
---
Engine
Although there aren't as many engine options as the A5 Coupe, you're hardly short on choice. There are 16 versions available, starting with the 187bhp 2.0-litre manual TFSI petrol all the way along the 349bhp 3.0-litre TFSI quattro.
The engines are surprisingly quiet, with only a small amount of vibration at low speeds. The petrol engine options are much smoother than their diesel engine counterparts.
Many have commented that it's not worth going for the most powerful petrol engine, the 45 TFSI quattro with seven-speed automatic S tronic. Compared to the 40 TFSI 2.0-litre turbo petrol engine, there isn't a great noticeable difference in speed.
Out of all of the engine options, the 40 TDI diesel is hailed as the most ferocious.
---
Performance
The older A5 Cabriolet model was lumbered with slow steering that ruined the thrill of racing with the roof down. It has since had a makeover so it feels far more agile and speedy!
Depending on your engine type, the A5 Cabriolet can do 0-60 mph anywhere between 4.9 and 8.1 seconds. The basic 40 TFSI S Tronic 2.0-litre petrol engine can do 0-60mph in 7.9 seconds with the diesel alternative lagging behind just a touch!
---
Driving Position
Unless you are Peter Crouch, you shouldn't struggle to find a good driving position.
Electrically adjustable lumbar support and a steering wheel that can be moved up and down as well as nearer or closer to the driver means that you've got plenty of adjustment features to tweak your seat to that exact right sweet driving spot.
---
Handling
If you're torn between the A5 Coupe and this A5 Cabriolet, you should know that the A5 Coupe offers a much sharper drive - the weight of the folding roof on the Cabriolet affects the handling compared to its lighter Coupe sister.
That said, the Cabriolet does have highly impressive body control. Audi has struck a good balance between comfort and control but not all engines come with Audi quattro four-wheel drive as standard, which does make a big difference. The steering has a nice weight to it and the grip is limpet-like.
If you do fancy amping it up, however, you can add on Adaptive Dampers for an extra £600.
---
Suspension
This is where the A5 Cabriolet has an edge over the Mercedes-Benz C-Class Cabriolet - in Comfort mode, available on the entry-level trim, the suspension is soft, soft, soft.
Even though it comes with a higher price tag, the S Line suspension is actually more firm that most drivers appreciate.
Compare Deals
---
Compare deals from over 42 brokers
Find a great deal in under 1 minute
Comparing car leasing deals is free, fast and simple!