Audi A5 Coupe Review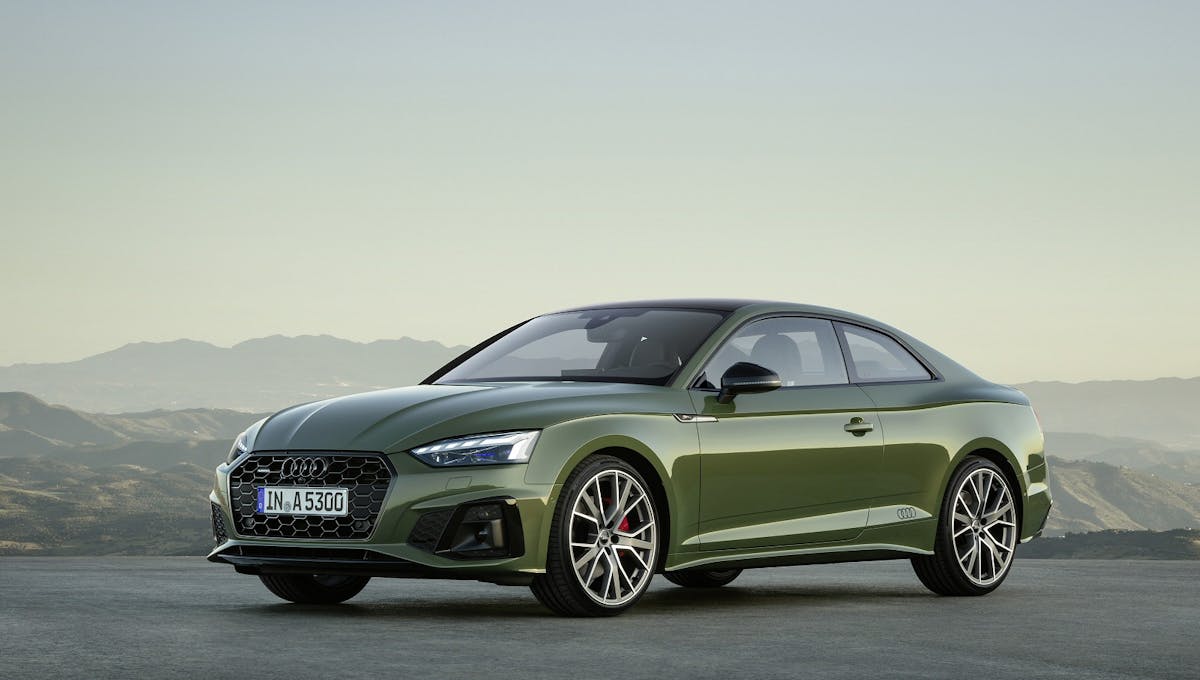 From its prominent honeycomb grille to it's wonderfully sophisticated interior, the Audi A5 Coupe is an absolute stunner with a wide range of powerful engines.
Pros
Nicely designed - looks great from the outside

Fairly cheap running costs
Cons
Interior and features too similar to the Audi A4

Expensive to insure
---
Overall Verdict
The Audi A5 Coupe is a sleek looking car with a well-designed interior and excellent performance stats. It's great on the motorway, as its suspension makes for some seriously comfortable motoring. Those seeking sporty thrills may want to look elsewhere, as the handling isn't quite on the level of competitors like the BMW 4 Series.
Inside, the A5 Coupe is great looking, and easily rivals the Mercedes C-Class Coupe. The MMI infotainment system and the sat-nav are excellent. There are a lot of great engine options, whether you opt for a more efficient 2.0-litre diesel or a powerful 3.0-litre petrol. The automatic gearbox on the Audi A5 is excellent, and moves between gears smoothly. Audi's all-wheel-drive quattro models are particularly good - you can really notice the difference in power in comparison to the front-wheel drive options.
In terms of practicality, it's decent for a 2-door, 4-seat coupe, but it's obviously never going to be anywhere near the practicality of an Audi A5 Sportback. The boot space is enough for everyday life though, but your taller passengers won't appreciate the rear seats. The A5 Coupe's fuel economy is good, but it's expensive to insure and it's long-term reliability is dubious.
Overall, the A5 Coupe is a great car, but it's a touch too similar to the cheaper Audi A4. The interior is almost identical, and most of the tech you get on the A5 can be found in cheaper models. That being said, if you want smooth driving, and a fantastic looking car, you can't really go wrong with an Audi A5 Coupe.
---
Available Trims
Sport
This base trim level is anything but basic. The A5 Coupe sport trim comes with 17-inch alloy wheels, panoramic sunroof, LED interior lighting, Audi's quattro all-wheel drive, three-zone climate control, and much more.
S Line
The next step up, the Audi A5 Coupe S line has plenty of quality of life features. With 18-inch alloy wheels, electric heated mirrors, as well as a sportier design inside and out, the S line is great mid-range trim.
Black Edition
The Black Edition A5 Coupe is very similar to the S line, but with a darker aesthetic design. With black mirrors, body kit, and grille, the A5 Black Edition is an effortlessly cool looking coupe. It also comes with 20-inch alloy wheels, sports suspension, dark interior leather or alcantara seats, and full LED headlights.
---
Vorsprung
The most expensive trim in the line-up, the Audi A5 Coupe Vorsprung has everything included in lower trims and much more. It comes with 20-inch '5 star' design alloy wheels, Audi's 12-inch Virtual Cockpit, adaptive suspension, and Matrix LED headlights.
Exterior
A coupe is all about style, and the Audi A5 delivers this in spades. With two-doors, it's a much sleeker car than the likes of an A4 Saloon. With a fairly aggressive, angular styling, the A5 Coupe is a guaranteed head-turner.
---
Driving Experience
The entry level model is the 35 TFSI Sport 2dr S Tronic. With 150 bhp and a 0-62 of 8.9 seconds, this model delivers a respectable performance. It also nets 47.9 mpg, so it's a nice compromise between performance and efficiency.
A popular mid-range choice is the diesel engine 40 TDI Sport 2dr S Tronic. With a 0-62 in 7.7 seconds, the highlight of this car is the fuel economy, with an mpg of 62.8!
The fastest engine is the 45 TFSI quattro 2dr S Tronic, which reaches 0-62 in an incredible 5.8 seconds. With a BHP of 245, this engine means serious business. With performance, fuel economy obviously takes a hit, but it's not too bad with this engine - you can still expect an mpg of around 41.5.
---
Driving Position
The A5 Coupe's driving position is excellent. It has plenty of steering wheel adjustments, and the sports seat makes it really easy to find a comfortable position. The A5's seats have plenty of upper and lower back support, so you'll have no problem driving long distances.
---
Handling
While it doesn't handle as well as rivals like the BMW 4 Series Coupe or the Mercedes-Benz C-Class, it copes well with tight corners and keeps its composure.
---
Suspension
The A5 Coupe is best suited to long drives due to its excellent ride quality. It's extremely comfortable, with adaptive suspension (optional) that makes driving over rough roads a total breeze. That doesn't mean that sportier set ups aren't fun to drive, although there are better cars for the price in that regard (the BMW 4 Series, for instance).
Compare Deals
---
Compare deals from over 42 brokers
Find a great deal in under 1 minute
Comparing car leasing deals is free, fast and simple!