Audi A6 Saloon Review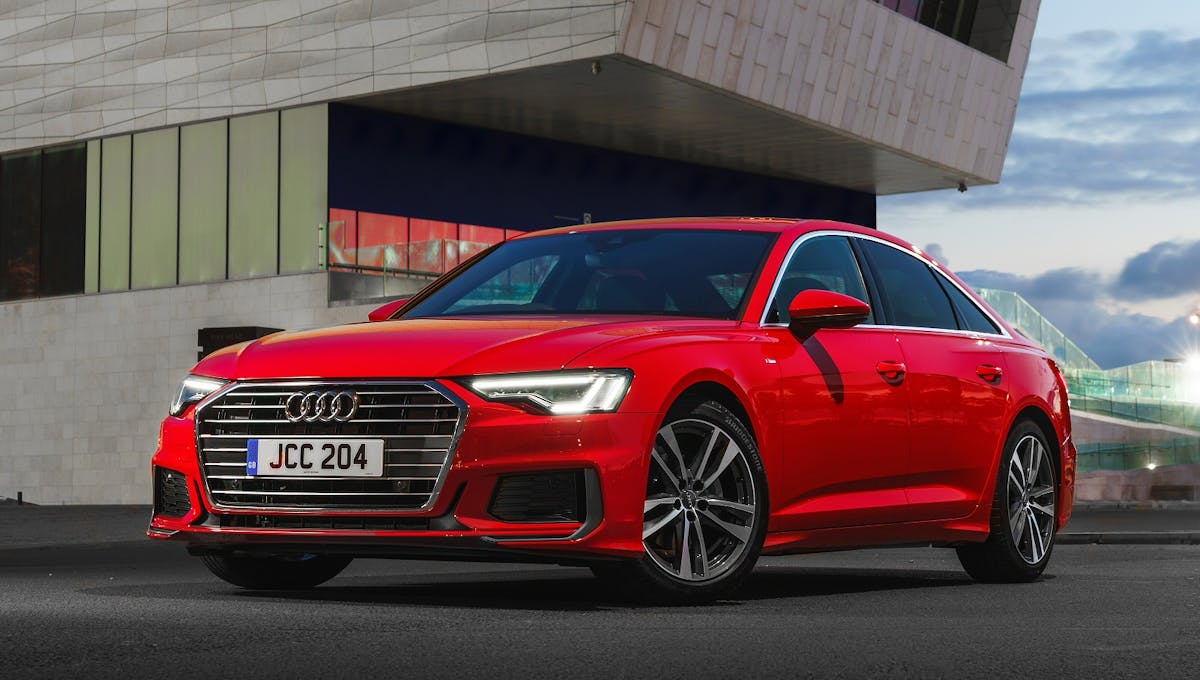 Pros
Plenty of interior space

The available tech is excellent
Cons
Optional extras aren't cheap

Not a sporty car, if that's your thing
---
Overall Verdict
The Audi A6 Saloon is an excellent executive car. It's pretty similar to the Audi A8 Saloon, but at a much cheaper price point. The tech inside is incredible, with up to 3 touch screens available on the Audi MMI infotainment system when you include the excellent Virtual Cockpit, which makes using sat-nav a breeze.
The cabin is clearly very premium, and it's much like being in a luxury hotel. It's definitely a strong competitor to the similarly designed Mercedes Benz E-Class.
The A6 drives well. It has excellent suspension, so long drives are pretty comfortable. Audi's four-wheel-drive quattro system is excellent, and greatly increases the power available in the A6 - when you get used to it, it's hard to go back to a front-wheel drive. Both the turbo petrol and diesel engines on the A6 are excellent.
It's not all good though - the handling isn't the best, and shows that the A6 Saloon isn't really a sporty car. To be fair, that's not necessarily a negative as the A6 is intended to be an executive saloon after all, not a sports car - but it may put some drivers off. For those seeking a sporty experience, the BMW 5 Series or the Mercedes E-Class might be a better fit.
In terms of practicality the A6 scores well. The saloon obviously isn't as practical as the Audi A6 Avant estate, but it still has a decent amount of boot space (530 litres), and there's plenty of headroom and legroom, so rear passengers will be comfy in the back. Even with all engines containing mild hybrid technology, running costs are still quite high, due to a fairly average fuel economy and high insurance groups. The A6 is a safe car, with a 5 star Euro NCAP rating.
---
Available Trims
Sport
The base trim, the Sport, offers enough tech for most people. It comes with LED headlights, 18-inch alloy wheels, a triple-screen infotainment system, dual-zone climate control, a reversing camera, and much more.
S Line
Even sportier than the Sport (go figure), the S Line comes with 19-inch alloy wheels, Matrix LED Headlights, and a lower suspension. The interior also gets an upgrade, with the inclusion of aluminum and stainless steel pedals and sportier seats. One particularly fancy feature is the memory function which remembers the driver's heating and lumber adjustment preferences.
Black Edition
For those that prefer an all-dark look over splatters of chrome, the Black Edition should be the trim of choice. With many of the same features as the S line, the Black Edition comes with bigger 20-inch alloy wheels, privacy glass, a BOSE sound system, and black details on the bodywork and grille.
Vorsprung
The cream of the crop, the Vorsprung is the ultimate Audi A6 experience. The Vorsprung comes with a panoramic sunroof, 21-inch alloy wheels, and adaptive air suspension. It also comes equipped with Audi's technology pack, which offers an upgraded infotainment system, and includes wireless charging for your phone.
---
Exterior
The Audi A6 Saloon is a great looking car. It looks exactly like what you'd expect from an executive car - posh, luxurious, and comfortable. While the A6 is all of these things, it also has a bit of a sporty styling to it. With sportier trims, like the S line, the body style becomes more aggressive and road-ready. Even if it doesn't perform like a sporty car, it's a nice change from the traditional saloon style, as demonstrated in the bulkier and (arguably) boring Jaguar XF.
---
Driving Experience
The entry level option is the 40 TDI Sport 4dr S Tronic, which has a healthy BHP of 204 and achieves 0-62mph in 8.1 seconds. With such a solid performance, it'll be a surprise to find out that this car nets you 62.8 mpg! You can't go wrong with this option.
A popular mid-range option is the 40 TDI quattro Sport 4dr S Tronic. With an ultra-efficient diesel engine, this car has an mpg of 64.2 while still going 0-62mph in 7.6 seconds. Not bad at all.
If you're after the highest performance possible, you need the S6 TDI 349 quattro, which reaches 0-62mph in an astonishing 5 seconds flat - albeit, that's no surprise with a bhp of 349. While ultra-powerful, this option isn't too bad on the efficiency side either, with 45.6 miles to the gallon.
All Audi A6 models are available with a seven-speed dual-clutch transmission, and as an eight-speed tiptronic automatic gearbox.
---
Driving Position
The A6 is all about being comfortable. No matter how tall or awkwardly proportioned you are, you'll find a great driving position in the A6 Saloon. The steering wheel is highly adjustable, and the seat offers excellent support so you'll be comfortable even on long motorway journeys.
---
Handling
The A6 Saloon handles well, but describing it as "fun" is a bit of a stretch. It's grippy and comfortable around corners, but it's certainly not sporty.
---
Suspension
While the standard suspension is great, the optional (and more expensive) air suspension system is phenomenal. It soaks up every bump in the road and makes driving down the motorway an almost relaxing experience.
Compare Deals
---
Compare deals from over 42 brokers
Find a great deal in under 1 minute
Comparing car leasing deals is free, fast and simple!