Audi E-tron Estate Review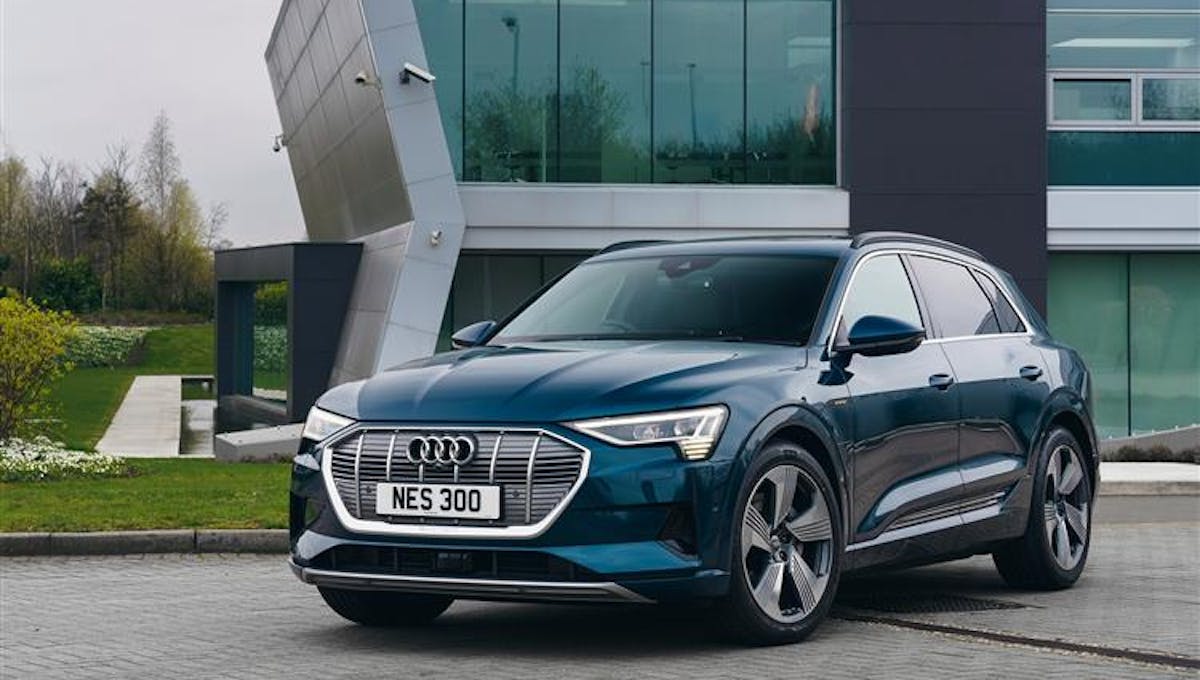 Audi's first plunge into the EV market comes in the form of the striking e-tron Estate. Expect the usual luxurious features with the added bonus of cheap running costs!
Pros
Luxurious and roomy interior.

High-tech cabin.
Cons
Jaguar I-Pace has a longer range.

Expensive price tag.
---
Overall Verdict
The Audi e-tron Estate is an upmarket electric SUV that blends plenty of high-tech features and bags of practicality. You'll be pleased to hear that Audi's first plunge into the electric vehicle market hasn't sacrificed any of the German manufacturer's design wisdom either.
The Audi e-tron has the stylish swagger to rival top-dogs like the Jaguar I-Pace and Tesla Model X and the practicality to challenge the Mercedes EQC and the Porsche Taycan.
Depending on your preferred trim, the e-tron SUV comes with either a 71kwh or a 95kwh lithium ion battery which gives the e-tron a range of 188 miles or 248 miles respectively before you'll have to stop to charge.
On the topic of charging, your e-tron can be charged in nine hours using a 11kW home wallbox, but find a rapid 150kW fast-charger at a motorway service station and you can charge your battery from 0-80% in just under 30 minutes.
The interior cabin is where the Audi e-tron starts to really raise its game. You get a state-of-the-art infotainment system with three super HD screens including Audi's impressive Virtual Cockpit.
In terms of practicality, the Audi e-tron has plenty of boot space to complement its spacious cabin. You'll also get a nifty little "frunk" under the bonnet which is an ideal home for your charging cable. Up front, there'll be no issues getting comfortable, but the rear seats can start to feel a little cramped with three burly passengers.
The Audi e-tron isn't shy on innovative features either. In a first for a production car, owners can opt to remove the e-tron's door mirrors and replace them with cameras located just above the door handles on each side.
Thanks to Audi's quattro all-wheel drive powertrain, the e-tron is capable of tackling off-road terrain, but don't expect it to be marauding over hills in any sort of Land Rover-esque style.
The Audi e-tron has enough all-round talent to ruffle a few feathers in the premium EV market, but does it have enough to topple the very best electric cars? Find out by reading the rest of our Audi e-tron car review!
---
Available Trims
Technik
The entry-level Technik trim sports a striking set of 20" '5-arm' design alloy wheels, LED headlights with Function-on-Demand preparation and contrast finish bumpers. Step inside and the e-tron is as futuristic as its name suggests. Audi's Virtual Cockpit and MMI Navigation Plus come as standard alongside heated seats, Parking System Plus, Cruise Control and a 36-month subscription to Audi Connect Infotainment Systems.
Sport
The Sport trim highlights include 20" '5-arm' dynamic design with contrasting grey alloy wheels to add a stylish dimension to the e-tron's exterior. The front sport seats in Valcona leather upholstery are exceptionally cosy and the perk of having a comfortable front centre armrest makes all the difference on those long journeys. Tech-wise, the Sport gains an Audi Phone Box with a wireless charging feature so you'll never have to forget your charger again.
S line
The S Line trim is where Audi starts to put the foot down in terms of performance and style. The 21" '5-arm turbine' alloy wheels in contrasting grey are satisfyingly hypnotical when seen in action. The Matrix LED headlights use ground-breaking tech to activate, deactivate and dim lights as necessary, while the adaptive air suspension gives the e-tron a level of versatility to deal with all road conditions effortlessly. The S Line exterior styling pack also gives the e-tron a sportier edge, plus privacy glass on the rear windows.
e-tron
On top of a TFSI 55 engine, the e-tron trim also packs Audi Virtual Cockpit and MMI Navigation Plus as standard, as well as deluxe 2-Zone Electronic Climate Control and Parking System Plus with 360 degree display and rear-view camera. It truly is a perfect concoction of performance and sophistication.
Launch Edition
The Launch Edition trim is the creme de la creme. In addition to the standard e-tron or S line trim, the Launch Edition packs a quartet of 21" '5-V-spoke star' Audi Sport wheels in a glossy platinum design. It also comes equipped with Audi beam puddle lights with the e-Tron logo, Virtual Door Mirrors, and black styling pack that adds to its already commanding presence. Audi Side Assist including Audi Pre-Sense Rear, Cross-Traffic Assist Rear and Exit Warning also come as standard.
---
Exterior
The Audi e-tron is by no means your typical electric car. By this, we mean no strange front grille, no front-end charging port or just any sort of morphed front-end that makes us feel slightly unsettled!
This was Audi's game plan all along - to construct a vehicle with electric car credentials to match the visual appearance of a petrol or diesel powered SUV.
The e-tron also features electric charging points on both sides of the car, while the standard door mirrors can be swapped for a pair of cutting edge cameras inside the cabin.
---
Driving Experience
The Audi e-tron is available in the form of two lithium ion battery packs - both of which are fitted with quattro four wheel drive.
The 230kw 50 quattro 71kWh power output comes with an automatic transmission as standard. When combined with the all-wheel drive powertrain, it has the capacity to produce 313bhp.
Charging times for the 71kWh battery depends on the type of charger you're using. Fully charging the battery with a DC120kW takes around 50 minutes, while an AC public 11kW will be around 7 hours. Implement a cost-effective AC 7kW home wallbox and your e-tron will be juiced up in 10.5 hours.
The 71kWh e-tron is capable of 0-62mph in 6.6 seconds and maxes out at a top speed of 118mph. The 188 mile range is slightly disappointing when compared against the higher e-tron output, as well as rival competitors. The Jaguar I-Pace (292 miles) has over 100 miles on the e-tron, while the Mercedes EQC can do 279 before needing charged.
In contrast, the 300kW 55 quattro 95kWh battery has more fitting credentials to challenge the likes of the Jaguar I-Pace and the Tesla Model X.
Powered by batteries and two electric motors, the 95kWh e-tron has enough power to produce 402bhp, beating the 394bhp offered in the Jaguar I-Pace.
Performance-wise, the Audi e-tron excites across the board. Its 0-62mph time of 5.7 seconds and top speed of 124mph are mightily impressive for an electric car. Although its 250 mile range lags behind the I-Pace and Tesla Model X, the e-tron's front and rear axle motors mean you'll experience effortless acceleration, even on slippery roads.
Aside from standard charging, the e-tron uses regenerative braking to bank some extra power - you can control this via paddles on the steering wheel. Its near-silent electric motors makes the driving experience a peaceful escape rather than a mind-numbing burden, while its instant thrust means you can shoot into gaps when others are caught dawdling.
---
Driving Position
Finding your optimum position in the e-tron is a stress-free task thanks to a wide range of steering wheel and seat adjustment. You can also swap the manually adjustable steering wheel for one with electrical powers, which even meanders out the way when you enter the car.
The front pillars are slim, and while the rear pillars are quite thick, you are assisted by rear parking sensors and a rear view camera as standard.
---
Handling
For all the e-tron's innovative kit, it's a very heavy car. With a meaty 700kg battery hidden under the floor, the e-tron weighs in at almost 2,500kg - 300kg heavier than the Jaguar I-Pace and 150kg heavier than the Tesla Model X.
Despite its heavyweight stature, the e-tron handles pretty sufficiently, grips well and manages to glide through bends at a fair rate of knots thanks to the standard Audi quattro all-wheel drive.
---
Suspension
Audi fits adaptive air suspension and adaptive dampers as standard in an effort to challenge the top dogs in the EV market. And credit where credit's due - the comfy air suspension makes it one of the most relaxing electric SUVs to travel in for long periods.
Compare Deals
---
Compare deals from over 42 brokers
Find a great deal in under 1 minute
Comparing car leasing deals is free, fast and simple!