Audi E-tron Sportback Review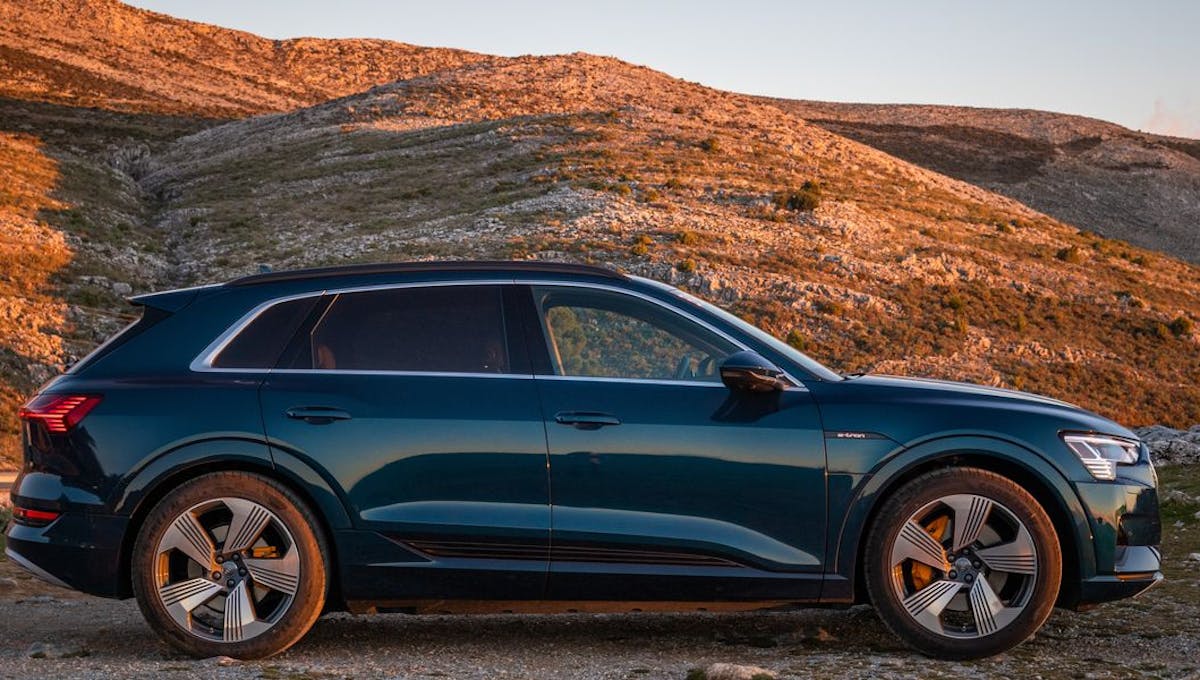 The E-Tron is Audi's first luxury electric car contribution. Is it a decent car with reliable range or is it masked by its premium badge? Check our Audi E-Tron Sportback review.
Pros
Impressive standard infotainment system

Quattro is standard making for easy handling
Cons
Competitors achieve longer range

Competitors are quicker
---
Overall Verdict
Audi's first foray into the electric vehicle arena has been a roaring success - the E-Tron is a gorgeous car with an excellent electric range. Unlike other manufacturers, the E-Tron doesn't need to scream and shout that it's "special" and electric. There's no gimmicky styling to make it look uber-futuristic. Audi have taken design elements from their existing line-up and made the E-Tron SUV look just like one of the gang.
Equipped with two powerful electric motors and a 95kwh battery, the E-Tron boasts impressive horsepower and torque stats. It lags ever so slightly behind its closest alternatives, the Mercedes EQC and Jaguar I-Pace, but not in a way you'd notice much on your ordinary commute. Handling and suspension are both very good, offering a lovely relaxing drive despite the car's heavy weight!
Charging times are quick enough and, with the car offering up to 250 miles of electric range, you're highly unlikely to find yourself trapped on the side of the road with no juice.
As you'd expect with an Audi, special attention has been paid to the interior of the E-Tron. It's reminiscent of the Audi Q5 with the level of tech taken up a notch. The cabin has a total of five screens - two infotainment system touchscreens, Virtual Cockpit screen, and two screens on the front passenger doors to display the view of the side view cameras. Materials used in the cabin are good quality, save for a few bits here and there which are a little scratchy and cheap-looking.
In terms of practicality, the boot space is generous at 615 litres, plus you get a lovely little 60 litre "frunk" to hide away your charging cables. Passenger room is decent, with comfortable wide seats and good headroom. Legroom in the rear seats is a little cramped, mostly for the middle passenger, but as long as you're not transporting three 6-footers around, you'll be fine!
Aside from the pricey upfront cost of the E-Tron, running costs won't break the bank. It's very expensive to insure and Audi aren't deemed the most reliable manufacturer so repair costs could rack up, but charging costs are around half of what you'd pay for a traditional petrol and diesel car. Plus, with zero emissions, if you're looking for a company car, it's a great option - you pay zero Benefit in Kind tax for 2020!
Overall, the E-Tron is a great electric car bearing a premium badge. If you're looking for an eco-friendly family car or if you're looking to cut company car tax with an electric vehicle company car, the E-Tron is a sensible choice. Check out the rest of this E-Tron car review for more details!
---
Available Trims
S Line
The entry level S Line trim comes with 21-inch 9.5J '5-arm turbine' contrasting grey design alloy wheels and Audi matrix LED headlights with dynamic front and rear indicators. Adaptive sport suspension comes as standard.
Launch Edition
The special Launch Edition trim comes with 21-inch 9.0J '5-V-spoke star' design Audi Sport alloy wheels with platinum-look gloss. It comes equipped with Audi beam puddle lights with the E-Tron logo, Virtual Door Mirrors, and Black Styling pack.
---
Exterior
The E-Tron Sportback doesn't look like your typical electric car. No quirky, crazy styling that sets it completely apart from the rest of the manufacturer's range (we're looking at you, BMW i3…). The Audi E-Tron Sportback looks surprisingly normal, and not a far cry from the Q5 or Q7.
This was Audi's intention. To normalise the new Audi electric car, Audi set out to achieve what they call "concept clarity" where they made the car look as "normal" as possible to persuade regular SUV fans to hop on board the E-Tron powertrain.
The electric Audi has coupe-esque styling, bears the hatchback name, but is more like an SUV. It's elegant and muscular at the same time. Styled with a high-gloss pack with window trims in aluminium plus contrast finish bumpers in Manhattan grey and LED headlights with function on demand preparation, it is futuristic yet contemporary. The flat sweeping roof is sleek and improves aerodynamics, ensuring you get the most power out of the electric powertrain.
It is a gorgeous car, in true Audi style.
---
Driving Experience
If you're new to the world of electric vehicles and you're concerned the switch will negatively affect the driving experience, the E-Tron will prove you wrong.
---
Driving Position
Getting in a comfortable driving position with a great view of the road isn't a difficult task in the E-Tron.
Front seat passengers will be very comfortable. With heated, electrically adjustable front seats with driver memory function and 4-way electric lumbar support, you'll never struggle to find a sweet position.
The front pillars are slim so they don't obstruct your view of the road.
---
Engine
Obviously, there is no traditional ICE engine in an electric car, so the format of this Audi E-Tron review will vary from our others!
The E-Tron is currently based on the MLB Evo Platform which the Q7 and Q8 use. The car has two electric motors, one on each axle, which are powered by a 700kg 95.3-kWh lithium-ion battery pack. The rear axle is slightly more powerful than the front, but combined they produce 355bhp and 414 lb-ft of torque. The Jaguar I-Pace manages 394bhp and Mercedes EQC, 402bhp, so whilst still powerful, the Audi E-Tron lags behind a little.
The battery can charge at a rate of up to 150kW. At a fast-charger, it'll take around 50 minutes to get a "full tank" (30 minutes to 80% full) or 9 hours at an AC public 11kW charger. Hooked up to your AC 7kW home wallbox, you're looking at 14 hours charging time.
---
Performance
Electric cars are known for their impressively quick 0-62mph performance times and the E-Tron is no different. It manages the sprint in just 5.7 seconds - fantastic for a car of its weight and size!
This peak performance comes in short 8 second bursts, however - to preserve the battery life, it functions at 306hp. It can reach a top speed of 124mph.
---
Handling
The E-Tron is a heavy car. A very heavy car. It weighs almost 2,500kg, which brings it in at 300kg heavier than the Jaguar I-Pace and 150kg more than the Tesla Model X.
Despite its weight, it handles well, though it isn't as sprightly as its competitors. It has a nice low centre of gravity and excellent grip thanks to the standard Audi quattro all-wheel drive.
---
Suspension
Adaptive air suspension comes as standard and the system is electronically regulated to ensure ride comfort is prioritised in all driving situations.
It's one of the most relaxing electric SUV driving experiences and teamed with an array of standard and optional driver assistance systems, it's one of the best in class!
Compare Deals
---
Compare deals from over 42 brokers
Find a great deal in under 1 minute
Comparing car leasing deals is free, fast and simple!