Audi Q3 Sportback Review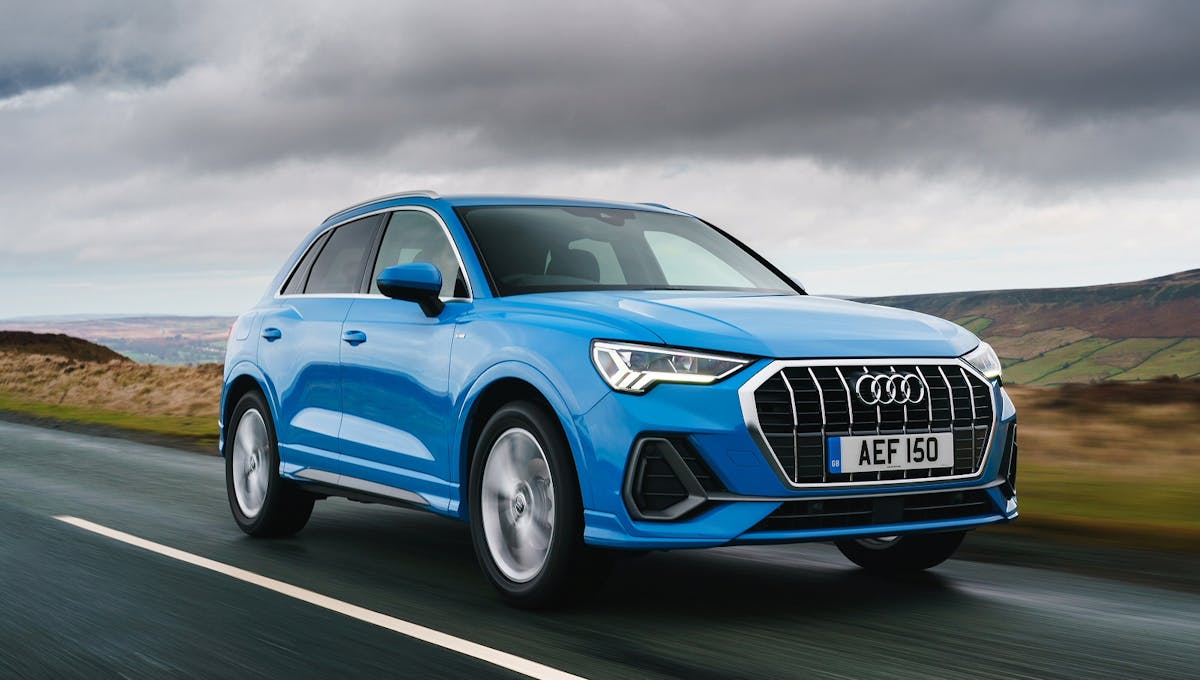 The Audi Q3 Sportback is a coupe-esque SUV, great for families. Check our Audi Q3 Sportback review!
Pros
Loads of high-tech features

Impressive interior
Cons
Both automatic and manual gearboxes can feel unresponsive

Not all that fun to drive
---
Overall Verdict
The Audi Q3 Sportback is a luxury small SUV with plenty of charisma and lots of cutting-edge technology features. Affordable and practical, the spacious Q3 Sportback is one of the best small SUV cars thanks to its huge boot. Nonetheless, its temperamental engines mean alternatives like the BMW X1 and Volvo XC40 are more enjoyable to drive.
If you're looking at saving a penny or two on running costs, Audi's 48V mild-hybrid system is available on the entry-level 35 TFSI petrol engine. Although it may improve your fuel economy, both the diesel options are more efficient in regard to MPG.
The Audi Q3 Sportback is versatile enough to combine a compact body with an immensely spacious cabin that shines when it comes to practicality. Boot space is pleasant and 530 litres worth of room ensures it's one of the best cars for dogs. Headroom is excessive for even the tallest passengers and the rear seats come with plenty of legroom and seat adjustment capabilities.
When it comes to styling, the Audi Q3 is one of the best luxury cars in the game. The dashboard is brimming with glossy soft-touch plastics and the metal trims are absorbing and classy. The standard 10.25-inch touchscreen infotainment steals the show atop the dashboard and comes with a number of cutting-edge features thanks to Audi's Virtual Cockpit system.
---
Available Trims
Sport
The entry-level 'Sport' trim boasts an impressive array of standard equipment that make it an extremely popular choice amongst Audi loyalists. The 18" '5-double-arm' alloy wheels offer enticing first impressions, while the futuristic LED headlights provide powerful assistance on dark roads. Impressively, the entry-level trim has managed to wrangle Audi's intuitive Virtual Cockpit and MMI System into its possession as well as offering important safety features like Audi's Pre-Sense system with pedestrian and cyclist detection.
S Line
The S Line trim is where the Audi Q3 Sportback really starts to show off. The 19" '5-twin-spoke-dynamic' alloy wheels give the S line a luxurious injection of class, while the rejuvenated exterior styling pack offers premium privacy glass and a number of other appealing aesthetics. The ambient lighting pack gives the cabin a refreshing touch-up that combines perfectly with the S Line's pulse cloth/twin leather upholstery front Sport seats.
Edition 1
Similar to Audi's 'Black Edition' trim, the Audi Q3 Sportback comes with a striking black styling pack to give it a commanding presence on the road. The machete-like 20" 'twin-spoke rotor' alloy Sport wheels looks pristine in matt black with diamond cut finish. If you're down to party, the extended ambient lighting pack comes in a number of different colours, while there won't be any trouble getting comfy in the Edition 1 thanks to the soft, twin leather upholstery.
Vorsprung
The Audi Q3 Sportback 'Vorsprung' trim is an absolute belter of a car if money is no object. The adaptive suspension with damper control ensures bumpy potholes are a thing of the past, while the instinctive Driver Assistance Pack provides a broad range of safety and parking assistants to get excited about. If you're into your gadgets, the standard Tech Pack is a thing of beauty. If you want to stick out from the crowd, the Q3 Sportback is available in 'Turbo Blue' or 'Pulse Orange' for an extra £575.
---
Exterior
Inspired by the range-topping Audi Q8, the Audi Q3 Sportback is a compact SUV that sits somewhere in between the smaller Q2 and grander Q5 in Audi's back catalogue. With its distinctive coupe-esque sloping roofline, the Audi Q3 Sportback plays its part in combining a compact design with off-road capabilities.
The prominent octagonal grille that graces the front of the the Q3 is a petite version of the of the impressive Q8's, while the meticulous LED headlights look like something you'd see in a Sci-Fi movie - or a Tesla.
The Ibis white solid finish comes as standard or you can opt for a number of metallic paint finishes for an additional £575. If they don't cut the mustard, Audi's exclusive paint finishes offers almost every colour under the sun. It'll cost you though - £2,400 to be exact.
---
Driving Experience
The Q3 Sportback can be a hit a or a miss when it comes to a smooth driving experience - largely down to an unresponsive automatic gearbox.
---
Engine and Performance
You've got a choice of three petrol, two diesels and a ridiculously powerful high-performance engine if you opt for an RS Q3 trim.
Kicking off the petrol range is the 35 TFSI 1.5-litre 150bhp turbocharged output. If you don't do too many miles and predominantly stick to city driving, it's an ideal choice.
Thanks to its front-wheel drive system, the entry-level engine has more than enough might to own the road. Its six-speed manual gearbox feels much smoother than the rather unresponsive seven-speed dual-clutch automatic gearbox which comes as an option on this trim or as standard on the 45 TFSI 2.0-litre 4WD quattro 227bhp S Tronic model.
You've also got a middle of the range 40 TFSI 190bhp 2.0-litre petrol engine that's worth considering if you're partial to weekly motorway trips or weekend countryside getaways.
In terms of diesel outputs, the 35 TDI quattro 1.5-litre 150bhp feels extremely accomplished carrying five passengers and a loaded boot. It offers a welcome blend of speed and fuel-efficiency that makes it a great option for families.
You'll also get the choice of the front-wheel drive six-speed manual gearbox or the quattro four-wheel drive automatic version. The 40 TDI 190bhp 7-speed automatic quattro S Tronic is the stand-out if you plan to carry heavy luggage regularly, whilst also being one of the most economical cars if you're constantly on the motorway.
If you opt for the speed-demon RS Q3 prepare to hold onto your hat. The 2.5-litre TFSI quattro 400bhp 7-speed automatic S Tronic engine is an absolute beast.
The entry-level 35 TFSI petrol engine may not be the quickest option, but it does 0-62mph in a family-friendly 9.2s and reaches a modest top speed of 126mph. Up the ante by opting for the 40 TFSI 190bhp engine and you'll manage to crank up the speedometer to 136mph with the capability of doing 0-62mph in 7.4s. Unsurprisingly, the 45 TFSI 230bhp is the fastest in the class - 0-62mph in 6.3s and a top speed of 144mph. The 35 TDI diesel engine is a carbon copy of its petrol equivalent, while the 40 TDI can reach 62mph in a respectable 8.3s as well as getting up to a top speed of 134mph.
As you might have guessed, the RS Q3's 2.5-litre 400bhp is lightning quick for an SUV. It can do 0-62mph in a rapid 4.5s, while reaching 174mph.
---
Handling
Thanks to the Audi Q3's tall body and agile steering it's pretty enjoyable to drive around town, but the laggy automatic gearbox is pretty sluggish and takes away from what should be a more pleasant drive.
If it's a sporty SUV you're after, you may have to widen your search. Body lean is limited through tight corners, but is still composed nonetheless. To improve the handling on the Audi Q3 Sportback you may want to consider the optional adaptive dampers and bigger, grippier alloy wheels that come as standard from the S Line trim and up.
We still feel that the Q3 Sportback has the edge over the Volvo XC 40 and the BMW X1 in terms of precision and accuracy respectively.
---
Suspension
The entry-level Sport trims get the standard Sport suspension, while the S Line and Edition 1 boast the lower, stiffer version of the same setup. The range-topping Vorsprung trim comes with adaptive dampers that make life a whole lot comfier thanks to their controlled performance over any lumps and bumps.
If we're being honest, the standard Sport suspension is actually a better option than the lower, stiffer set up if your main priority is a comfortable, high driving position. The standard suspension does an adequate job in handling any potholes, whereas the lowered suspension feels a tad firm and uncomfortable.
If the Sport suspension isn't tickling your fancy, you can pay extra for the adaptive suspension instead of upgrading to the Vorsprung trim completely. It gives you the best of both worlds by letting you choose between comfort-focused options and stiffer, sporty ones.
Compare Deals
---
Compare deals from over 42 brokers
Find a great deal in under 1 minute
Comparing car leasing deals is free, fast and simple!