Audi R8 Coupe Review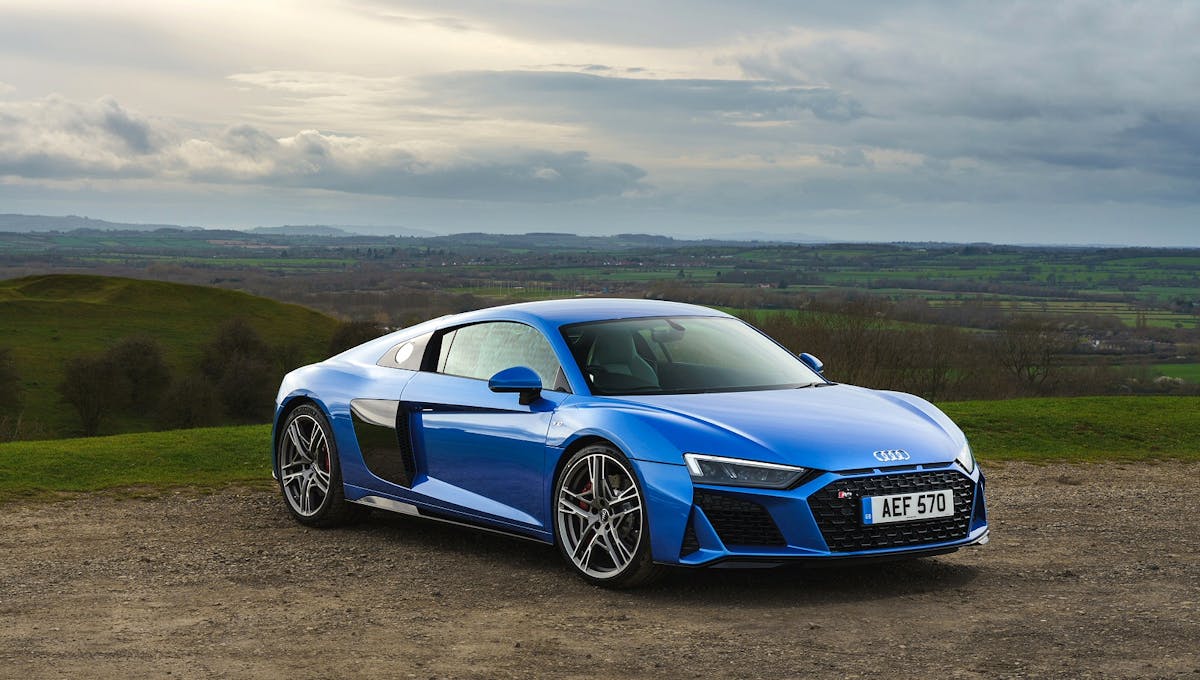 Want a supercar with the Audi premium badge? The R8 Coupe could be the car for you. Decide for yourself with our review.
Pros
Monstrous V10 engine

Great interior
Cons
Not very practical

High running costs
---
Overall Verdict
The second generation Audi R8 V10 Coupe is a lightning fast sports car with a sumptuous cabin designed to match its dazzling looks and exquisite performance.
Dubbed the 'everyday supercar', the R8 Coupe combines relative practicality with a ferocious yet naturally aspirated engine which it shares with it's more expensive soft-top alternative - the Audi R8 Spyder - as well as the fascinating Lamborghini Huracan.
The R8 Coupe's capabilities can somewhat be judged by the company it keeps. Since its introduction in 2015, Audi's fastest car has joined an elite supercar club that includes some of the best affordable sports cars like the Mclaren 570S, Porsche 911 Turbo and the Mercedes-AMG GT.
Audi's esteemed quattro all-wheel drive system provides the R8 Coupe with four-wheel drive capabilities which keeps the nippy car safe and composed thanks to its grippy traction in all-weather conditions.
Step inside and the Audi R8 Coupe is one of the best luxury cars around. The dashboard is extremely well built from high-quality materials and the Fine Nappa leather upholstery that engulfs the heated seats are especially indulgent. You'll also have the pleasure of wrapping your fingers around a plush 3-spoke, multi-functioning steering wheel.
Despite the R8 Coupe lacking a central MMI infotainment screen, you can't exactly call it a technophobe. Standard R8 models accommodate Audi's innovative 12.3-inch Virtual Cockpit system which sits in the direct line of the driver's vision behind the steering wheel. A lot of the R8 Coupe's safety features incorporate cutting-edge tech to ensure the safety of all on-board as well as pedestrians.
Practicality may not be the R8 Coupe's strong suit, but the accomplished two-seater does what it says on the tin - which is just about all you could fit in the miniscule front boot.
If you're expecting decent fuel economy and low CO2 emissions, keep walking. Supercars are not renowned for their stamina, and although it's not one of the most economical cars around, Audi's innovative Cylinder-On-Demand (COD) system can deactivate one of the two cylinder banks to ensure things aren't as bad as they could be.
All in all, the Audi R8 Coupe is an exhilirating driving experience that's comfortable enough to use everyday and on long journeys. Sure enough, it might not match the exclusivity of some it's premium rivals, but it sure as hell will be able to keep up with them!
Have you considered a convertible option? Check out our Audi R8 Spyder review. If you're set on an Audi, but looking for a more affordable sports car, our car reviews for Audi RS5 Coupe and Audi TT Coupe which are great alternatives to the Audi R8!
---
Available Trims
Audi R8 Coupe
The entry-level R8 Coupe V10 RWD is unique in that it delivers performance through a rear-wheel drive powertrain like most of the R8's rivals. It's considerably cheaper than the next trim and offers a whole host of features to get excited about. You'll get 19" aluminum forged wheels, a pair of R8 sport seats in Alcantara leather and an exterior styling pack in high gloss black that will leave you fellow road users in awe. Other notable features include Audi's first-rate MMI infotainment system, a multi-performance leather steering and a responsive reversing camera.
Audi R8 Coupe V10 Performance
With the finest engine output in the Audi range, the R8 Coupe V10 Performance quattro has the stylish features to back up it's supercar performance. Exterior-wise, you'll get 20" forged aluminium wheels in matt titanium and a titanium exterior styling pack which includes the side blades, exterior mirrors, and flashy ceramic brakes with silver brake calipers. Pop inside and you'll spot the performance steering wheel has 2 operating satellites buttons for Audi Drive Select and the engine start-stop function. A fixed carbon spoiler also dons the rear, while sporty R8 bucket seats offer a more supportive position for all aboard.
Audi R8 Coupe V10 Performance Carbon Black
The bees-knees of the R8 Coupe trim line belongs to the V10 Performance Carbon Black spec. Bold and inspired, the sleek supercar exhibits an extended high-gloss black styling pack which includes everything from the iconic Audi rings to the 20" '5-twin-spoke' dynamic alloy wheels. You'll also get a range of exterior elements in high-gloss carbon including the side blade, front spoiler, rear diffuser and engine bay cover. The ceramic brakes with red calipers are a nice contrasting feature, while Audi's Magnetic Ride with CFRP anti-roll bar allows the driver to alter the driving dynamics to suit their preferred driving style.
---
Exterior
The second generation R8 Coupe is a captivating low-slung sports car that will have your neighbours peering out their windows every time you switch on the ignition.
Available in up to 8 different colours, the stunning R8 Coupe has the sharp attire to match it's audacious engine. This is personified by a singleframe radiator grille that dominates both the front and the rear ends.
The side of the Audi R8 Coupe boasts signature side blades in Mythos black, while the rear is home to a retractable spoiler, high-gloss black diffuser and an eye-catching twin exhaust.
Opt for performance trim and you'll receive all the above styling features in matt titanium. Splash out for the Carbon Black trim and you'll be in a sports car wonderland. The carbon fibre engine compartment trim and carbon sigma side blades reinforce the R8 Coupe's track heritage.
---
Driving Experience
Dynamic. Compelling. Invigorating. Just a few superlatives that characterise the R8 Coupe's impeccable V10 engine.
---
Engine and Performance
As we mentioned earlier, the R8 Coupe shares it's powerhouse 5.2-litre V10 engine with the highly regarded Lamborghini Huracan. Since the new car's recent facelift in 2019, the R8 now comes with a choice of two upgraded power outputs: the 562bhp standard or the 612bhp Performance alternative.
Both versions come with a seven-speed, dual-clutch automatic gearbox, and unlike most supercars on sale, the Audi R8 Coupe uses a naturally aspirated engine rather than a turbocharged output. This ensures that the R8 responds instantly and flies through the rev range accompanied by a melodic roar.
The 'entry-level' 5.2 FSI V10 quattro 2dr S Tronic trim is exceptionally quick. With an official 0-62mph time of 3.4 seconds and a top speed of 201mph, the R8 Coupe has a serious amount of mojo when you stretch its legs.
If your adrenaline-junkie thrills are still unsatisfied, we guarantee that the 5.2 FSI V10 quattro 2dr S Tronic Performance trim will have enough bite to get you aroused. It manages 0-62mph in 3.1 seconds, which is probably less time than it takes you to say the full derivative name! The frighteningly quick spec also achieves a top speed of 205mph.
---
Handling
Thanks to Audi's grippy quattro four-wheel drive system, the R8 Coupe feels adept and composed in all weather conditions. This gives you the confidence and assurance to enjoy the R8 in all it's accelerated glory.
Audi's intuitive Drive Select feature allows you to choose between a range of handling settings through the R8 Coupe's quattro all-wheel drive system. This gives you the flexibility to change between the R8's four driving modes - Comfort, Auto, Dynamic, and Individual - depending on the nature of your journey.
---
Suspension
The Audi R8 Coupe's standard Sport suspension feels remarkably stable for such a low-slung, wide sports car. It glides over normal-sized potholes gracefully and feels supple enough over speed bumps.
Opt for the stiffer sprung Performance model and you'll have adaptive dampers as an option, but we reckon you'll be content with the comfy standard suspension.
Indulge in the range-topping Carbon Black trim and you get the luxury of Audi's Magnetic Ride with CFRP anti-roll bar. This allows you to alter the driving dynamics of your R8 to suit your preferred driving style and combat different terrains.
Compare Deals
---
Compare deals from over 42 brokers
Find a great deal in under 1 minute
Comparing car leasing deals is free, fast and simple!