Audi RS 4 Avant Review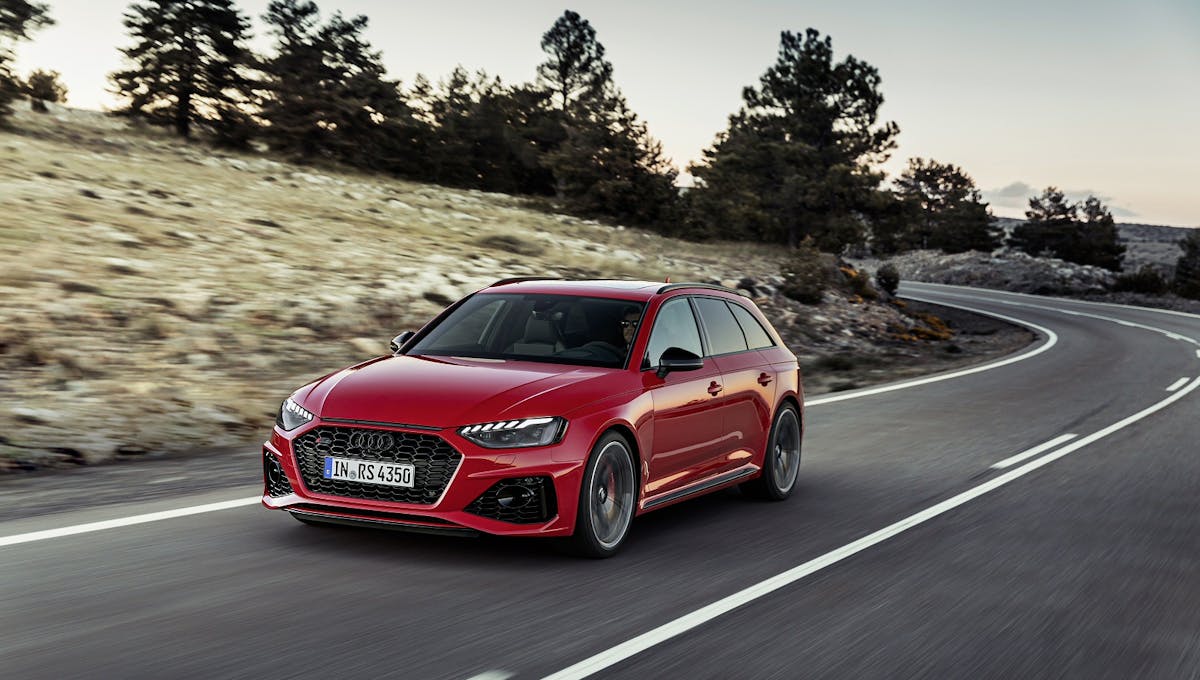 As Audi's second child in the RS performance range, how does it fare against its competitors and other RS models? Check this Audi RS4 Avant review.
Pros
Performance car in an estate car body

Super comfortable
Cons
Engine not as exciting as the old V8

Expensive options
---
Overall Verdict
Entering production in 1999, the Audi RS4 was the second model in Audi's performance RS range after the original RS2. Now in its fourth generation, the Audi RS4 Avant, like other RS models, continues to capture the public imagination with its estate car practicality and sports car credentials.
Its closest rivals include some of the best estate cars around such as the Mercedes-AMG c63 Estate, Porsche Panamera Estate and the BMW M3 (though the latter isn't available in estate car form factor). But even with just 2 real competitors in the supercar cum estate car niche, Audi hasn't been able to let its guard down.
Although it's not the most practical estate, it's certainly up there as one of the best family cars on the market in terms of performance and style.
The new RS4's 2.9-litre twin-turbo V6 with eight speed tiptronic transmission gives this car some serious muscle compared to the standard Audi A4 Avant off which it is based. You'll get from 0-62mph in just 4.1 seconds, with the car maxing out at 155mph (or 174mph, if you pay the extra). You won't be able to push it that far in the real world of course, but the optional sports exhaust will create a little extra drama around town. That said, you might prefer the more raucous v8 engine of the Mercedes-AMG c63, which generally feels a little more fun to drive.
So, it's a great car if you need to get yourself, your family and your ski gear to Chamonix as fast as you possibly can, but should you lease one?
We say: if you've got the money - why not?
For an equally fast (though arguably less practical) car, check out our Audi RS5 Coupe review. If you've got your heart set on a performance estate, the Audi RS6 Avant is even punchier.
---
Available Trims
Audi RS4 Avant
The standard RS4 Avant comes with 19-inch x 9.0J '10-spoke star' design Audi Sport alloy wheels, the RS honeycomb grille, Audi's matrix LED headlights with dynamic front and rear indicators, the class-leading touch screen infotainment system with MMI Navigation Plus, and fine Nappa Leather heated front 'Super Sport' seats.
Audi RS4 Carbon Black
The Carbon Black trim comes with larger, 20-inch x 9.0J Audi Sport alloy wheels in glossy black, a black front spoiler, black wing mirrors, black sill inserts, a black-trimmed radiator grille and, you guessed it, black Audi rings.
Audi RS4 Vorsprung
The top-tier Vorsprung trim has the 'RS Sport Suspension Plus' with Dynamic Ride Control (DRC) as standard, as well as Dynamic steering, a higher top speed of 174mph and the RS Sport exhaust.
---
Exterior
The RS4 looks much meaner than the rest of the Audi A4 Avant range - even compared to the sportier S4, which could just as easily be confused with the A4 Avant S Line. It's got noticeably larger wheel arches; deeper bumpers with larger, more angular air intakes; a lowered suspension, and a generous amount of gloss black trim.
---
Driving Experience
The Audi RS4 swaps out the old V8 engine for a smaller V6 - which packs the same punch at lower revs. It makes plenty of noise, but that noise will never be a substitute for a V8.
---
Engine and Performance
The new RS4 swaps out the V8 engine for a twin-turbo 2.9-litre V6. It's 35kg lighter than the old engine, but still produces the same 444bhp. Torque jumps from 430Nm to 600Nm in this latest engine however, and can be summoned up at much lower revs than previously.
The RS4 officially manages 0-62mph in 4.1 seconds. Power is delivered seamlessly via the eight-speed automatic gearbox. Top speed is limited to 155mph, though this can be increased to 174mph if you opt for the Vorsprung trim, which removes the electronic limiter. Not bad for an estate car.
---
Handling
With the 'quattro' badge emblazoned on the car's front grille, you know you're in for a treat. Audi's signature four-wheel-drive system is rear-wheel biased in normal driving conditions for a slightly sportier feel, but can send additional power to the front or rear wheels when extra grip is required.
It may not be as exciting as the heavier V8 on the old RS4, but the new, lighter engine makes a significant difference to handling, too. There's now much less understeer than on the previous model. Dynamic steering is precise and reactive, if a little less exciting than we'd hoped for.
---
Suspension
The RS4's suspension is, predictably, a little firmer than that of the A4 Avant. That said, it's still incredibly comfortable riding over rough roads and potholes, and there's plenty of room for adjustment with Audi's Adaptive Suspension which will let you switch from the super sporty Dynamic mode to the much softer Comfort mode.
Compare Deals
---
Compare deals from over 42 brokers
Find a great deal in under 1 minute
Comparing car leasing deals is free, fast and simple!