Audi RS 5 Sportback Review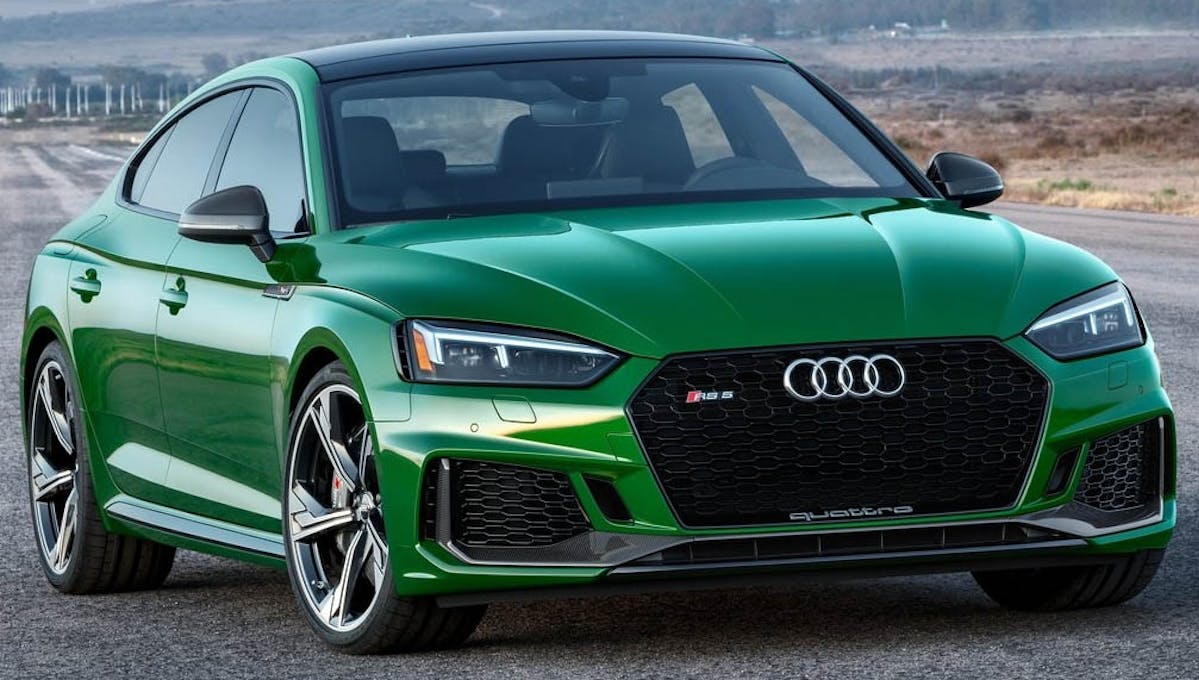 Powerful and stylish - the RS5 Sportback embodies Audi's premium image. Check our review.
Pros
Interior is class-leading

One of the more practical performance cars
Cons
Seriously expensive to run

Competitors handle better
---
Overall Verdict
The Audi RS5 Sportback is an excellent, slightly more practical alternative to the RS5 Coupe. If you need a practical performance car though, you might be better served with the RS4 Avant as your next car.
Performance is much the same as the coupe - the RS5 Sportback is an incredibly powerful car, thanks to a huge turbocharged V6 444bhp engine and Audi's quattro all-wheel-drive system. Unfortunately, though, it's not quite as fun to drive as other performance cars, despite a fairly outrageous 0-62mph time.
The BMW M4 handles better, and the Alfa Romeo Quadrifoglio feels faster and is more of a laugh to drive. To be fair, though, it's still one of the best affordable sports cars to drive. Size-wise, the Audi RS5 isn't miles away from the A5 Sportback and doesn't feel too bulky to drive.
Audi's Sportback models (hatchbacks!) are notoriously practical. The RS5 is no different, with a generous boot, especially when you put the rear seats down. The RS5 is as useful as the family-friendly Audi A5, so it's pretty easy to live with. It's a good shout for those that are interested in the RS5 Coupe but need a bit more space. Of course, a family car doesn't really need a 2.9-litre V6 engine... it can't hurt, right?
Not that we need to say it, but the RS5 Sportback isn't one of the most economical cars on the market. Fuel economy is quite low and CO2 emissions are quite high, so it's not a great option if you're looking for the best company cars. In the RS5's defence, however, it's no different than competitors, like the BMW M4.
Overall, the RS5 is an expensive but fun performance car that has enough practicality for day-to-day life.
---
Available Trims
RS5 Sportback
The base RS5 Sportback is pretty well equipped. It comes with 20-inch alloy wheels, Audi's Virtual Cockpit, LED headlights, and electrically adjustable sport seats.
RS5 Carbon Black
This trim isn't a huge upgrade on the standard options, and mostly offers some nice aesthetic changes - like carbon styling features on the grille and side-doors. It also comes with LED Matrix Headlights.
RS5 Vorsprung
The top trim, the Vorsprung offers everything included in the Carbon Black trim, as well as Audi Laser Light Headlights, a 360 degree camera, Adaptive Cruise Control, and more.
---
Exterior
Reviewing how a car looks can be tricky - it's often subjective, and hard to unanimously say that a car is good looking, or not. With the RS5 however, it's safe to say that this is a great looking car.
The sloping rear roofline of the Sportback body style adds a beautiful shape to the car, along with the sporty grille and side skirts. With a quick glance, there's not a tremendous amount of difference between the Coupe model - the Sportback slope is quite subtle and makes the car look a little longer.
The RS5 is available in a plethora of colours, including black, white and everything you'd expect. We're big fans of the Sonoma Green Metallic colour. It's unique and stands out without being obnoxious.
---
Driving Experience
The newest RS5 Sportback has a more refined driving experience than past models. It's a good 60kg lighter and has a new twin-turbo V6 engine (co-developed with Porsche).
Engine-wise, the RS5 Sportback comes with the 2.9-litre TFSI quattro petrol engine. With just shy of 450 bhp and a 0-62 time of 3.9 seconds, the RS5 is undeniably fast. Of course, with this much power, it goes without saying that the fuel economy is dire. You can expect an mpg of around 27 at best - but no one's buying this car for the fuel economy!
The eight-speed automatic gearbox is smooth and changes fairly quickly. When you put your foot on the gas though, there is a slight delay for the transmission to downshift. Switching into Audi's 'Dynamic Mode' greatly helps this, though.
Bizarrely, it doesn't feel as fast to drive as competitors, like the BMW M4 Competition, or the Mercedes-AMG C63, despite being much the same performance-wise.
---
Driving Position
It's hard to complain about the driving position in the RS5. The electronically adjustable seats are great for helping you find the perfect spot for you, and the steering wheel can also be fine-tuned to your needs.
---
Handling
The handling on the RS5 can't compete with competitors. Even though it's lighter than ever before, the RS5 is a big, heavy car. The Sportback, in particular, feels a touch clunky to handle, as it's 120kg heavier than the Coupe variant. The likes of the BMW M4 Competition have much more responsive steering.
---
Suspension
The Dynamic Ride Control suspension is ok, but it can be tough to get a comfortable driver - especially with the enormous 20-inch alloy wheels. Comfort mode offers a soft ride, but it's still nowhere near as comfortable as a Mercedes-AMG C63. While it can be helpful to feel the road, particularly in a performance car like this, the novelty wears off fast.
Compare Deals
---
Compare deals from over 42 brokers
Find a great deal in under 1 minute
Comparing car leasing deals is free, fast and simple!