Audi TT Coupe Review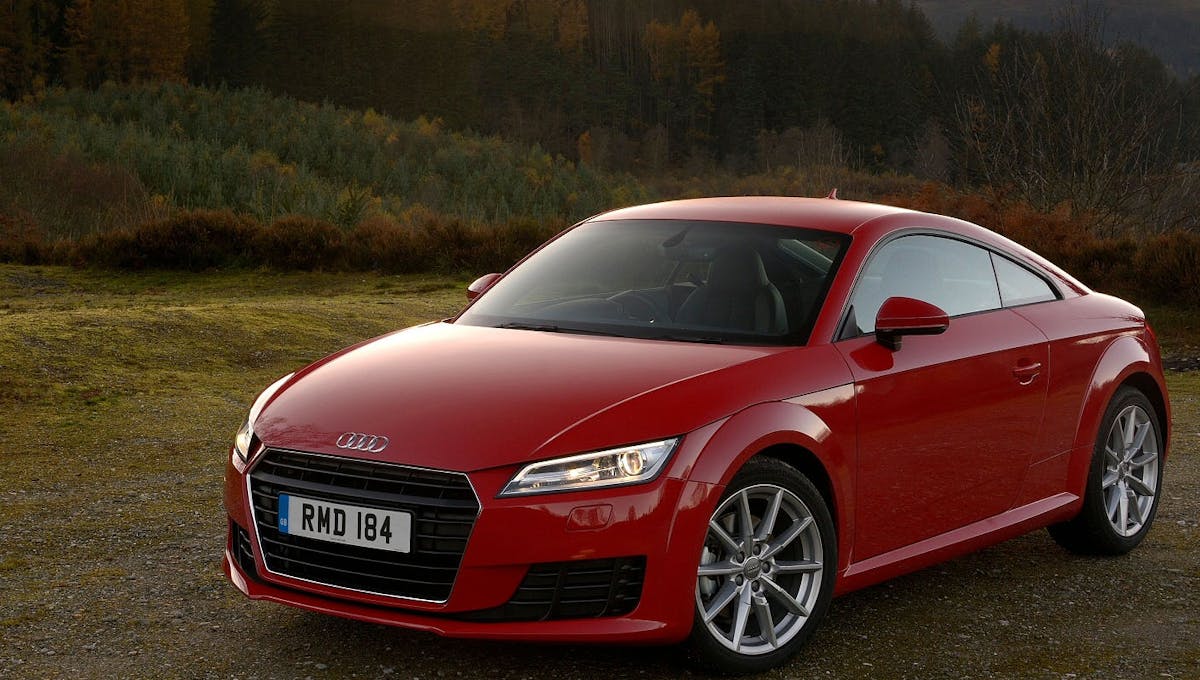 Considering an Audi model as your next set of wheels? Check our Audi TT Coupe review to help you make up your mind!
Pros
Incredible interior.

Incredible exterior.
Cons
Doesn't include sat-nav as standard.

Top trims are really expensive.
---
Overall Verdict
The third-generation Audi TT is an iconic car and is one of the best affordable sports cars in the UK. It's easy to see why. You can also opt for the Audi TT Roadster, although you'll sacrifice a bit of practicality and 2 of the back seats (but if you don't mind that, check out our Audi TT Roadster review).
Visually, the TT is stunning. It's a great looking car, with charming angles and design choices. The interior is as you'd expect from Audi. It's pretty minimalistic, opting out of the 'huge infotainment screen' trend. The TT is a classy affair, and all the materials are extremely high quality.
This car is pretty enjoyable to drive, but you might be a bit gutted to find that many sporty turbo-powered hatchbacks are actually more fun to drive than your new Audi TT! That being said, those hatchbacks can't offer anything close to the refinement and pleasure of an Audi, that makes the TT one of the best luxury cars on the market!
All of the petrol-engine options on offer are really powerful and the car handles well. That being said, the front-wheel-drive isn't half as good as the quattro all-wheel-drive models. The standard suspension is comfortable, but the lower suspension on the sportier trims sacrifices a bit of comfort for fun.
It should be no surprise to learn that the Audi TT Coupe is not a practical car. While the front seats are spacious, the rear-seats are pretty dire, and it'll be difficult for a full-sized adult to sit in them for more than a couple of minutes. The boot space is surprisingly decent though, especially when you put the back seats down.
Car insurance on the TT will be pretty expensive, but this is the case with any sports car. Fuel economy is decent for such powerful engines. Running costs aren't the cheapest, but they aren't exceptionally high either.
Overall, the Audi TT Coupe is an excellent sports car. It thrives in a city or town, navigating through tight streets with ease. If you spec it right, it can also be a really comfortable motorway cruiser.
---
Available Trims
Sport
The TT isn't a cheap car, so it's fair to expect a relatively feature-packed entry-level trim. Thankfully, Audi hasn't disappointed with the Sport trim. It comes with leather and Alcantara seats, 18-inch alloy wheels, and Audi's Virtual Cockpit as standard.
S Line
Next step up, the S Line comes equipped with a sportier aesthetic, with S Line badges plastered around the cabin, bigger bumpers, and 19-inch alloy wheels.
Black Edition
The Audi Black Edition is basically the S Line version with a different look. This trim adds tinted windows, black door mirrors, and a darker exterior look. It also comes with the upgraded Bang & Olufsen stereo, for no extra cost!
Vorsprung
The most expensive trim by a fair margin, the Vorsprung Audi TT comes with massive 20-inch alloy wheels, wireless phone charging, improved Matrix LED headlights, and much more.
---
Exterior
The Audi TT has always been a great looking car. A four-seater coupe, the TT's compact body with sleek and angular styling, the TT is a real head-turner. It's not quite got the aggressive style choices of competitors, like the BMW 2 Series - whether that's a good thing or not is up to you! We think the TT is a really slick looking sports car. There's a couple of fake exterior air vents and dodgy grilles that are a touch tacky, but it's not terribly noticeable and doesn't detract from the overall look.
---
Driving Experience
You can get the Audi TT coupe with a six-speed manual gearbox, or the S-Tronic DSG automatic gearbox. This dual-clutch option is pretty decent, but it's disappointing that it only has six-speeds, with most competitors, like BMW and Mercedes-Benz, upgrading to seven-speed automatics.
The TT comes with front-wheel drive as standard, but we'd recommend opting for Audi's four-wheel-drive system, Quattro. This dramatically adds to the driving experience and makes the TT a really grippy car.
The entry-level TT is also the greenest option available. The 40 TFSI S Tronic reaches 0-62mph in just 6.6 seconds and returns a pretty decent 46 mpg.
If you want the fastest option available, you need the TTS 50 TFSI with Quattro. This offers an incredibly 0-62mph pace of 4.5 seconds. Naturally, you'll sacrifice a bit of fuel economy, but this model still provides a respectable 40 mpg.
For the best of both worlds, check out the 2.0-litre FSI Quattro TTS, which reaches 0-62mph in 4.6 seconds, and has an mpg of 41.
---
Driving Position
As you'd expect, the TT offers a really sporty driving experience. The driving position is relatively low to the ground and combined with the nicely designed steering wheel, it makes whipping around corners a breeze. Visibility is good for the most part, but there are a few thick blindspots on the side windows, which is a bit annoying.
---
Handling
Driving the TT is excellent, and it offers a delicate balance between sporty handling and comfort. It's a comfortable car to operate, and it's a good option for those that are looking for a city car. Of course, a sports car won't be as comfortable on the motorway as a big saloon, but it's surprisingly painless.
---
Suspension
Audi's standard suspension is pretty comfortable and is a nice happy-medium between a sporty drive and a comfy one. If you opt for an S Line trim, you'll get a lower sports suspension and bigger alloy wheels. While this is fun to drive, it'll definitely be more uncomfortable on most roads.
Compare Deals
---
Compare deals from over 42 brokers
Find a great deal in under 1 minute
Comparing car leasing deals is free, fast and simple!