Audi TT Roadster Review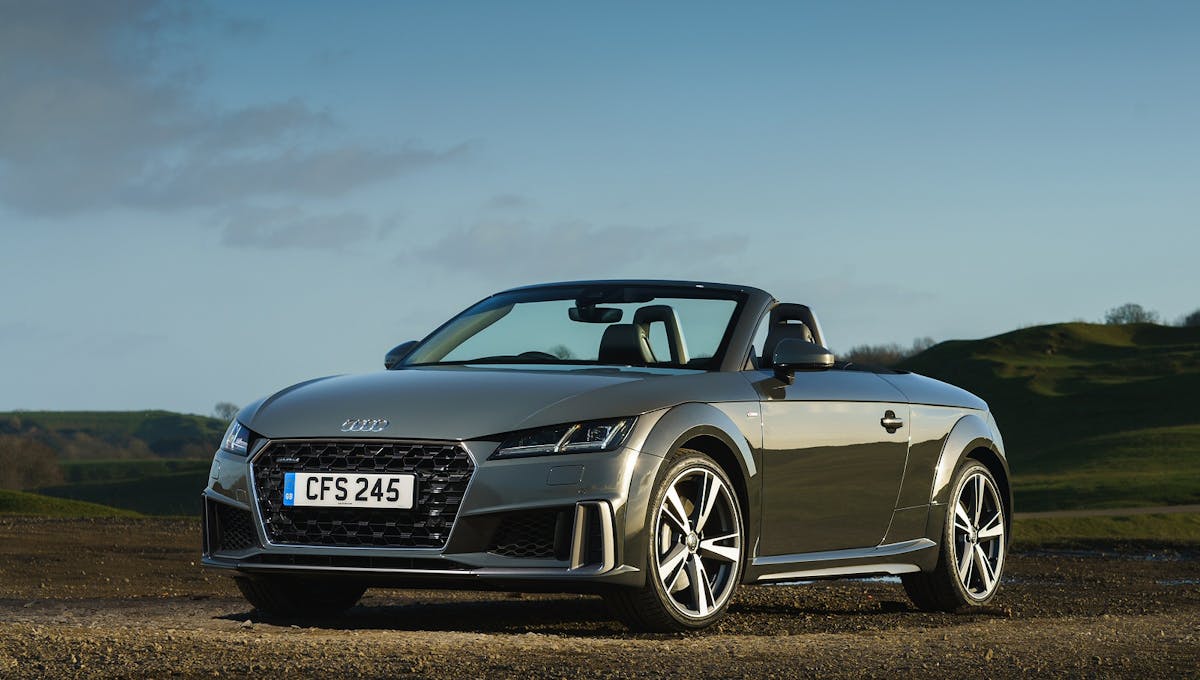 Flip the roof down and hit the pedal to the floor - check our Audi TT Roadster review!
Pros
Great choice of nippy 2.0 litre petrol engines

Better fuel economy than a Porsche Boxster or Mercedes Benz SLC
Cons
Audi Virtual Cockpit doesn't include sat-nav as standard

No rear seats and small boot make the Roadster impossibly impractical
---
Overall Verdict
When it launched in 1999, mired by press coverage of high-speed accidents resulting from unpredictable handling, few perhaps could have predicted that the Audi TT Roadster would have become the car we know today. In fact, in many ways, the TT Roadster is now much less deserving of the "TT" name - TT is, after all, synonymous with the deadly Isle of Man race which has produced more fatalities than it has "Tourist Trophies" in its 112 years of running.
So, what's changed? Well, for starters, Audi has managed to iron out all the kinks that it had in the past two generations. It's not just a looker - it's also great at handling, has fairly reasonable running costs and a frankly fabulous interior replete with soft-touch materials, quality infotainment and luxury sports seats. It's not practical (was it ever going to be?) but the electrically operated roof is seriously speedy - great for sudden downpours.
If you like things 'your way', you'll be glad to know that the Audi TT offers the choice of a six speed manual gearbox or Audi's automatic gearbox (labelled 'S-tronic'), as well as front-wheel-drive or quattro all-wheel-drive. All perform just as you'd expect. The quickest of the bunch is of course, the TTS Roadster, but even the entry-level TT Roadster feels nippy and handles well.
What really matters though, is that the new Audi TT Roadster genuinely feels like a sports car - not like something out of a Barbie and Ken accessory pack. It's a real contender with the Porsche 718 Boxster Roadster and BMW Z4 and deserves, in our eyes, a near perfect score.
If you're not so hot on soft-tops, check our Audi TT Coupe review. But if you're ready to flip that roof down and rev onto the open road, keep reading for our Audi TT Roadster review.
---
Available Trims
Sport
The entry-level trim packs some great features. You'll get a swanky set of 18-inch set of "Dynamic" design alloy wheels, Xenon headlights with LED daytime running lights, Audi's fantastic Virtual Cockpit setup, Cruise Control and a retractable rear spoiler to go with your electrically operated roof - it's almost like you're driving a transformer.
S Line
The S Line trim brings larger 19-inch alloy wheels, LED headlights, LED rear lights and dynamic rear indicators, S Line exterior styling and Audi's super comfortable Super Sports Seats with Alcantara and leather upholstery and electrically operated four-way lumbar support - you'll never want to leave your car again.
Black Edition
Black Edition 1-ups the S Line with larger 20-inch 'Sport' alloy wheels in gloss black, a black styling pack and some sleek privacy glass (not that you'll need it when you've got your roof down all the time).
Vorsprung
The top tier TT has some super sleek 20-inch x 9J Audi Sport wheels in gloss anthracite black and Audi's class-leading matrix LED headlights. It also comes with an assortment of driver assistance systems to stop you getting distracted by adoring onlookers and a thumping Band & Olufsen Sound System so everyone knows you're the real G.
---
Exterior
The Audi TT Roadster has come a long way since the Mk1 - and we're not just talking about the internals. The third-generation TT is the sleekest yet, melding its signature curves with a more angular grille and headlights for a car that actually looks like a threat in a street race.
---
Driving Experience
The Audi TT Roadster is one of the best convertible cars to drive. There's next to no scuttle shake - an achievement that few convertibles can lay claim to. It's firm, but never uncomfortable, and you're never left wanting, even with the entry-level engine.
---
Engine
Despite being the Audi TT Roadster's entry-level engine, the 2.0-litre 197bhp 40 TFSI feels perfectly punchy.
The next engine up, the 2.0-litre 242bhp 45 TFSI, brings a nice power boost, though you'll mostly only notice this at the top revs. You've got the added choice of quattro here though, which we'd recommend you take.
Of course, if you've got the money, we'd recommend the 306bhp TTS Roadster with quattro for the best driving experience. There is one higher, the TT RS Roadster.
---
Performance
The entry-level engine will get you from 0-62mph in 6.9 seconds. The next engine up will cut that down to 6.1 seconds, or 5.2 seconds if you add quattro, while the top tier TTS will manage it in 4.8 seconds. Top speed is 155mph across the board.
---
Handling
The Audi TT Roadster with the 40 TFSI engine might struggle sometimes on corners and unfortunately, as there's no option for quattro with this engine, there is no way to rectify this.
However, the quattro four-wheel-drive system available on all other options does a great job of fixing this. The TT Roadster is actually surprisingly light, as you'll notice on corners, where there's little body lean. Steering is accurate and responsive.
---
Suspension
While chopping the roof off a car tends to make the whole thing feel weak and wobbly, the TT Roadster manages to remain strong and stable. It's comfortable to drive even with the standard suspension, though if you like to occasionally stiffen things up a bit, you might want to opt for the adaptive suspension, which will let you change from stiff and sporty to cushioned and comfy in the press of a button.
Compare Deals
---
Compare deals from over 42 brokers
Find a great deal in under 1 minute
Comparing car leasing deals is free, fast and simple!