A Guide to Audi Hybrid Cars
Audi is a pioneer of hybrid cars. As early as 1989, they unveiled their first hybrid concept, the Audi Duo. In 1997, they were the first European company to sell a hybrid production car, albeit in small numbers.
While these hybrid models may seem a little 'old hat' now compared to the E-Tron, Audi's electric car range, Audi isn't planning on slowing down anytime soon. As Audi's production schedule suggests, there are still a lot of benefits to running a battery and internal combustion engine in tandem!
What is a hybrid car?
A hybrid car makes use of both an internal combustion engine (petrol or diesel) and an electric battery to get moving. There's a couple of different types of hybrids however, with each serving slightly different purposes. The mild hybrid (or power-assisted hybrid) is perhaps the most common, allowing for the engine to be turned off when coasting or in traffic and quickly restarted.
The self-charging hybrid, as manufacturer's like Kia and Lexus like to call it, has a slightly larger battery which can actually increase your car's MPG by using battery power generated through regenerative braking. There is no option to plug these in for a full charge, but if you do lots of stop-start city driving they will have plenty of opportunities to charge themselves and they will increase your overall efficiency.
Finally, there are plug-in hybrid electric vehicles. The quoted 'range' is usually somewhere between 20 and 30 miles on the battery alone, which is a great way to reduce your fuel consumption if you do a lot of city driving as opposed to long-distance driving.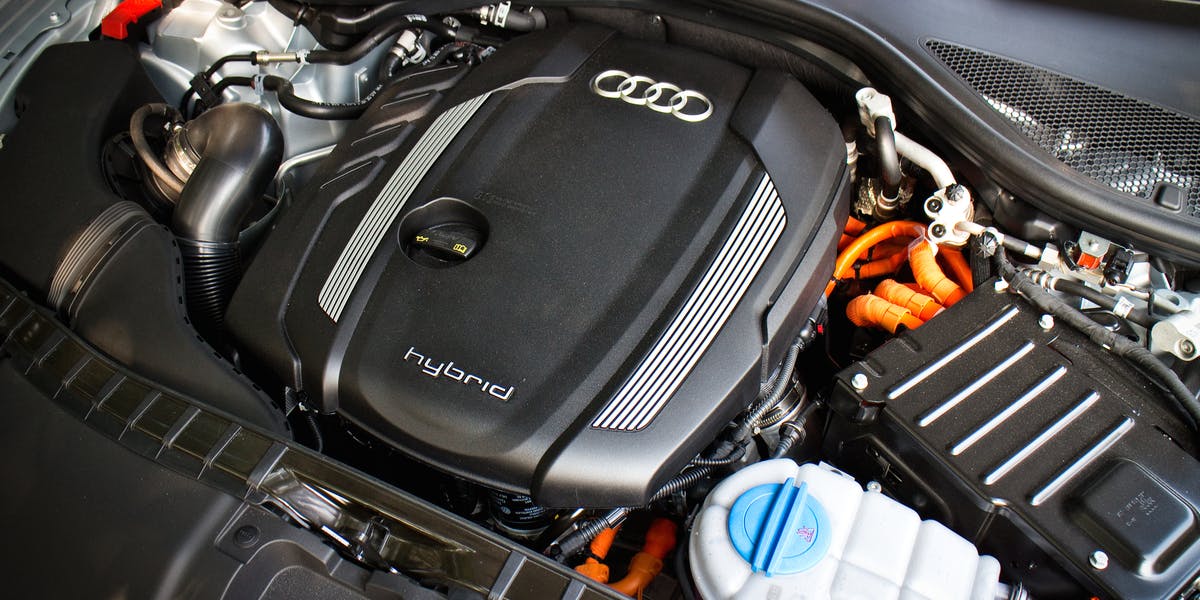 Why get an Audi Hybrid?
Hybrid cars are much better for the environment than full ICE powered cars, thanks to their low emissions. You don't have to make the leap of faith to an electric motor and in reality, your usual routine of filling up at the petrol station won't change much.
Company car tax on electric cars and hybrid cars is much cheaper than traditional ICE cars. These low BiK rates teamed with lower road tax, makes them a solid choice whether you're a savings-savvy shopper looking for a new personal lease car or a book-balancing businessman on the hunt for a new great company car.
Audi Hybrid Range
The Audi Hybrid range consists of both petrol (TFSI e) and diesel (TDI e). Both fuel types use Audi's signature turbo-charged engine with direct injection that works in partnership with an electric motor:
Audi Q5 TFSI e
Audi's latest petrol plug-in hybrid electric (PHEV) is a mid-range SUV - the Q5.
On battery alone, the Audi Q5 TFSI e has a range of 26 miles and a top speed of 84mph. The car can be plugged in, but the battery will also recharge itself through regenerative braking, and there's no pressure to find a charging point as you'll still be able to use the internal combustion engine.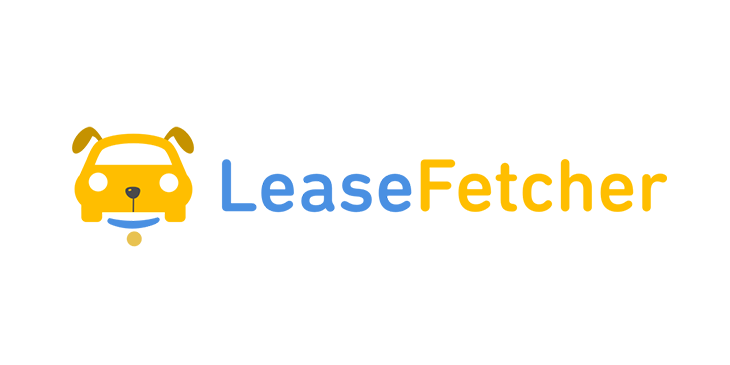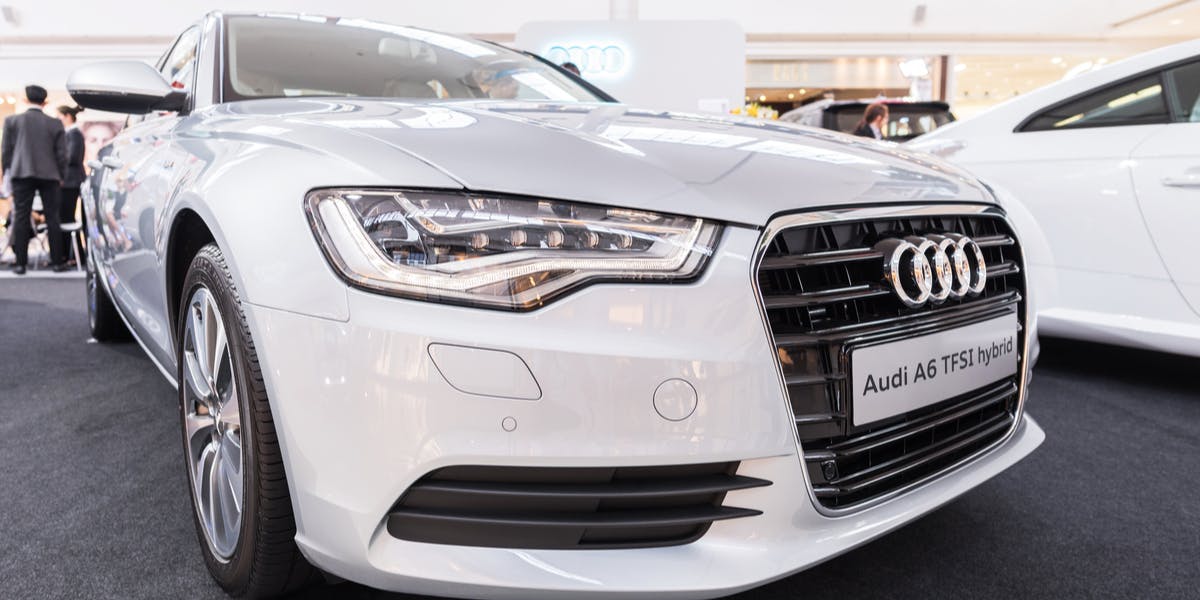 Audi Hybrid Features
As we've already suggested, Audi Hybrid cars are a great way to reduce your emissions while still maintaining all the benefits of a traditional combustion engine.
If you really want to make the most out of your hybrid car, make sure you download the myAudi companion app, which allows you to check your car's battery and remaining range, start charging, plan your journeys via the nearest charging stations and then send your chosen route directly to your car's in-built MMI navigation system - all without setting foot in the car. You'll even be able to get it warmed up before you leave the house!
Audi Hybrids also come with all the same Audi features you already know and love. If you're wanting to head off-road, you'll be able to option Audi's class-leading quattro all-wheel-drive system for grin-inducing levels of grip. Want to really get comfy in the cabin? Optional extras like the Audi Virtual Cockpit will make navigating a doddle, while things like ambient lighting, front sports seats and a Bang and Olufsen sound system will make you positively long for longer journeys.
How many miles of range does an Audi hybrid car have?
The quoted range of a hybrid vehicle will usually be around 20-30 miles. It may not sound like much, but that's not taking into account the mileage you'll get out of your standard ICE fuel tank. An MPG figure is provided separately, along with a combined MPG.
Where can I charge an Audi Hybrid?
Current Audi Hybrid cars use a type 2 charger (the most common), which can be used at home or at public charging points. You can use our charging point map to find the closest charger for your new plug in hybrid!
Audi Hybrid Roadmap
By 2025, Audi plans to have as many as 10 hybrid cars in its lineup. Audi hasn't given any solid dates yet, but the following cars are listed as "coming soon" on their website:
Audi A6 TFSI e
Audi A7 TFSI e
Audi A8 TFSI e
Audi Electric Cars
Whether you're an eco-freak or not, if you're looking for a new car, one of the biggest factors you'll have to take into consideration is the amount of tax you have to pay. Anything with zero emissions will pay zero road tax. Unfortunately, if you own a car which still produces emissions, like a hybrid car, the amount you pay increases quite steeply. The same is true of BIK rates and company car tax.
This is where electric vehicles come in.
The car itself produces no CO2 emissions directly, so you'll pay 0 road tax and 0 BiK tax for 2020-21, and a greatly reduced amount thereafter.
Audi already has some of the best electric SUVs on the market with the Audi E-Tron and Audi E-Tron Sportback, and is set to have a grand total of 20 Audi electric cars in its arsenal by 2025.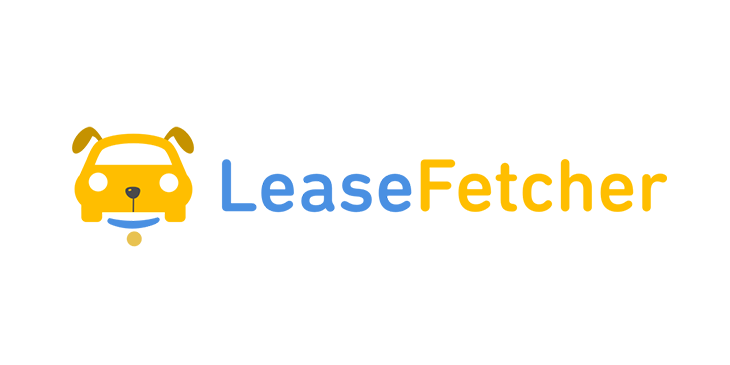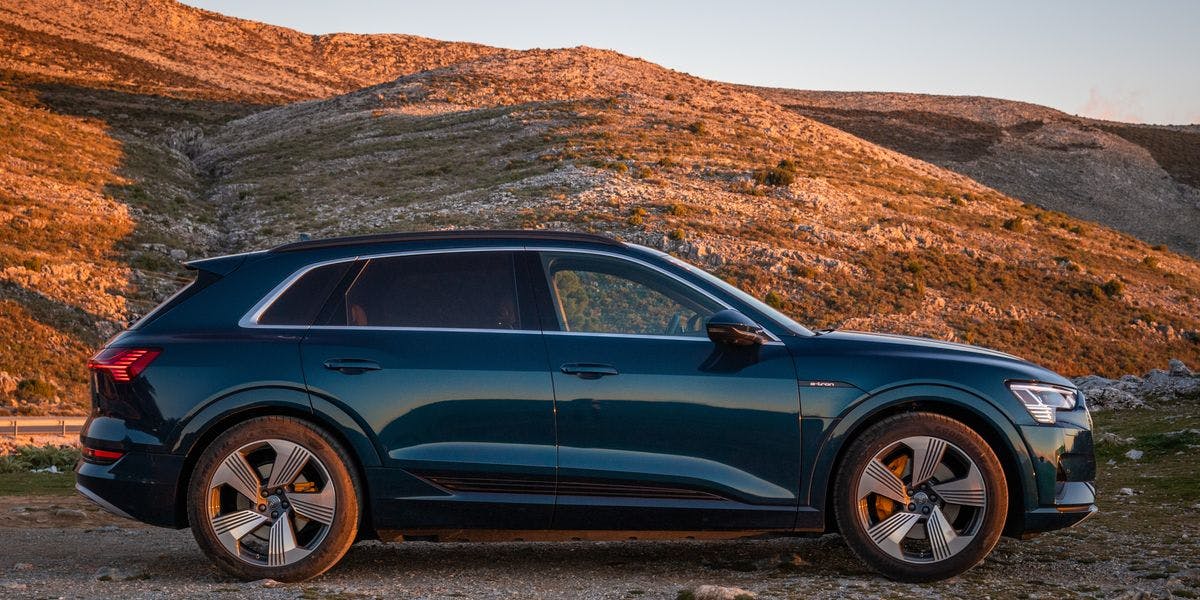 Audi Hybrid Alternatives
Audi isn't the only manufacturer producing hybrid cars. Other big German luxury car manufacturers such as Mercedes, BMW and Porsche have decided to supplement their beastly diesel and petrol engines with electric power from large lithium ion batteries.
The Germans aren't the only ones doing great things with hybrids either. Volvo has also experimented with hybrid SUVs, while Kia's range includes a mixture of all the different types of hybrids currently on offer.
For a quick overview of the best hybrids on the market, check out our best hybrid cars! You can also see our full round up of hybrid car lease deals if you're ready to lease a new set of wheels.