F1 Drivers and their Most Loved Emojis (2022 Edition)
Here at Lease Fetcher, we thought we'd take a quick pit stop from our usual informative posts and look into the Most Used Emojis by F1 Drivers!
By scraping the Instagram accounts of every Formula 1 driver taking part in the 2022 season, we've uncovered the emojis that every driver likes to post the most! Our research reveals the Top 5 Most Used Emojis for each individual driver as well as the Top 10 Most Used Emojis across all the drivers!
So gear up and strap in as we explore how each driver likes to express themselves and communicate with their dedicated fans off the track!
The Favoured Emojis of F1 Drivers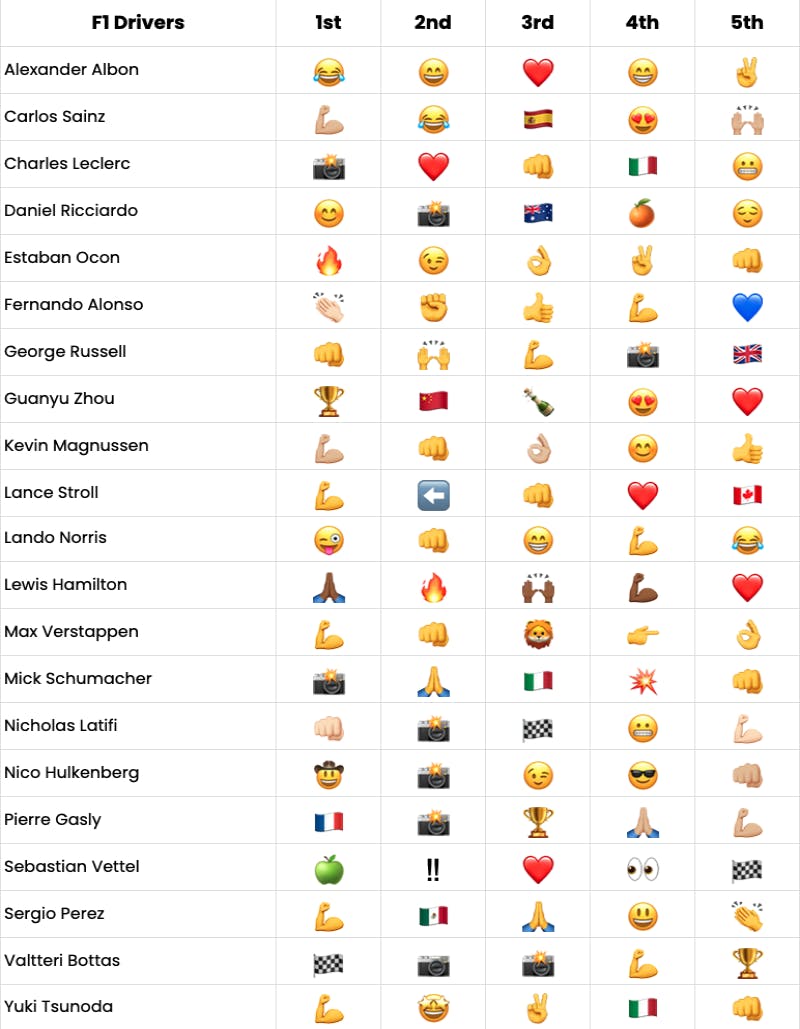 Currently sitting atop the leaderboard, fan favourite Max Verstappen is not shy of using emojis! Rumoured to be run by his media team, Max still loves an emoji on Instagram, whether it's really him or not. In fact, his favourite is the muscle flex, with 281 uses! He also loves the lion emoji, which he's posted 143 times, matching the lion on his helmet and his documentary "Unleash the Lion"!
Legendary Lewis Hamilton has amassed a huge 29 million Instagram followers, to which he regularly shares pics of races, thrilling experiences and of course his beloved dog, Roscoe. He's also loved for posting his wisdom, insight and gratitude, which explains why his most used emoji is the prayer clasp, which he's posted 315 times!
Cool, calm, collected and cheeky? Lando Norris' profile is a sea of orange thanks to his sponsorship with McLaren! He regularly updates his fans on his results and how he feels with sharp, short captions. Showing us a little bit of his cheeky side, Lando's most used emoji is the wink (with the tongue out of course), used 113 times!
Speaking of orange and McLaren sponsorships, Daniel Ricciardo's fourth most commonly posted emoji is indeed, the orange! He's posted it 17 times, to show his love for the British car manufacturer!
Fruit is certainly no stranger to Formula 1 emoji game! According to our results, Sebastian Vettel loves a green apple emoji. He's posted the emoji 27 times, making it his most used icon. We've got a feeling it's in connection to his green Aston Martin car and matching suit.
Other F1 favourites who love sharing emoji-filled posts include the likes of Guanyu Zhou who loves celebrating his results with the trophy emoji, or the patriotic Pierre Gasly who favours the French flag on his posts! You've also got Valterri Bottas who likes to keep his fans in race mode with chequered flag as his most used emoji.
The 10 Most Used Emojis by all F1 Drivers Combined
No matter what they post on their accounts, the 2022 Formula 1 drivers of course always have plenty to promote and celebrate! But what are the combined favourites across the drivers?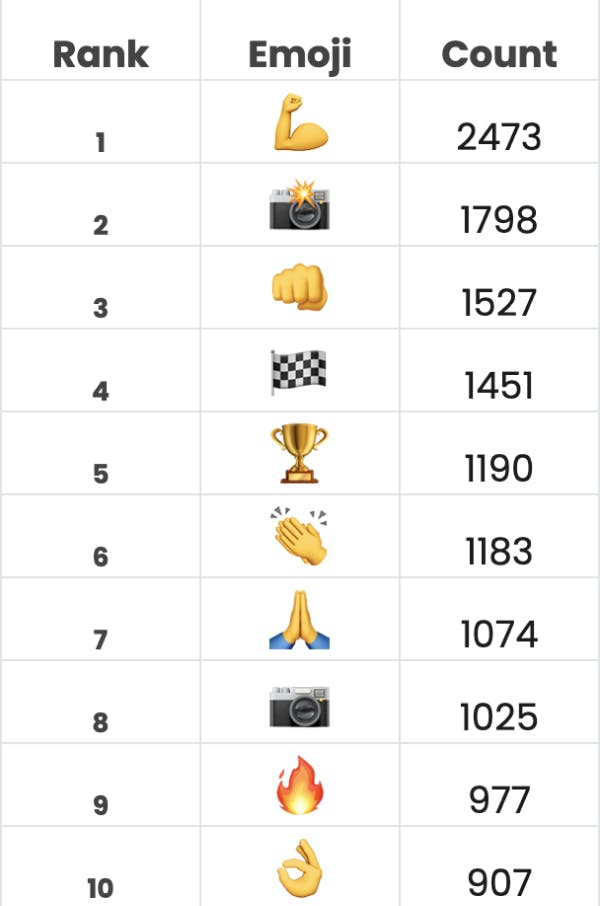 Out of the 21 drivers we analysed, the muscle flex emoji topped the podium with 2473 uses! It makes sense, given the drivers have plenty to flex about, or even encourage themselves with, with the "we got this" vibe!
We also love that the iconic chequered flag has made an appearance! It's not at the end of the race however, it's coming in fourth place, with 1451 uses!
And of course, we have the trophy! The drivers love to celebrate their precious wins with a trophy held high above their heads, and with 1190 uses, it's no wonder it's the fifth most used emoji for all the F1 drivers combined
Conclusion
After taking a quick lap or two around each driver's Instagram, we've uncovered a little something different about our racing role models. From flags to flexes, the class of 2022 love to share motivating emojis, epitomising the true values of the sport.
Methodology
Using Phantombuster, we have scraped every Instagram post for all F1 Drivers taking part in the 2022 season
We have listed the top 5 most used emojis for all F1 Drivers
We have also extracted the top 10 most used emojis for all F1 Drivers combined.
The F1 Drivers are ranked alphabetically
All data collected as of 11/07/22