The Worlds Most Watched
Cars on Youtube
We've taken a look at the most eye-catching vehicles on YouTube, and while you'd expect the list to be dominated by unaffordable supercars, you might be forced to raise your brow at some of the dark horses in the pack...
Lamborghini may dominate the top couple of spots, but there are certainly a few modest cats amongst the supercar pigeons.
We've also revealed the top 10 most-watched cars on YouTube by various car classes. So, whether you're a loyal SUV'er or a sports car connoisseur, we've got you covered.
Top 25 Cars | Top 10 EVs | Top 10 SUVs | Top 10 Supercars | Top 10 Sports Cars

Top 25 Most Watched Cars Data
| Position | Top 25 Cars | Views | Youtube Search Volume |
| --- | --- | --- | --- |
| 1 | lamborghini aventador | 1,088,910,890 | 120000 |
| 2 | lamborghini huracan | 497,039,995 | 82000 |
| 3 | land rover defender | 422,269,132 | 40000 |
| 4 | kia seltos | 411,506,469 | 65000 |
| 5 | bugatti chiron | 396,673,009 | 166000 |
| 6 | range rover | 396,132,642 | 92000 |
| 7 | chevrolet camaro | 385,621,935 | 30000 |
| 8 | jeep grand cherokee | 380,153,590 | 39000 |
| 9 | toyota land cruiser | 371,021,618 | 21000 |
| 10 | nissan gtr | 333,759,200 | 128000 |
| 11 | tesla model s | 330,041,884 | 85000 |
| 12 | bmw i8 | 319,057,117 | 108000 |
| 13 | audi r8 | 314,370,274 | 108000 |
| 14 | bmw m5 | 280,630,875 | 108000 |
| 15 | tesla model x | 255,925,442 | 105000 |
| 16 | tesla cybertruck | 254,416,448 | 182000 |
| 17 | nissan kicks | 250,535,526 | 26000 |
| 18 | ferrari 458 | 242,805,882 | 15000 |
| 19 | bmw m3 | 242,781,350 | 69000 |
| 20 | ford mustang | 240,072,219 | 82000 |
| 21 | porsche 911 gt2 | 238,509,185 | 600 |
| 22 | lexus lfa | 237,233,560 | 82000 |
| 23 | nissan skyline | 234,740,237 | 21000 |
| 24 | range rover sport | 231,708,679 | 33000 |
| 25 | mg hector | 227,554,069 | 49000 |
The Top 10 Most Watched EVs on YouTube
Top 10 Most Watched EVs Data
| Position | Top 10 EVs | Views |
| --- | --- | --- |
| 1 | tesla model s | 330,041,884 |
| 2 | tesla model x | 255,925,442 |
| 3 | tesla cybertruck | 254,416,448 |
| 4 | tesla model 3 | 171,915,436 |
| 5 | tesla roadster | 131,024,614 |
| 6 | porsche taycan | 100,553,828 |
| 7 | audi e tron | 69,279,762 |
| 8 | renault zoe | 59,540,878 |
| 9 | nissan leaf | 58,379,879 |
| 10 | renault twizy | 53,172,269 |
The Top 10 Most Watched SUVs on YouTube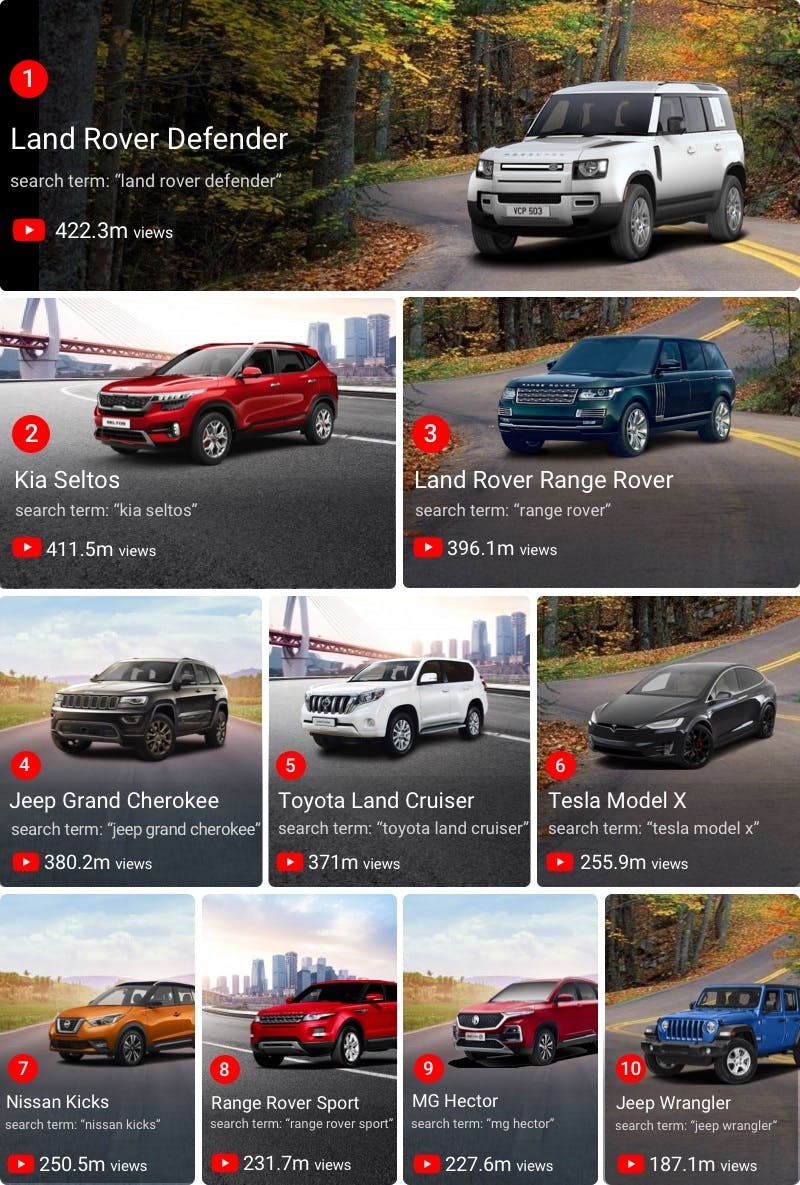 Top 10 Most Watched SUVs Data
| Position | Top 10 SUVs | Views | Youtube Search Volume |
| --- | --- | --- | --- |
| 1 | land rover defender | 422,269,132 | 40000 |
| 2 | kia seltos | 411,506,469 | 65000 |
| 3 | range rover | 396,132,642 | 92000 |
| 4 | jeep grand cherokee | 380,153,590 | 39000 |
| 5 | toyota land cruiser | 371,021,618 | 21000 |
| 6 | tesla model x | 255,925,442 | 105000 |
| 7 | nissan kicks | 250,535,526 | 26000 |
| 8 | range rover sport | 231,708,679 | 33000 |
| 9 | mg hector | 227,554,069 | 49000 |
| 10 | jeep wrangler | 187,067,702 | 59000 |
Top 10 Most Watched SuperCars on YouTube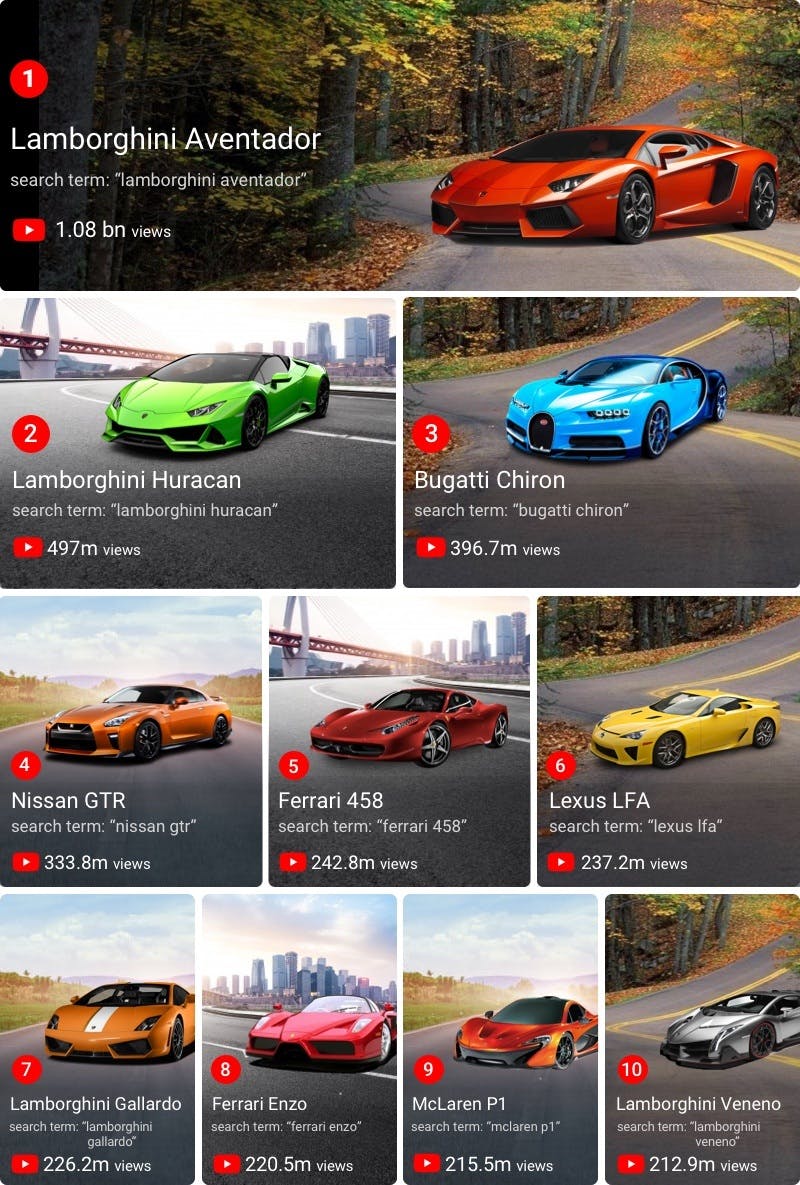 Top 10 Most Watched SuperCars Data
| Position | Top 10 Super Cars | Views | Youtube Search Volume |
| --- | --- | --- | --- |
| 1 | lamborghini aventador | 1,088,910,890 | 120000 |
| 2 | lamborghini huracan | 497,039,995 | 82000 |
| 3 | bugatti chiron | 396,673,009 | 166000 |
| 4 | nissan gtr | 333,759,200 | 128000 |
| 5 | ferrari 458 | 242,805,882 | 15000 |
| 6 | lexus lfa | 237,233,560 | 82000 |
| 7 | lamborghini gallardo | 226,184,032 | 21000 |
| 8 | ferrari enzo | 220,505,963 | 11000 |
| 9 | mclaren p1 | 215,472,378 | 41000 |
| 10 | lamborghini veneno | 212,855,101 | 37000 |
Top 10 Most Watched Sports Cars on YouTube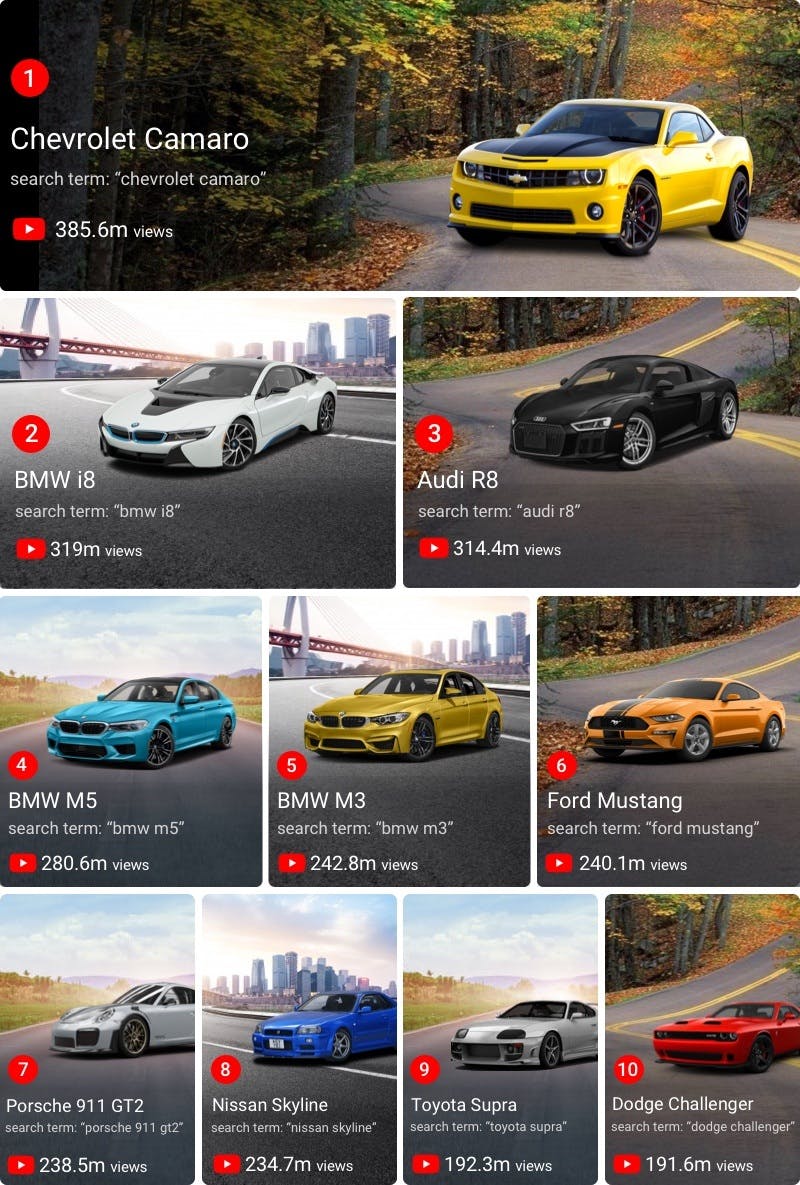 Top 10 Most Watched Sports Cars Data
| Position | Top 10 Sports Cars | Views | Youtube Search Volume |
| --- | --- | --- | --- |
| 1 | chevrolet camaro | 385,621,935 | 30000 |
| 2 | bmw i8 | 319,057,117 | 108000 |
| 3 | audi r8 | 314,370,274 | 108000 |
| 4 | bmw m5 | 280,630,875 | 108000 |
| 5 | bmw m3 | 242,781,350 | 69000 |
| 6 | ford mustang | 240,072,219 | 82000 |
| 7 | porsche 911 gt2 | 238,509,185 | 600 |
| 8 | nissan skyline | 234,740,237 | 21000 |
| 9 | toyota supra | 192,283,067 | 141000 |
| 10 | dodge challenger | 191,595,776 | 76000 |
Methodology
We took the top 1,000 car models of the last 5 years based on worldwide car sales data and allocated them their appropriate classification (i.e Supercars, SUVs, Hatchbacks)
We then used Ahrefs data to establish the primary keyword for each model i.e. (Audi A1, Tesla Model 3).
Using YouTube API data over the course of 30 days, we pulled down the top 50 most viewed videos that featured the exact match search term (i.e Audi A1, BMW X5) in the title of the video.
After calculating the number of views for each of the top 50 videos for each car model that featured the search term in the title, we ordered the car models by total view count and entered the relevant data into the graphics. You can access all the graphics here