Whatever car you drive, whether you buy or lease a car, you will have to regularly maintain, service and repair the vehicle.
These are all additional expenses, but are comparatively minuscule when you think of the small fortune you'll have to amass to repair damaged pistons or a blown head gasket if you don't keep on top of things.
Your leasing broker will expect the vehicle to have been maintained to a high standard and will charge for any additional repairs when you return your vehicle at the end of your lease.
The car will be expected to meet the industry standard, outlined in the BVRLA guidelines for fair wear and tear.
Luckily, there are some benefits to business or personal contract hire in this respect.
Because it's a new car, you won't have to worry about how the previous owner handled the car, for example. If you are leasing for 3 years or less, you won't have to put the car through an MOT.
The car will also be covered by a manufacturer's warranty, usually for the duration of your lease, though this might not be the case if you're leasing for a longer term or plan to drive a lot of miles. In this case, you might want to invest in an extended warranty.
What should I do when I need to repair my lease car?
Usually, you will need to take your lease car to a Franchised Dealership of the same marque as your car. Some lease companies will allow you to use independent garages, though you should check first. If this is permitted, you should also ensure that the garage uses genuine franchised parts and that the work is completed to manufacturer guidelines. This may not be worth the risk, however, as failure to follow this process, by using non-genuine parts for example, could void your warranty.
If the warranty is invalidated, you will be liable to pay for the cost of any repair work which would have been covered under 'normal usage'. This does not include perishable parts.
The Manufacturer's Warranty
All new cars come with a manufacturer's warranty. This will usually last for 3 years, though manufacturers such as Kia offer a range-topping 7 year warranty. This covers faults which arise from normal use, but does not cover the repair, replacement or adjustment of a number of perishables, such as wiper blades. Our article on lease car warranties discusses what is included in the manufacturer's warranty in more detail.
There may be more that isn't covered by your manufacturer's specific warranty, so you should always check the information provided by your manufacturer. Under your lease agreement, you are responsible for the cost of repairing and replacing anything that's not covered by the warranty for the duration of your lease.
Vehicle Maintenance
Many of the things that aren't included in your standard manufacturer's warranty can be replaced or managed yourself. Things like knowing how to check tyre pressure, changing your oil, cleaning your upholstery, and checking your brake pads are easy to get the hang of. There are plenty of handy car maintenance apps that can help with this.
Alternatively, if you don't mind paying a bit extra, you can add a maintenance package to your lease deal and let someone else take care of all of this for you!
Servicing your lease car
Under the terms of your lease contract, you must also service your leased vehicle at regular intervals. This could be anywhere from every 6 months to once every 2 years. Again, this should be carried out at an approved dealership to ensure that the warranty remains valid. You should also make sure that the service book is stamped after every visit, or you could be charged.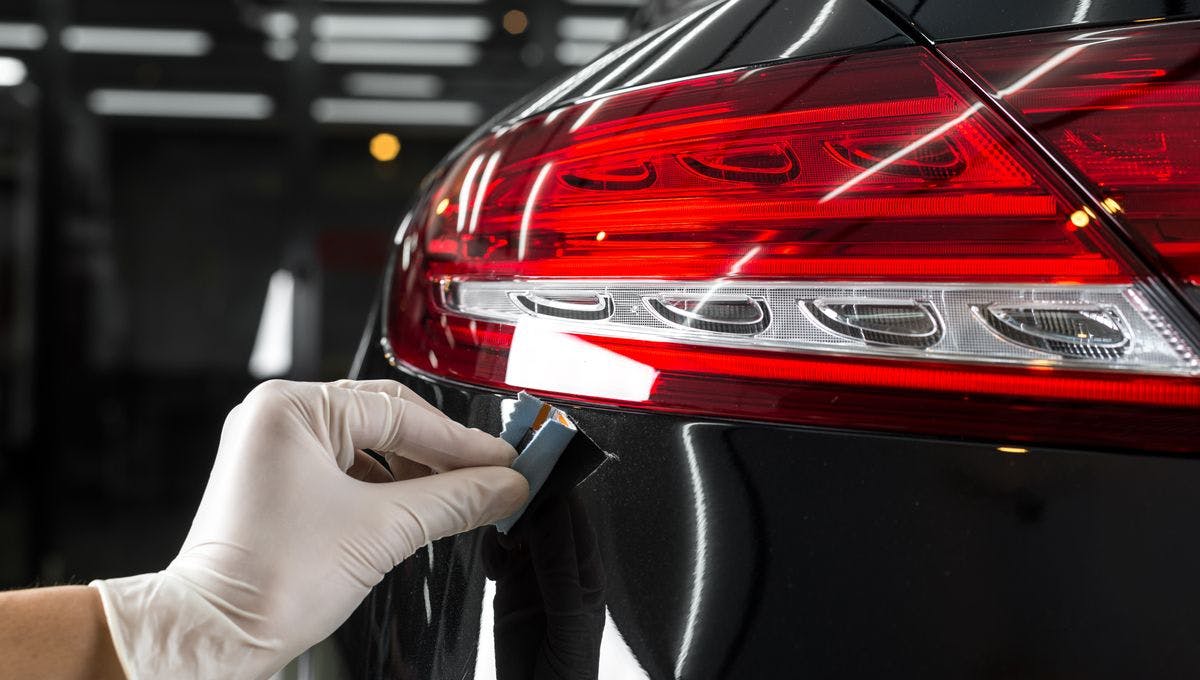 Repairing cosmetic damage
No matter how carefully you drive, stone chip damage is inevitable. You can however reduce the impact of stone chip damage by keeping your car's exterior clean, and polishing it regularly. If you do this at least every few months, then you should be able to limit any damage to your alloy wheels or the car's paintwork.
You should deal with scuffs or scratches as soon as possible. This will reduce the risk of corrosion and rust if the damage is deep. Whilst the car scratch repair cost might be irritating at the time, it'll only spiral into something worse if you don't deal with it early.
A franchised dealer will be able to supply you with a touch-up paint pot that will match the vehicle's colour perfectly. This will allow you to rectify any issues quickly without having to book in for bodywork repair. Be wary of purchasing paint from other providers, as this won't always provide an exact match colour, and may highlight the damaged areas even more.
Summary
Ultimately, it's your responsibility to keep on top of your vehicle's condition. It's by far the most cost effective option (you'll be less likely to face any large vehicle repair bills in the future). Even if you're still able to drive your car, if you fail to keep it in top condition, you may be charged by the leasing broker for expensive end of lease repairs.
For any major repairs, you should always use an approved garage, or you risk voiding your warranty and receiving a fine from your leasing company.
Some wear and tear is inevitable. If you are worried about whether your vehicle meets the required standards, you should consult the BVRLA guidelines for fair wear and tear, which sets an industry standard for a vehicle's condition on return to the leasing company.