PCP vs Car Leasing: Which Is Right For Me?
Are you itching to get yourself on the roads, but stuck in a predicament when it comes to choosing your car finance options? What is financing a car, for starters? Should you buy or lease? PCP or HP? What about PCP vs lease?
Both Personal Contract Purchase (PCP) and car leasing are feasible choices, so it's all about finding the most suitable option for your personal circumstances.
Granted, they both appear pretty similar at first glance, but once you dig a little deeper you soon realise that they offer very different elements.
In this article, we'll explore PCP and car leasing in further detail. We'll also breakdown the similarities and differences between the two finance options, as well as, helping you decide what option is best suited to you.
What is Car Leasing?
We've done a "how does car leasing work" bumper guide so we'll cover the basics here. Also referred to as Personal Contract Hire (PCH), car leasing is an opportunity for drivers to get their hands on a brand new car in the form of a long-term rental period.
It's a much more affordable alternative to buying a vehicle outright. Instead of paying for the vehicle in one lump sum up front, the cost to lease a car is split into a series of monthly installments.
Once you've picked your preferred vehicle, you will sit down with the leasing company to discuss the length of your lease contract (usually between two to five years).
In addition to this, you'll also arrange your expected annual mileage, as well as, sealing a finance agreement to pay your initial rental payment. The initial payment works in a similar way to a deposit, and is usually equivalent to between 3 and 12 months of your fixed monthly payments.
The lease vehicle is always owned by the leasing company - they are known as the registered keeper of the lease car. At the end of the agreement, you will return the car to the leasing company and arrange to sign up for a new lease deal if you wish.
You may ask about the possibility of keeping the car, but there's no guarantee that this will be possible.
What is PCP?
PCP finance is a little more complex than car leasing. With PCP you will be borrowing the full value of the car and paying interest on the remaining debt. See our full guide "what is PCP finance" for more detail, though we'll explain the general gist below.
It's worth noting that you'll only be paying part of the car's cost through your monthly payments. The total cost is the difference between the value of the car at the start of your contract and the predicted, residual value of it at the end. In short, you'll be paying the value that the vehicle is expected to lose during your lease contract (depreciation).
Your fixed monthly payments will be cheaper when compared to alternative car leasing options, however, it does mean that you are left with a hefty final payment if you want to become the owner of the car at the end of the contract.
Duly named the 'balloon payment', the optional final payment will often be pretty high because your monthly payments aren't covering the full value of the car. Depending on the car and contract terms, the balloon payment typically amounts to a third to half of the car's list price.
At the end of the contract, you'll be given three options:
Get full ownership of the car by paying the final balloon payment.
Return the car to the leasing company with no further fee to pay as long as the car is in good condition and within the annual mileage allowance.
Part-exchange the car with a car retailer. If the car is worth more than the balloon payment, any leftover value (equity) can go towards a deposit on your next car.
A Third Option - Lease Purchase
There is a third alternative called lease purchase, which is sort of a blend between regular contract hire and PCP.
A lease purchase deal works much the same way as normal leasing: you pay an initial rental and monthly fees based on depreciation, right the way through your contract.
When the deal ends, however, you have to buy the car. Unlike PCP you have no option to return it.
This might not sound like a great deal to some - why can't you just return it if you change your mind? Since you'll pay a larger payment at the end to buy the car, it keeps your monthly costs lower throughout the contract, which some people will benefit from.
It also means you can afford a higher spec car than PCP since the monthly payments are lower.
Similarities between leasing and PCP
They both offer similar features including low monthly payments with the option of returning the car at the end of the agreement.
Both PCP and leasing involve additional charges for damage to the vehicle. If the vehicle is returned beyond the BVRLA's Fair Wear and Tear specifications, the leasing company are within their rights to grant penalty charges.
If you have exceeded your agreed annual mileage allowance, you will be liable for further penalty charges with both a PCP or a car lease deal.
You can trade in your current car to knock down the price of the contracts - see our car lease part exchange post for more on this.
Differences between leasing and PCP
The big difference between the two is the option to buy the car outright with a PCP deal. By paying the balloon payment on the car, you have the ability to own the car. You do have the option to return the car too, if you wish.
Car leasing generally only offers brand new vehicles, whereas PCP can be used for new and used cars.
In contrast to some PCP and Hire Purchase (HP) deals, you won't have to pay a deposit with car leasing. You will however, have to pay an initial payment that's equivalent to a few month's instalments at once.
Whilst you have to do a credit check for leasing and PCP, you do need good credit for leasing generally, whereas a poor credit score may be considered for PCP deals.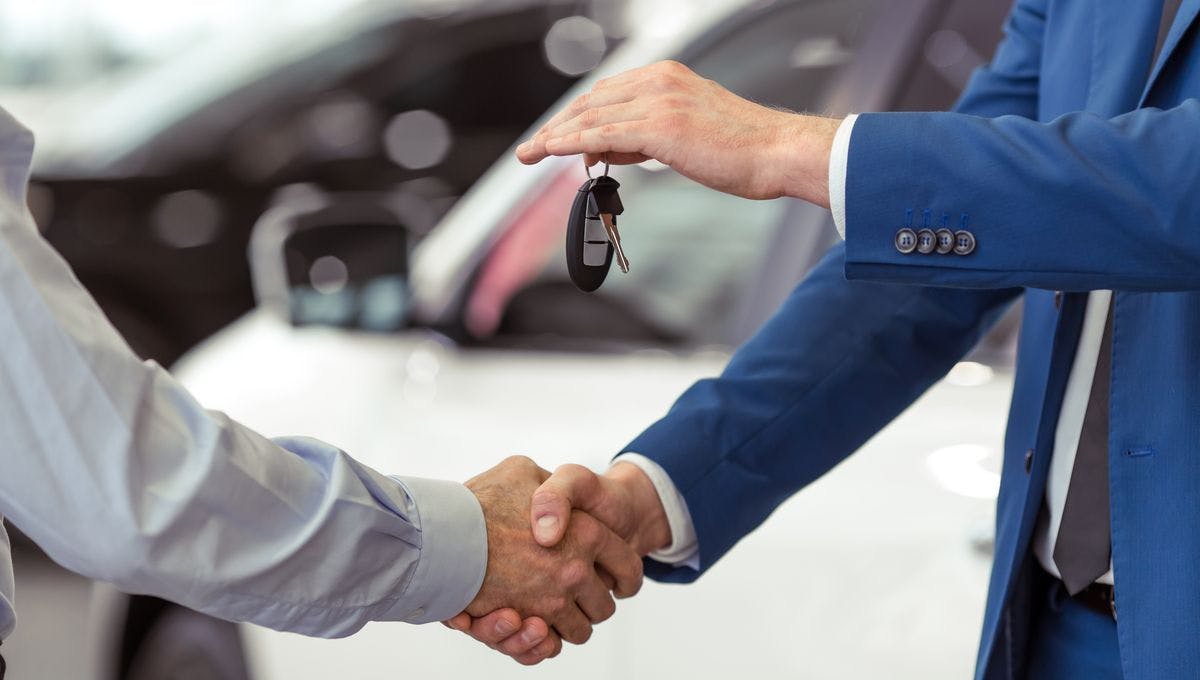 Which option is best for me?
Flip a coin... just kidding. At the end of the day, it's completely up to you. Whatever option best suits your individual circumstances and personal preferences.
It's pretty evident that PCP offers you a greater deal of flexibility at the end of your contract. If, for any reason your circumstances change, a PCP deal offers the opportunity to end the agreement early (at an additional cost) whereas it can be a lot harder and costlier to end a car leasing contract early.
On the other hand, car leasing can work out cheaper to run than financing a PCP deal offering a used car. This is a result of the finance companies claiming back VAT and passing the savings onto you. You can even try your hand at car lease negotiation to get an even lower price.
You're also guaranteed to be the first driver of the vehicle through a car lease (bar the delivery driver). If something goes wrong, the manufacturer's warranty will have your back.
You'll also have the opportunity to to bag yourself a maintenance package at an additional cost. The maintenance cover does, however, cover your services for your lease car, MOT if your contract is 3 years or old, and any lease car repairs or replacements you may need over the duration of your contract - well worth considering.
What other car finance options do I have?
If you're not totally stuck on PCP or leasing just yet, you should take a look at other options too!
We've pinned some popular forms of car finance against each other, including PCP vs HP and PCP or bank loan.
For more information on some the best ways to finance a car, read our guides on how to get a car loan and car hire purchase.
And if you're unsure whether to go for a finance option or buy outright, check out our post "Should I get a car on finance?"
Fancy leasing?
If you're in the market for a new lease car, there's a whole host of awesome deals on Lease Fetcher to feast your eyes on. We make car lease comparison easy.
Compare the best business car leasing and personal car leasing deals on the UK market with ease with us.
---