Electric Car Charging At Home: What Do You Need To Know?
Charging your electric car is a great excuse to grab a coffee and take a break from driving. But if you're not much of a coffee connoisseur (or you prefer yours on-the-go) then charging doesn't have to slow you down.
With the right kit, EV owners will find electric car charging at home a real time-saver!
If you're considering buying an electric car, or you have one already, this guide to charging at home will come in handy!
How do you charge an electric car at home?
There are two ways to charge your electric car at home. The simplest and cheapest option is to use a standard 3-pin plug socket. You can run the cable through an open window or install a weatherproof box outside.
Unfortunately, these sockets weren't really designed with cars in mind. With a max output of 3KW, you might be able to 'fast-charge' your smartphone but even the smallest electric car battery could take up to 30 hours!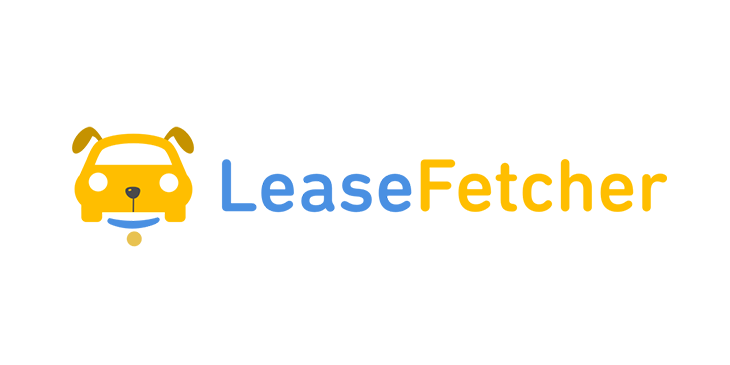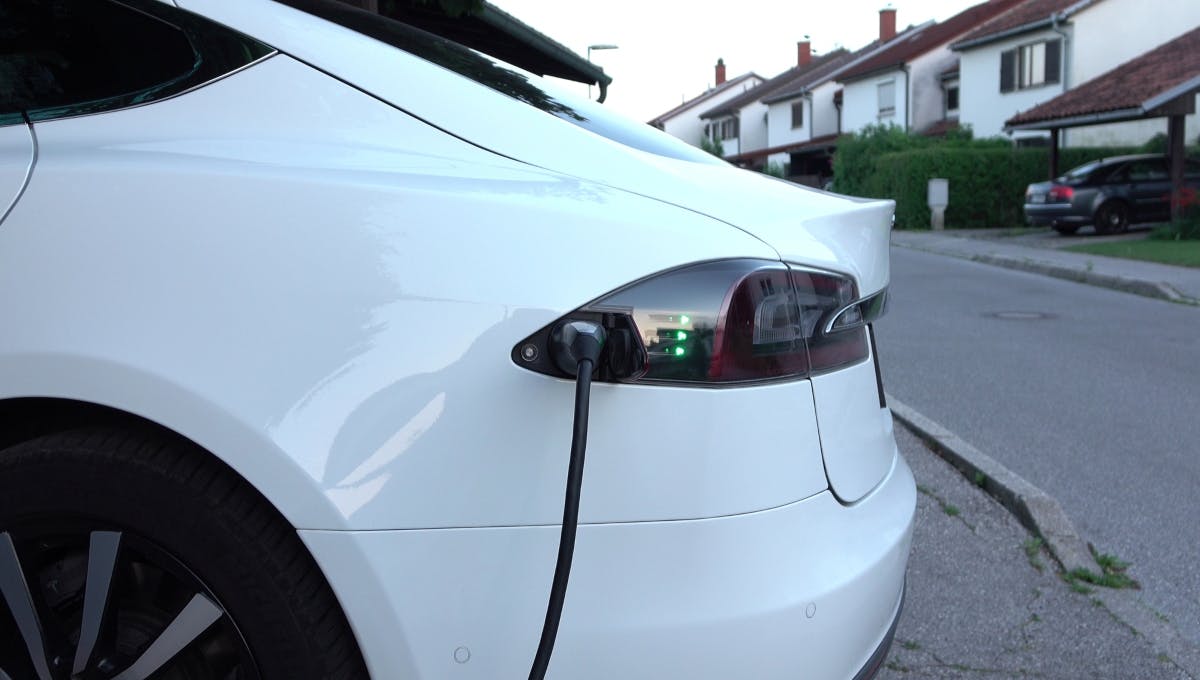 How do you install an electric car charging point at home?
Installing a dedicated electric car charging point requires a little more time and money, but it's definitely worth it. Many EV charge point manufacturers will send their own qualified electricians to complete the installation.
We've written a post so you can find out more about who installs electric car charging stations. Installation should take no more than a couple of hours, and they'll usually ask for some details about the property in advance to speed up the process.
If you're installing a 'smart' electric car charger, you'll also want to keep your WiFi password to hand to get set up as quickly as possible.
However, there are a few building regulations you'll need to keep in mind. You won't need planning permission, but you will need to have off-street parking. In addition:
If you are installing a wall-mounted electrical outlet, it must not:
Exceed 0.2 cubic metres.
Face onto, or be within, 2m of a highway.
Be within a site designated as a scheduled monument.
Be within the curtilage of a listed building.
If you are installing an upstand with a mounted electrical outlet, it must not:
Exceed 1.6m in height.
Be within 2m of a highway.
Be within a designated scheduled monument.
Be within the curtilage of a listed building.
Exceed 1 upstand for each parking space.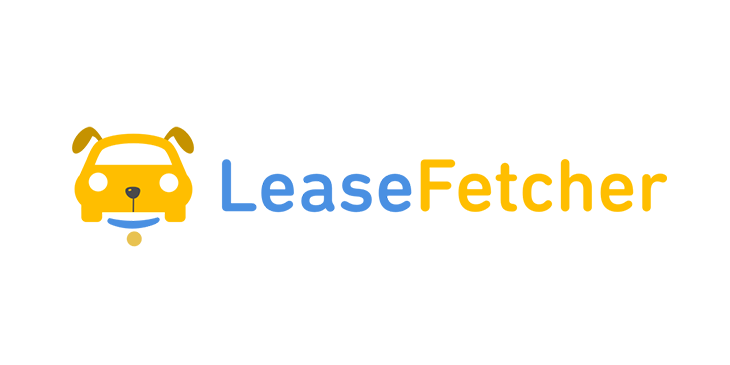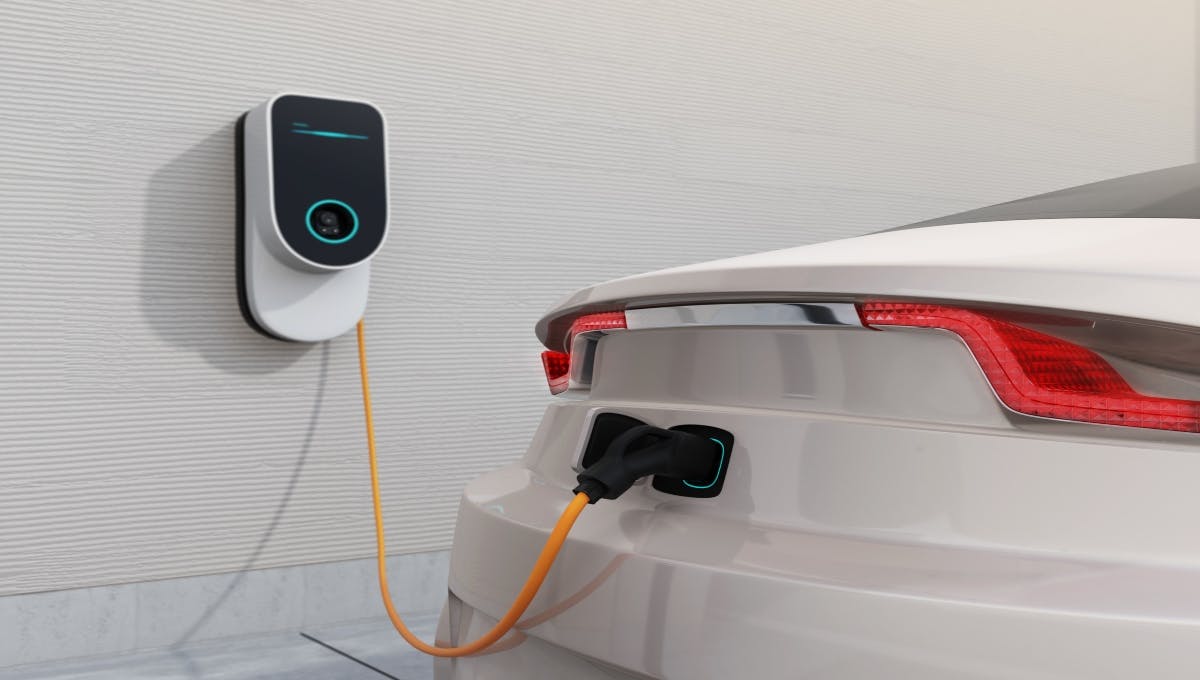 What if I have no driveway?
If you don't have a driveway then you won't meet the building requirements for an EV charge point installation and you won't be eligible for an OLEV grant.
You can find out more about how to charge an electric car with our post on electric car charging at home with no driveway.
How much does it cost to install an electric car charging station at home?
The typical cost for electric car charging points installation is around £800.
This might seem like a lot, especially when you've just spent more than average on an electric vehicle.
However, they come with a generous 3 year warranty and as an early adopter you may also be eligible for discounted installation.
With Rightcharge, you can compare home electric car charging points so you can easily find the best price for a home charger installation. This is an affiliate link where Lease Fetcher earns money if you choose to go with one of Rightcharge's providers via Rightcharge. You will not be charged extra for using this link.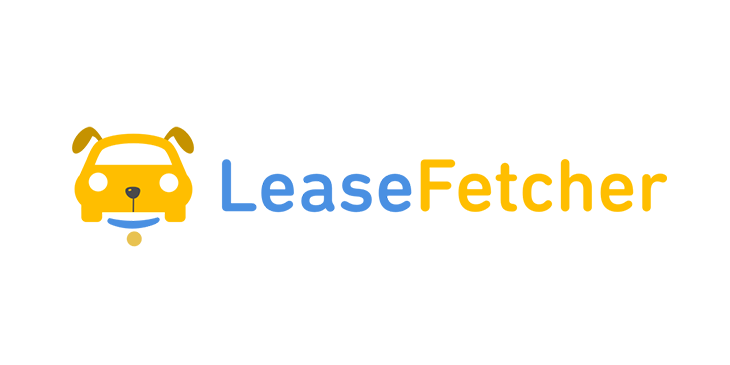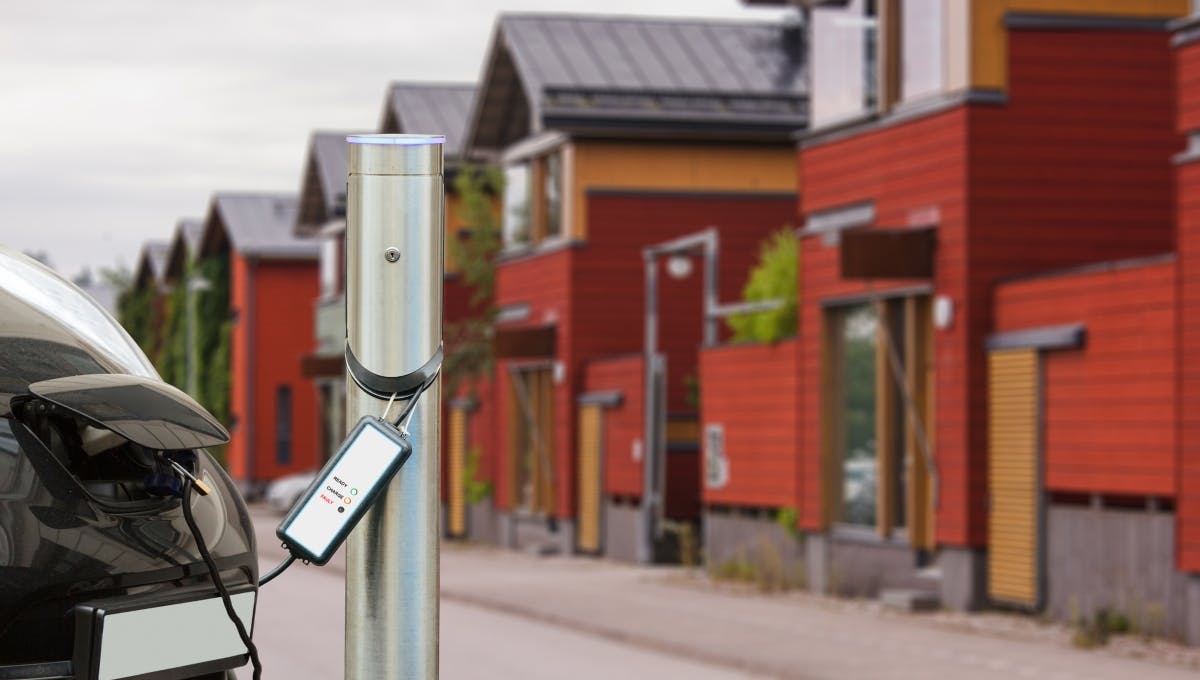 What is the Electric Vehicle Homecharge Scheme (EVHS)?
To ease the transition to electric vehicles, the Office for Zero Emission Vehicles (OZEV, previously the Office for Low Emission Vehicles, or OLEV) offers a government grant of up to 75% or £350 (including VAT) towards the cost of installation under the Electric Vehicle Homecharge Scheme (EVHS). You can read more about the current UK Government grants for electric cars.
Your chosen installer will make the claim on your behalf. To be eligible for the grant, you must ensure that you:
Use an authorised EVHS installer.
Choose a qualifying 'smart' EV charge point that meets the minimum technical specifications.
Own, lease or have ordered a qualifying electric vehicle or plug-in hybrid. This includes new or second hand eligible vehicles and eligible company cars assigned for at least 6 months.
Own, or have sole legal right to the parking space. This excludes rented spaces, spaces shared with other properties and spaces that provide access to other properties.
You may not claim a grant if you have previously used the scheme, or its predecessor, the Domestic Recharge Scheme (DRS), unless you own a second qualifying electric vehicle concurrently. This includes if you are moving house (whether replacing or bringing your chargepoint with you) or upgrading your chargepoint.
Charger connector types
EV charging cables and connectors have been updated over the years to take advantage of new developments in battery and charging technologies. As a result, there are a number of different EV charger types.
Generally, home chargers use either a 'Type 1' or 'Type 2' connector. As type 2 is the newer technology and allows faster charging, you'll most likely need a charge point with a type 2 connector.
You'll also have to choose between a 'tethered' and or 'universal' charger. While the former comes with a cable attached and means you won't have to rummage around in the boot every time you want to plug in, the latter allows you to choose the cable you use.
It's worth noting that most new EVs will come with a Type 2 cable, so you won't have to buy one to use the charger. A universal charger might also be a good idea if you have two cars with different connectors using the same charge point.
How much does it cost to charge an electric car at home?
If you're about to start charging your EV at home then your next electricity bill may come as a bit of a shock. Don't worry though, as this should still cost a lot less than driving a petrol or diesel car.
As electricity providers gear up for the transition to EVs, many have started offering special EV tariffs for customers. Pod Point, which is now part of EDF Energy, allows you to track your energy usage and print itemised reports of your home charging costs for your household budgeting.
Another great example is Octopus Energy and their 'Go' or 'Agile' tariffs. When paired with a smart charger, both allow you to take advantage of variable daytime energy rates so that your car only charges when it's cheapest. The 'Agile' tariff made headlines by paying customers to charge their EVs when wholesale energy prices went negative due to high renewable energy production and low consumer demand!
We've gone into much more depth on public charging rates in our post: how much does it cost to charge an electric car?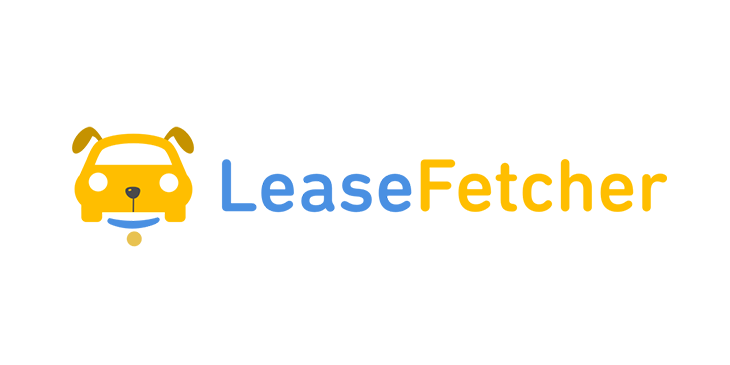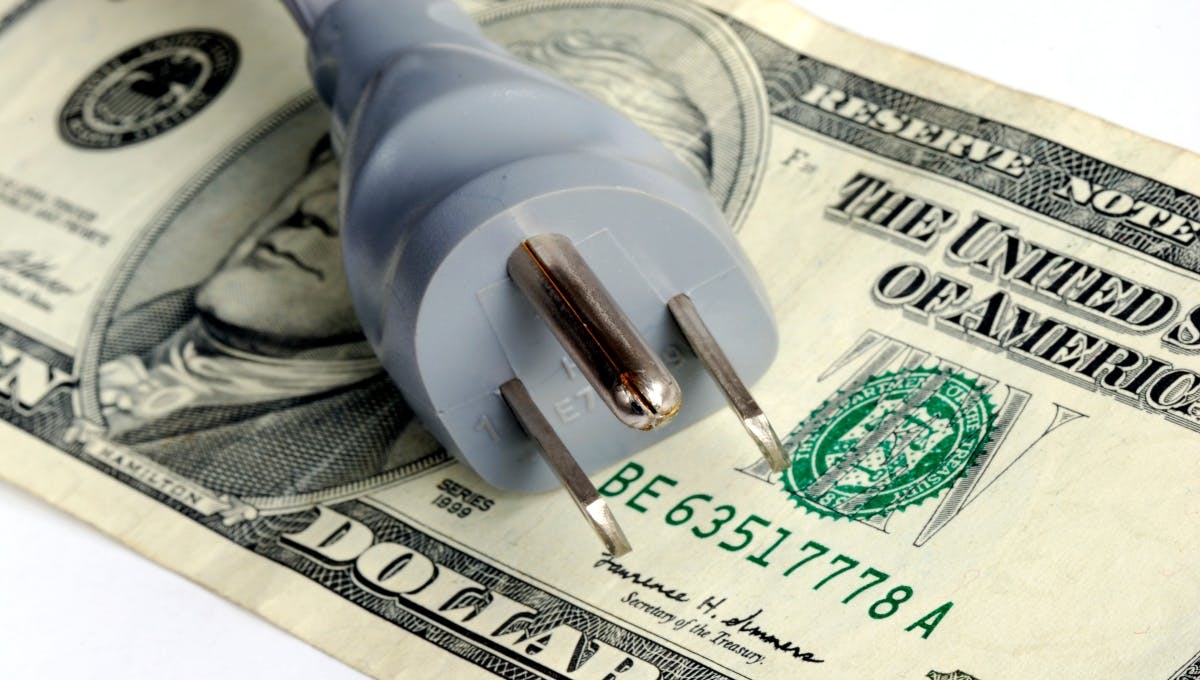 How long does it take to charge an electric car at home?
Though EV charging technology has moved on considerably in recent years, the rate at which you are able to charge your car at home is still significantly slower than when using a public charge point.
Home chargers will have an output between 7KW and 22KW, depending on the type of electricity supply to your home. If you have a single phase electricity supply, you'll be at the bottom end of that scale. This is usually the case in smaller houses with gas central heating. If you have a larger, more modern home with electric heating then chances are you'll have a three phase power supply and you'll be able to take advantage of faster charging speeds. An easy way to check is to see how many 100-amp fuses there are in your home's fuse box.
It's worth noting that some EVs may not be able to fully utilise these faster charging speeds. The Nissan Leaf and Renault Zoe are capped at 7KW, which will still half the time it takes to achieve a full charge using a 3-pin plug socket. A Tesla home charging unit allows up to a maximum of 22KW, but the actual rate of charge depends on your home electrical supply.
Though all EVs will be different, you can expect a Tesla Model 3 to add 40 miles of range for every hour on charge (assuming you have at least 11KW output). By contrast, a Renault Zoe, could achieve 197 miles of WLTP range from nearly 7 hours of charging on a 7KW charger.
A home charging point may not be as quick as the advertised charging time offered by a public charging unit, but it should still give you a full battery if left overnight. For more information on charging times, check out our post: how long does it take to charge an electric car?
Should you charge every day at home?
How often do you have to charge an electric car? It's a reasonable question, as running out of juice without a petrol station nearby is still a big concern for hesitant EV adopters. If you want to avoid embarrassment the next day, charging overnight would be a wise decision.
That said, the EV charging network is growing faster than ever to keep up with the growing number of EV drivers, so you shouldn't have a hard time finding somewhere to charge if you need a top up!
If you're worried about the battery degrading if it is always on charge, you can rest assured this shouldn't happen. Lithium-ion batteries (the type currently used in EVs) are rated for a number of charge cycles.
A cycle is the time it takes to discharge a battery 100%. Keeping your battery between 20% and 80% is optimal. If you recharge before it is fully depleted and begin using before it is 100% charged, this won't shorten your battery lifespan, as this will not count as a full cycle.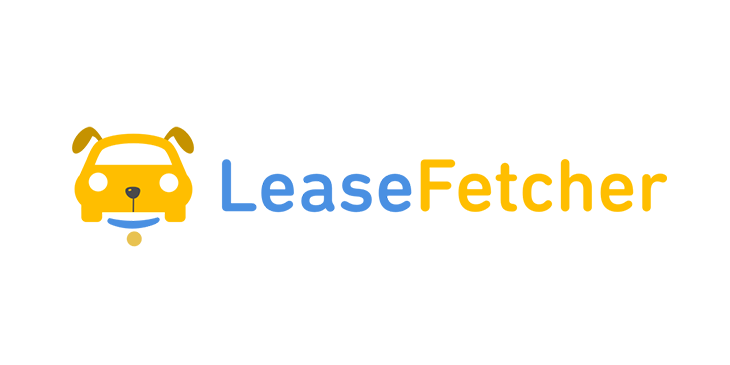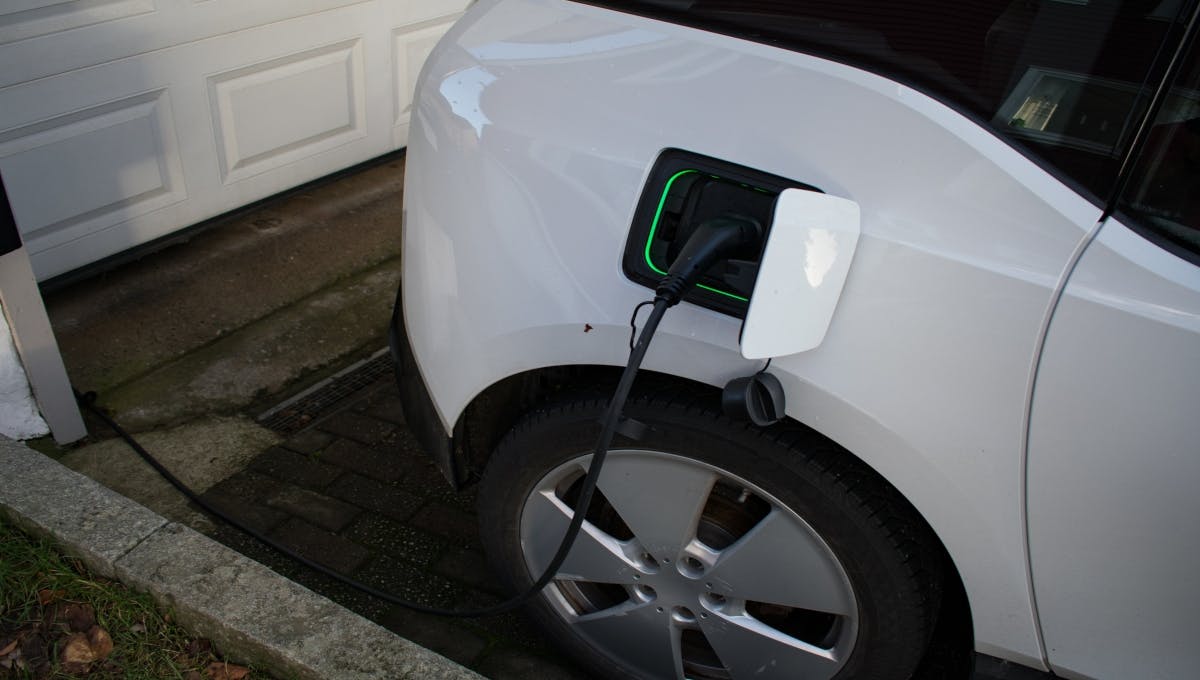 Looking for your next EV?
Picking the right model makes all the difference when it comes to the ease of running an EV. At Lease Fetcher, we let you compare electric car lease deals from the UK's leading leasing brokers. If you're not ready to make the switch to fully electric just yet, check our hybrid lease deals instead.
Not sure how each model stacks up against each other? Our roundup of the best electric cars and the best hybrid cars will help!
---