Electric Car Charging Points For Business: Things To Consider
For businesses, leasing or buying electric cars is a no-brainer. The UK Government offers comprehensive tax benefits for electrifying vehicle fleets and the cost of 'refuelling' is a fraction of the cost for a traditional petrol or diesel vehicle.
But to take full advantage of electric vehicles, you will also need the necessary EV charging infrastructure.
Fortunately, electric car charging facilities also attract generous Government subsidies. In this post we discuss the costs and benefits of installing electric car charging points for businesses and the things to keep in mind.
Why install an EV charger?
As the EV charging network continues to expand rapidly across the UK, you might be wondering why on earth you would want to install an electric vehicle charge point on your premises in the first place? After all, it's an extra expense - you can always use a three-pin plug overnight, right?
While that's technically true, charging from a UK three-pin plug is not the most practical EV charging solution. In some instances, it can take over 24 hours for a full charge!
Whether you've got an electric company car or a whole fleet, or you want to entice customers with the opportunity to 'top up' while they shop, there are lots of reasons to install EV charge points at your business.
Workplace Charging
If you're thinking about setting up chargepoints for your employees, here are some things you can consider:
Set employee tariffs, track users and decide whether or not to open up to the public with 'passcodes' for charging.
Offer 'free charging' as an employee benefit.
Array charging or 'load balancing' allows up to 3x more charge points using the available power supply.
Easy to scale up - add more charge points as the number of employees driving electric cars and plug-in hybrids increases.
Fleet Charging
A business charging network for your fleet is also useful:
Smart software solutions that itemise all fleet charging activities. PodPoint can also seamlessly integrate costs for charging at home or on the road.
Fast and rapid charging solutions available.
24/7 support.
Commercial Charging
Offering charging for your business clientele is a good move for many business types:
Encourage customers to stop and shop by promoting EV charging opportunities.
Fast and rapid charging options available.
Whether you're looking for workplace, fleet or commercial charging, there is no better way for your business to burnish its green credentials!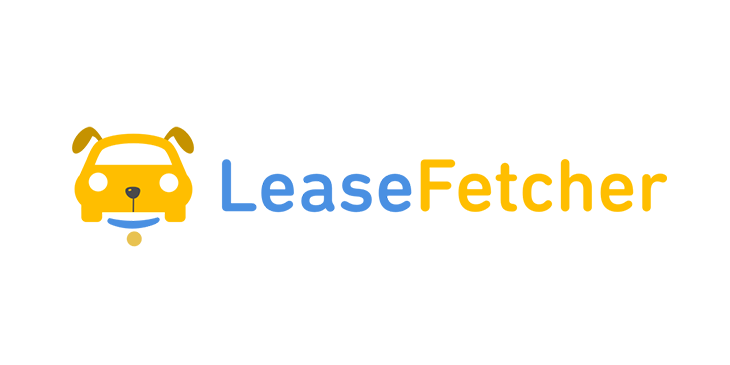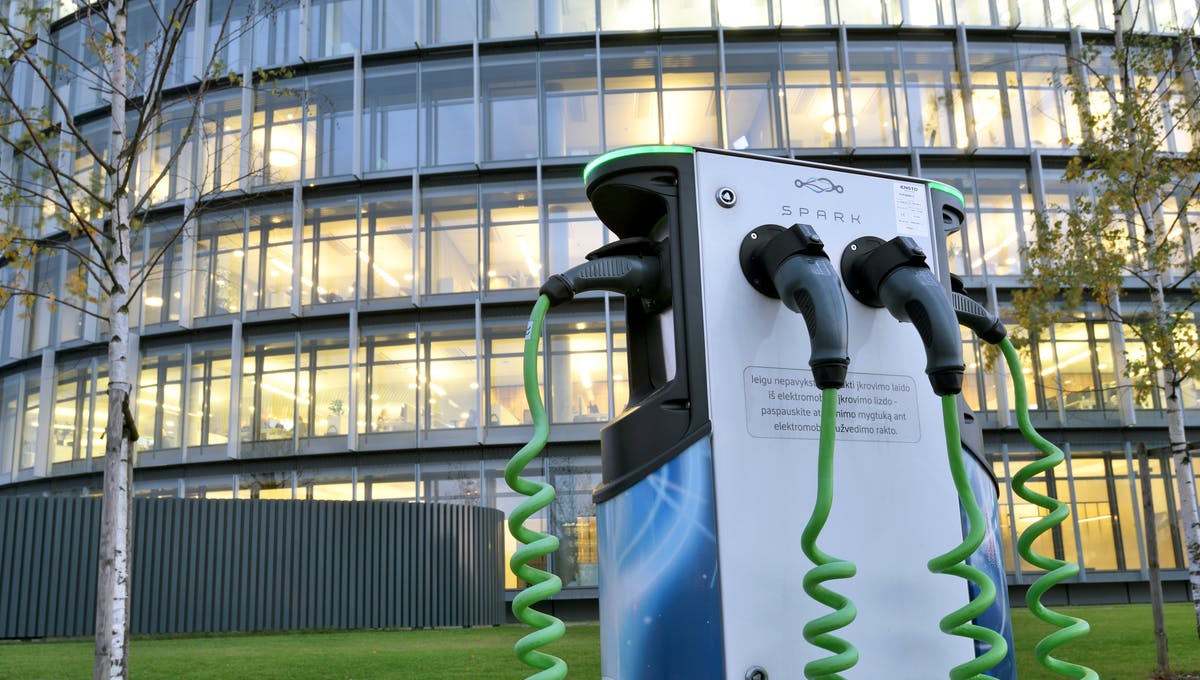 Workplace Charging Scheme
One of the many perks of being an early adopter of electric vehicles is that you are eligible for generous Government grants for electric cars, including subsidies towards the installation of EV charging points.
Similar to the Electric Vehicle Homecharge Scheme (EVHS), The Workplace Charging Scheme (WCS) is a government voucher-based scheme offered by the Office for Low Emission Vehicles (OLEV).
Under this scheme, businesses, public sector organisations, charities and local authorities can save 75% on the cost of installation per chargepoint (up to a value of £350) on up to 40 charge points per business. That's a saving of up to £14,000!
You'll need to ensure you use an OLEV-approved installer to be eligible for the grant. (We've compiled a comprehensive review of the big electric car charging companies such as PodPoint, EO and Engie!)
Rules for installation
If your business operates on leased premises, you will need to ask the landlord for permission before you install any charge points. Many rental agreements have clauses relating to improvements to the site. If you frame the chargepoint installation as a building 'improvement' the landlord is likely to approve.
If your business doesn't have any off-street parking, you may still be able to get a charging point installed near your workplace.
If you operate in a residential area, potential locations can be suggested to your local authorities through the On-Street Residential Chargepoint Scheme.
How many chargers do you need?
Under regulations set by the EU Energy Performance of Buildings Directive (EPBD), the UK agreed to ensure that all existing Non-Residential Buildings with more than 20 car parking spaces will be required to have at least 1 charging bay by 2025.
The government has also proposed that New Non-Residential Buildings and Non-Residential Buildings undergoing a 'major renovation' with more than 10 car parking spaces will be required to have one active chargepoint and 1 in 5 bays with passive chargepoint provision (pre-installed cable routes) to enable an easy expansion as EV uptake increases.
For EV fleet charging, it makes sense to have enough chargers for your fleet. While you can simply alternate which vehicles are plugged in at any one time, this can be a hassle - particularly if you don't have the latest fast chargers installed or your vehicle fleet is not equipped for rapid charging.
As well as your vehicle specification, you need to consider the kind of power supply you have installed on the premises and your business' 'available capacity'. If you exceed this, you could incur costly excess availability charges. If you want to have all of your electric vehicles charging at the same time, you can avoid exceeding your maximum power capacity by using a load management system to balance the rate of charging with the number of active chargers.
It's worth noting that if you are looking to install chargepoints for your employees or for a commercial building, you don't have to install them all at once. Companies like PodPoint allow you to 'passively' wire parking bays so that you can expand the number of chargepoints easily as demand grows.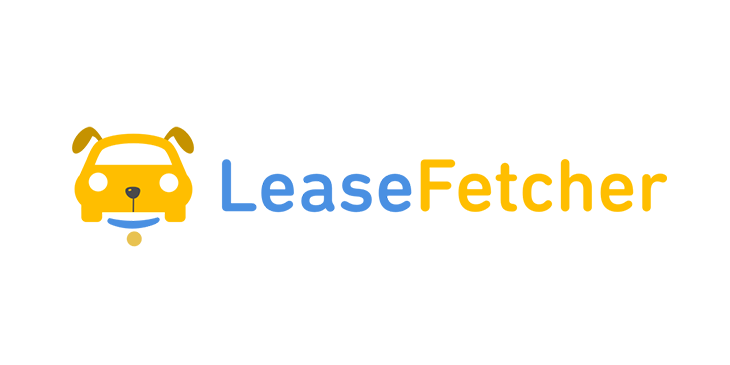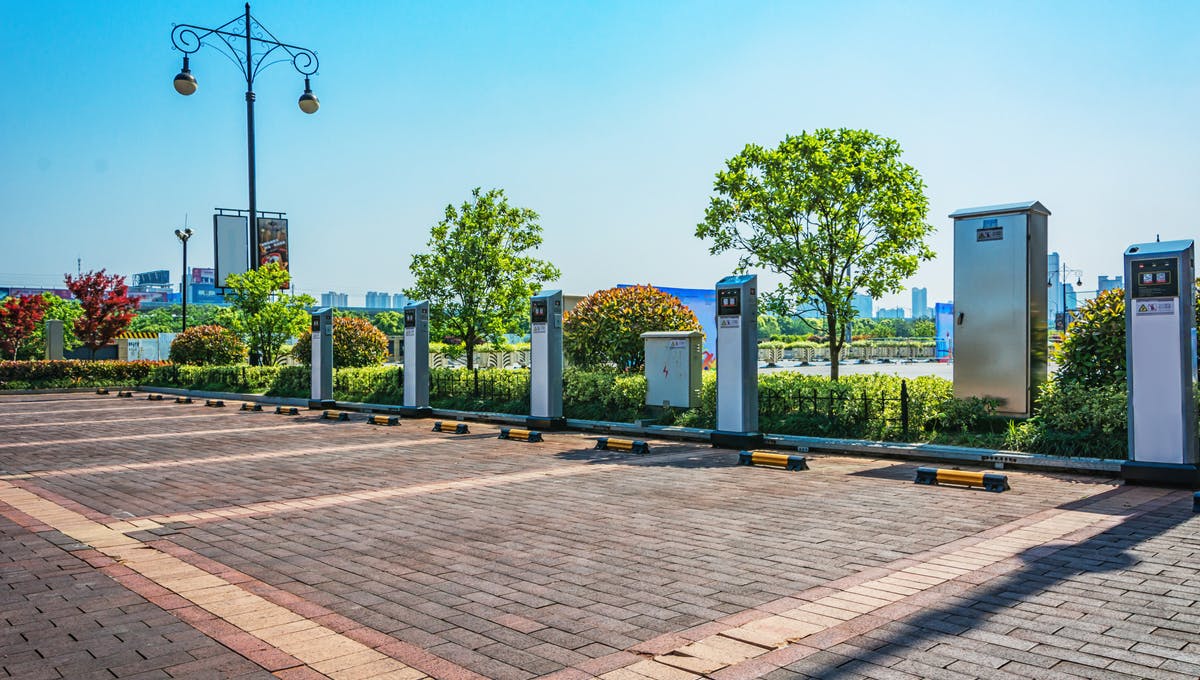 What type of charger should you install?
While having the latest charging technology with the fastest charging speeds installed might seem like a great idea, the costs of installation and time taken to install can vary considerably.
Yes, there are big differences in terms of speed: a 7KW charging box might give you 5 miles of charge in 10 minutes, while an ultra-fast 150Kw could provide as much as 100 miles in the same time. But many premises aren't equipped to support a 150kw EV charging station and few could justify the additional costs.
Installing multiple 150KW chargers may require a new substation to be established. This can add a significant amount to the cost of installation (£100,000+) and leads to much longer lead times of 3-4 months to complete the installation process. For 10+ 150KW chargers, you would also need to install and operate a transformer, adding further costs.
But if the charger is for employee-only use or for a fleet of vehicles which remain stationary overnight - do you really need the fastest charger? A much slower charger could still leave you with a full battery overnight or at the end of a 9-5 shift.
You'll also be able to choose between 'tethered' or 'untethered' charging units. While the latter means the user will have to supply their own charging cable. This may improve the longevity of your charging equipment, as a cable can always be replaced. But keep in mind that electric car charging cable theft is a known problem - customers may feel safer using a tethered cable while out shopping.
We've written a much larger post on EV charger types to help you make up your mind.
Where should you locate your EV chargepoints?
This might seem trivial, but location can make a big difference to the cost of electric car charging points installation. The closer the chargepoints are to the site's power supply, the less digging and cable is needed and the lower the cost to install. This will usually be within the main building, so it makes sense to position your charging stations adjacent to the building as opposed to the other side of the car park.
If you have the option, you might want to position your EV charging points in a prominent location so that your business' green credentials are clearly on show. Many installers offer free site surveys to assess the best location before you go ahead.
Cost to install
The costs to install EV charging points can vary considerably. Some factors to consider include:
The type of chargers that you want to install (7kw, Fast, Rapid, etc.). Faster chargers often require significant infrastructure upgrades, increasing costs.
The number of chargers you want to install.
The distance from the power supply.
Up-standing or wall-mounted chargers. It is more expensive to bury cables underground and in cement stands.
Whether you are building a new business premises or retro-fitting an old one.
As we mentioned previously, if you're looking to charge your fleet overnight or to top up your company cars while they're not in use then 7-22KW chargers are likely sufficient.
Most large commercial or industrial premises will be equipped with a three-phase power supply, allowing you to install faster 22KW chargers - you'll need to keep in mind your 'available capacity' and whether you require a load management system. Expect to pay around £1,000-£3,000 for each charge point.
If you wish to install multiple chargers ranging between 50KW to 150KW, it is unlikely that the local LV network will be able to cope with this. A new substation will add substantially to the costs, and could see you spending more than £100,000 in total.
If you are developing on a new site, you might want to consider installing chargepoints on the car park at the same time rather than retrofitting at a later date. The Government estimates this could save as much as £11,00.
Some companies will install chargepoints for free, usually for commercial purposes. However, your business will need to meet strict criteria and you will likely lose control of pricing.
If you plan to charge a fleet of electric vehicles overnight, you won't need to worry about technical issues slowing you down. A three year warranty comes as standard with most installations, with many offering 24/7 access to remote and on-site maintenance with specialist electricians.
Should you charge customers or employees for use?
One of the first questions customers ask is 'how much is an electric car charging station?'. As a business, the cost of both installation and charging is largely up to you.
The pros and cons of different pricing structures vary depending on whether you are installing charging points for 'workplace' or 'commercial' charging, but there is something for everyone:
Workplace
Free charging can be a great employee benefit!
Commercial
'Loss leader' pricing - Free charging to entice customers; costs are recouped through commercial activity. Best suited to longer customer 'dwell times' with slower charging facilities.
Timed pricing - Entice customers with a period of free charging; charges are incurred after a certain period. Encourages customers to visit whilst discouraging 'lingering'.
Operational costs - Recover the total costs of installation and operation without deterring people through profit making. More suited to rapid charging.
Profit making - Charge an additional few pence per kWH hour of electricity and you could make a couple hundred pounds in profit each year with regular use. Best suited to area with little or not charging infrastructure.
Fully funded - Get a chargepoint installed for free, but lose control of the pricing. Best suited to businesses that are less concerned about their brand experience.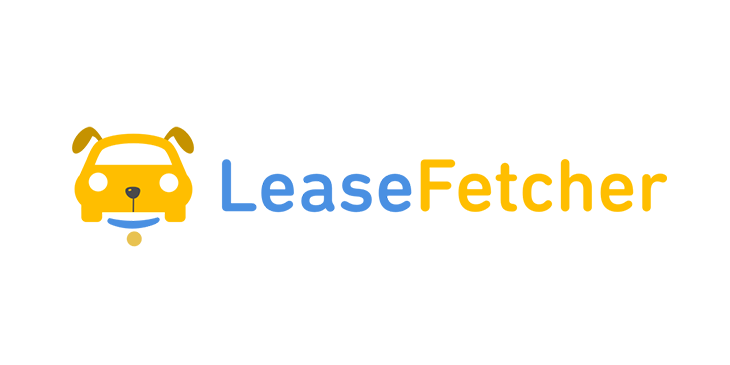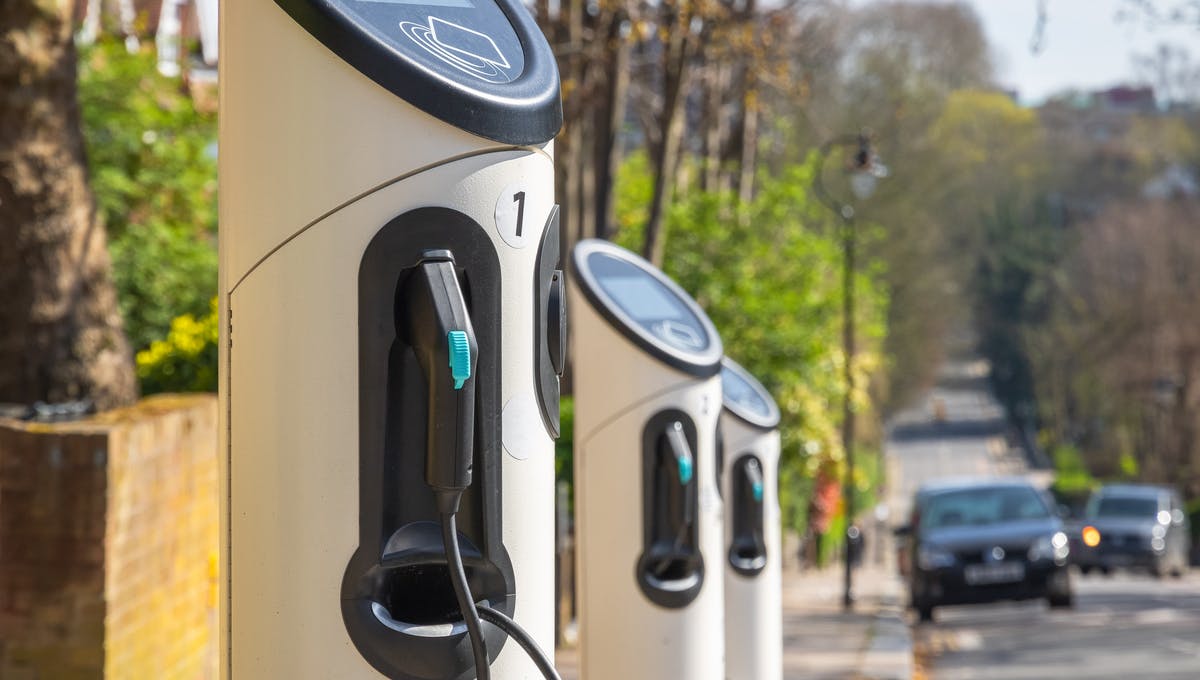 How to manage the use of electric car charging points
Whether you are installing an electric car charging point for your workplace, fleet or commercial premises, it is important to keep in mind how you intend to regulate their use in the future.
If you're an EV owner, you're probably well-versed in electric car charging etiquette. Unfortunately, the average petrol or diesel car owner isn't always aware (or just doesn't care) about the need to reserve EV parking bays for electric vehicles. This can lead to a practice called ICEing, where a non-electric car parks in an EV parking bay and blocks the charging point.
But EV owners can be a nuisance too - simply put, if the car isn't charging then it shouldn't be using the bay. While there is no national law forbidding the obstruction of charging points, Lancashire County Council will now issue fines to drivers that park in EV charging bays without good reason. Until this practice becomes more widespread, it's particularly important to have clear signage.
Most chargepoint manufacturers offer some form of back office reporting software with lots of functionality, allowing you to monitor everything from chargepoint and energy usage and CO2 reductions in real time. If you are operating an EV chargepoint for employees or fleet vehicles, you can distribute an access code to ensure that only approved vehicles can charge, or that employees and visitors are charged differently. This is particularly useful if you provide free charging as an employee benefit.
Operators such as Chargepoint provide a handy 'waitlist' feature to alert employees when it is their turn to charge if there are not enough chargers to go round. You'll also be able to keep tabs on which employees make the most use of the chargers.
Ready to electrify your business and improve your green credentials?
Electrifying your fleet is one of the best ways to show that your company is climate-conscious. Better still, installing electric car charging points is a great way to increase footfall and retain employees. Be sure to check our post on the Workplace Charging Scheme to take full advantage of discounts.
If you're still puzzled by this newfangled technology, you can check out our post on how to charge an electric car.
Alternatively, take some inspiration from our round ups of the best electric cars and best hybrid cars on offer right now! When you find a model or models you like, be sure to use Lease Fetcher to compare the most competitive electric car lease deals on the UK market.
---