The Most Imported Cars into the UK Revealed
The Toyota Prius is the most imported car for 5 years in a row
Brits love their cars and they love a bargain. For people willing to go through the paperwork, late-night emailing, and general stress, there can be big gains either financially or specs-wise when you import a car from overseas.
Using data from the DVLA, Lease Fetcher found that an astounding 209,374 cars have been imported by individuals into the UK over the past decade.
But there's one car that dominates — the Toyota Prius. With 12,514 Prius models imported to the UK in the past 10 years, it has secured the most imported car spot every year for the past five years. It's become so popular that in 2019, 42.51% of newly registered Prius's in the UK were imported, in 2020, 38.04% were imported.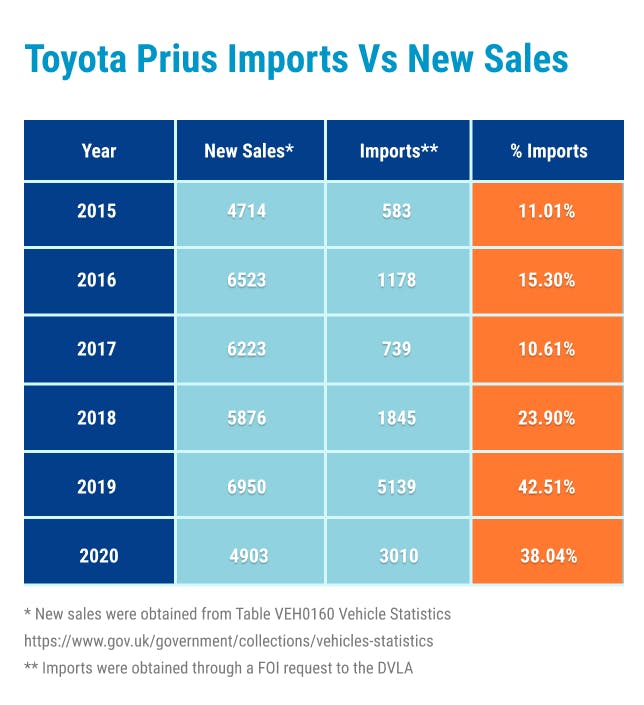 Why so many imports? And what is the obsession with the Prius?
As personal leasing and business leasing comparison experts, we've got a vested interest in which cars people are most keen to drive. We're going to dive deeper into the data to address a few aspects of importing cars to the UK:
The most imported car manufacturers.
The most imported car models.
The pros and cons of importing a car.
The costs of importing
How to tell if a car has been imported.
Top 10 most imported car manufacturers into the UK in the past 10 years
Our dive into the DVLA data shows that the UK has a deep love affair with Japanese cars.
Of the 10 most imported car brands, Japanese manufacturers sweep up 4 spots, including 3 of the top 5 places. Toyota and Nissan stand strong in the top 2 spots respectively, with Honda in 5th place, and Mazda in 7th.
Toyota far outsells the rest, with 37,949 imported cars - that's 20,301 more (+53.5%) than Nissan in second place. Almost one-third of Toyota's sales are from the Prius
German engineering proves popular with UK buyers too. German manufacturers featured 3 times on the top 10 list with Volkswagen (4th), Mercedes (9th), and BMW (10th).
American brands are third favourite - Ford comes in 3rd with 16,218 imported cars and Chevrolet in 6th place, with 9,149 cars.
That leaves one sole spot for a Opel/ Vauxhall, in 8th position with 5,715 cars!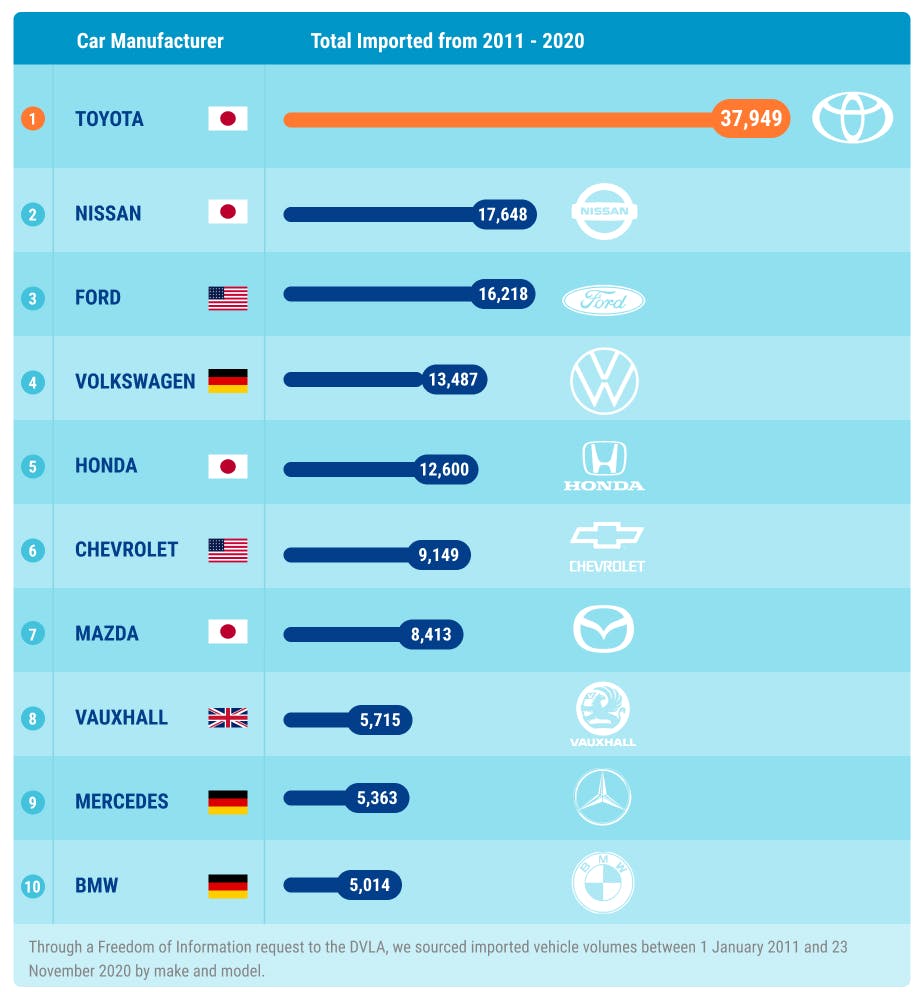 Top 10 most imported car models into the UK in the past 10 years
As is abundantly clear in this article, the Toyota Prius is the crystal clear favourite import model of the past 10 years.
Over the last decade, 12,514 Prius models were imported to the UK. That's 80% (10,027) more than the second most imported car!
Second spot goes to the Volkswagen Golf with 2,487 imported models in the last 10 years. Volkswagen struck gold with this model, which is one of the best-selling models in the UK in general, import or not.
The trusty Ford Focus is the third most popular import, with 1,850 imported models since 2011. UK motorists love this American model. Its reliability and family-friendly features means it always ranks well on the UK's yearly best-selling cars list.
The rest of the top 10 imported car list includes the Vauxhall Insignia (1,789), SEAT Leon (1,630), Vauxhall Astra (1,568), Volkswagen Passat (1,376), Ford Mustang (1,268), Jaguar E-Type (1,027), and Vauxhall Corsa (987).
There is a mixed bag of car types being imported, from the very practical Prius, Golf, and Focus, to the classic Jaguar E Type and pop culture favourite, the Mustang.
According to Jack Charlesworth, Director of My Car Import, the types of people importing cars to the UK is a split primarily between 1) people moving to the UK with their existing car, 2) people buying models that are unavailable or hard to get in the UK, like the special edition Ford Mustang GT500 and GT350R.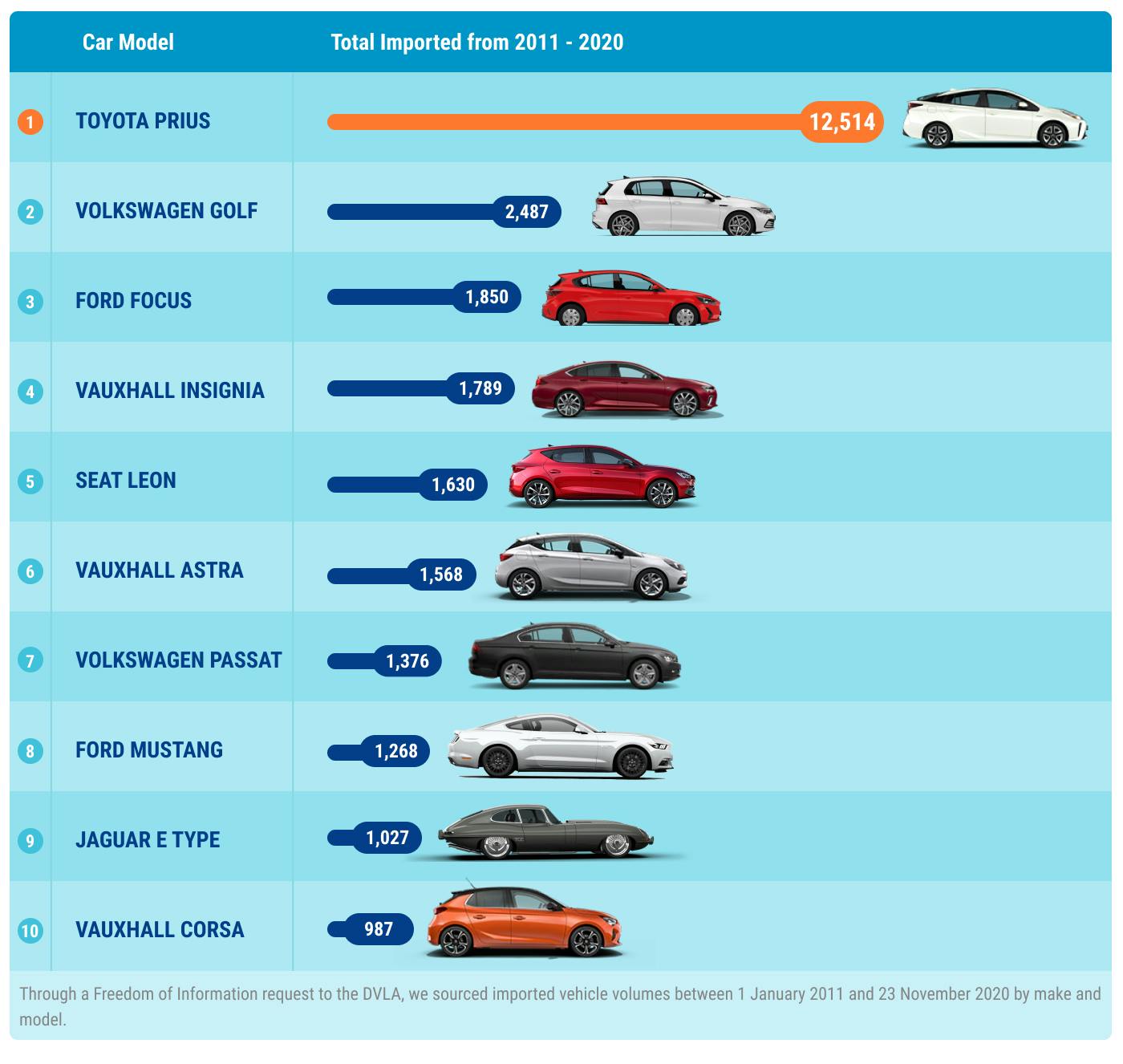 Why import a car?
There are many reasons why someone would want to import a car.
Importing often works out cheaper than buying in the UK. Favourable exchange rates and differences in car depreciation curves can help importers save big bucks (More on this later).
Importing also offers a shortcut for long waiting lists in the UK. The turnaround time for an imported car order can be a matter of weeks whereas factory build waiting lists can easily be as long as 6 months!
Customisation is another attractive feature of imported cars. When you look abroad, you have a wider selection of special trims and add-ons. An imported car could be kitted out with features that are not yet available on the UK market. This is likely one reason why the Prius is so popular as an import car - which would make most of these imports fall under the "grey import category".
Some models aren't even available in the UK full stop!
Alternatively, some people use imports as a means of bringing their existing car with them when they move abroad, rather than a method to buy a brand new car.
How much can you save importing a car into the UK?
What are the risks of importing a car into the UK?
These savings are nothing to be sniffed at, but there are some additional costs to account for that make this half-price deal taste a little less sweet.
Other costs to consider include:
Shipping costs - depending on the car size and distance traveled, it could be up to £1,000.
Import duty and VAT - for cars purchased for personal use, you can expect to pay 10% duty and 20% VAT.
Safety testing of grey import cars - this costs in the region of £190-285.
Registration and licensing
Modifications to ready it for UK roads - e.g. changing headlights and switching to right-hand drive.
Increased insurance costs - grey import cars are targets for theft and may not have EU-regulation safety features so they are subject to higher insurance costs.
Once these costs have been covered, there are some other issues you may face with an imported car.
Your warranty could be void after removing it from its original country of destination. If you are unlucky enough to import a car with a factory fault, you'll have to pay out of pocket for the fixes.
Since the car was designed for use in another country, elements like the suspension, brake balance, gearbox ratios, and paint are fine-tuned for durability and quality of drive in that other country. You may have issues with day-to-day driving and longevity of parts.
Similarly, since the car was destined for a foreign country, the display, handbook, and service history are likely to be written in a different language. This will make troubleshooting and general maintenance difficult.
Reselling is a two-pronged issue. If you decide to resell in the future, you'll find that the car may have depreciated more rapidly than a car originally designated for the UK. You might also have trouble reselling as potential buyers could be less trusting of a foreign model - especially if the original documentation is not in English.
How can I tell if a car has been imported?
If you'd like to check whether a particular car is an import model, there are many sites you can use to check for free.
Websites like Free Car Check and Car Dot Check are good places to search. All you need is the registration number.
Car Import Market and Brexit
2019 saw the highest recorded numbers of imported cars since 2012. There was a 21.62% increase in imported cars in 2019 compared to 2018 (25,503 cars compared to 20,969), which was most likely due to Brexit preparations.
Post-Brexit fears of impending tax increases for imported goods spurred individuals to place their orders quickly and en masse.
Many of the imports can also be put down to waves of individuals moving to the UK with their cars before restrictions on movement were cemented.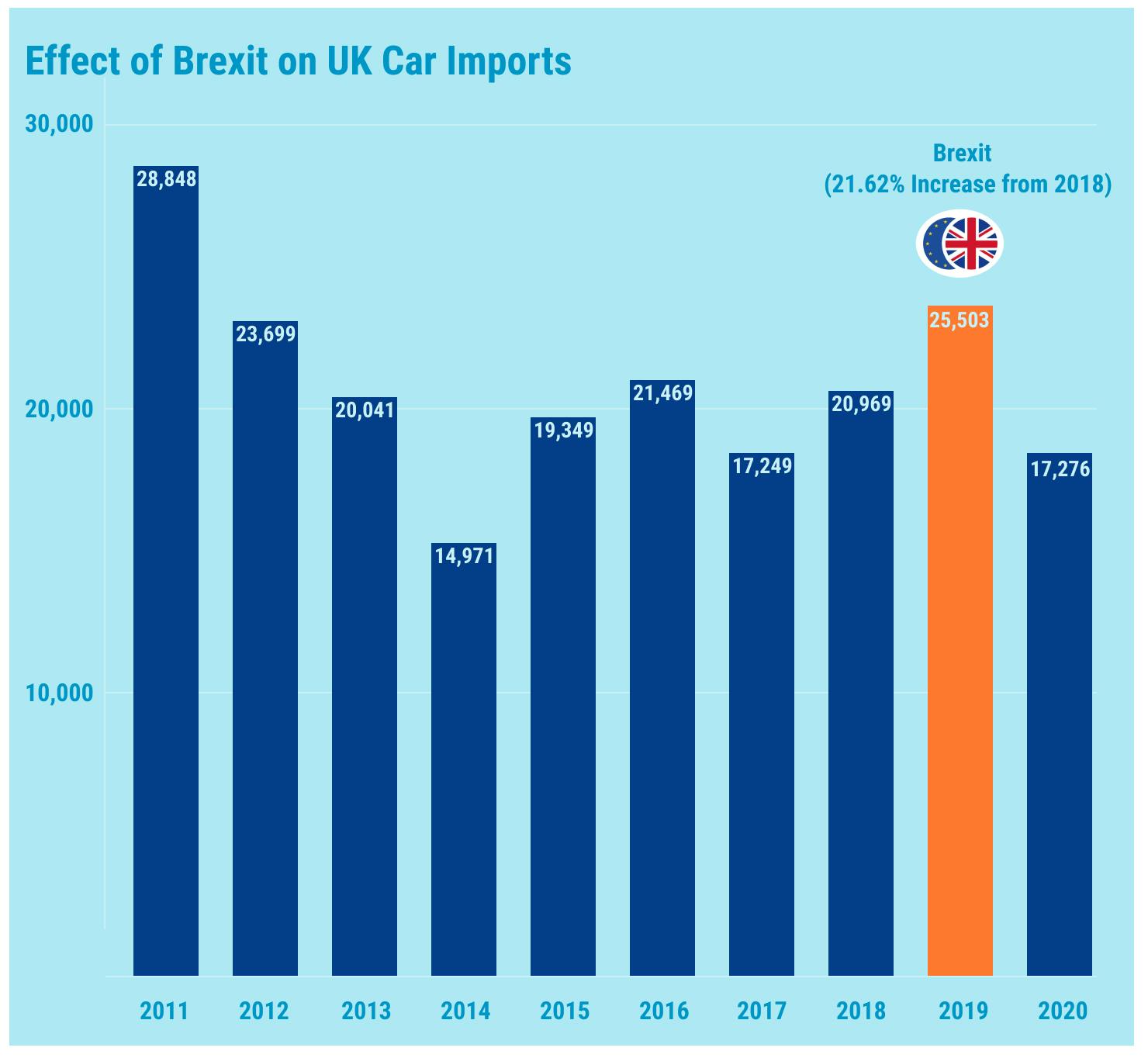 Effect of CV on Car Imports
Whilst car exporters were rubbing their hands in 2019, 2020 brought it all crumbling down. Covid-19 saw a staggering 32.26% drop in imported cars to the UK.
A surprisingly still sizeable 17,276 cars were imported in 2020, but the figures would almost definitely have been higher if the world were not in the midst of a pandemic.
The reduction can be partly attributed to the rock bottom levels of immigration to the UK, plus the slowing down of worldwide car manufacturing. With social distancing orders issued across the globe, many manufacturing plants were forced to temporarily close their doors.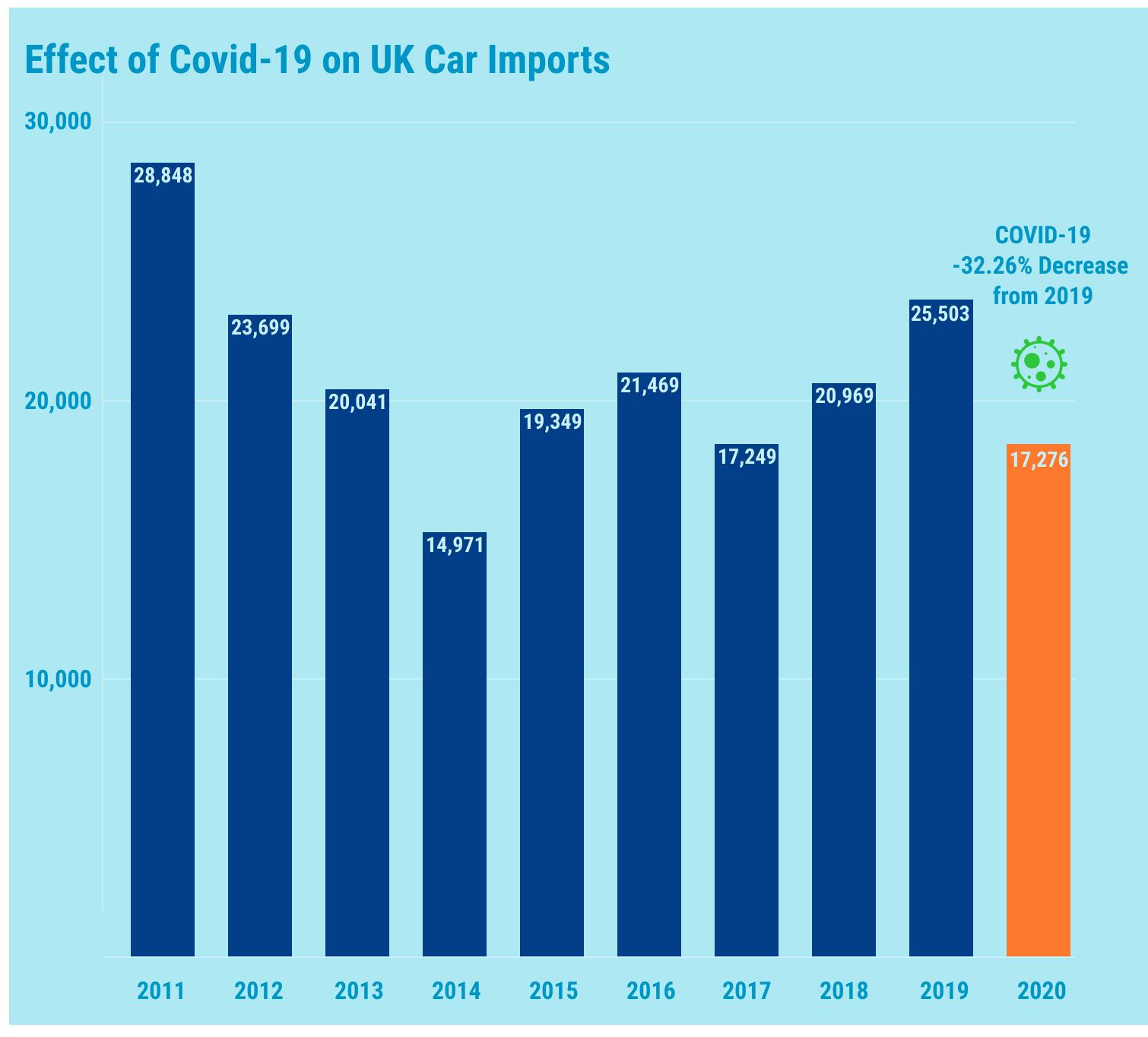 Summary
From this imported car data, it's very apparent that the UK loves Japanese cars - the Prius in particular.
There are pros and cons to importing cars to the UK. The main pro is that there are significant savings to be made on the initial price tag of the model. Conversely, some of these savings will be eaten away by shipping, import duty, VAT, and readying it for UK roads.
Other ongoing issues may arise with imported cars, like problems with warranties, higher insurance premiums, difficulty reselling, and more.
Nevertheless, importing cars is still a lucrative business, 209,374 cars have been imported to the UK in the past 10 years after all!
Methodology
Through a Freedom of Information request to the DVLA, we sourced imported vehicle volumes between 1 January 2011 and 23 November 2020 by make and model. You can access the original data here.