Luxury Car Models Reimagined as Robotic Lawnmowers
The oddly fascinating robot lawnmower ticks all the boxes for people who want to ditch their weekend chores for something a little more adventurous.
The traditional garden grafter might turn their nose up at the sight of a 'robo-lawnmower', but there's no denying their practicality and obedience.
They're the garden equivalent of a cheat code on the Playstation, a stoic child that doesn't answer back, and a protective hayfever shield all in one.
Throw in the fact that they look super futuristic, and people are chomping at the bit to create their own sci-fi set within the boundaries of their lawn.
At Lease Fetcher, we love when car manufacturers do collaborations with other brands to create unique products - just see our car manufacturer concept football boots and luxury cars in the style of iconic watches!
So, we've commissioned a series of renders to visualise how Robo-lawnmowers designed by luxury car manufacturers might look.
Our concept 'Autonomous Lawnmowers' are, of course, based on real-life car models and include a customised garage accessory that aligns with the manufacturer's style and culture.
Intrigued?
Scroll down for a piece of the action.
'Tesla CyberMower'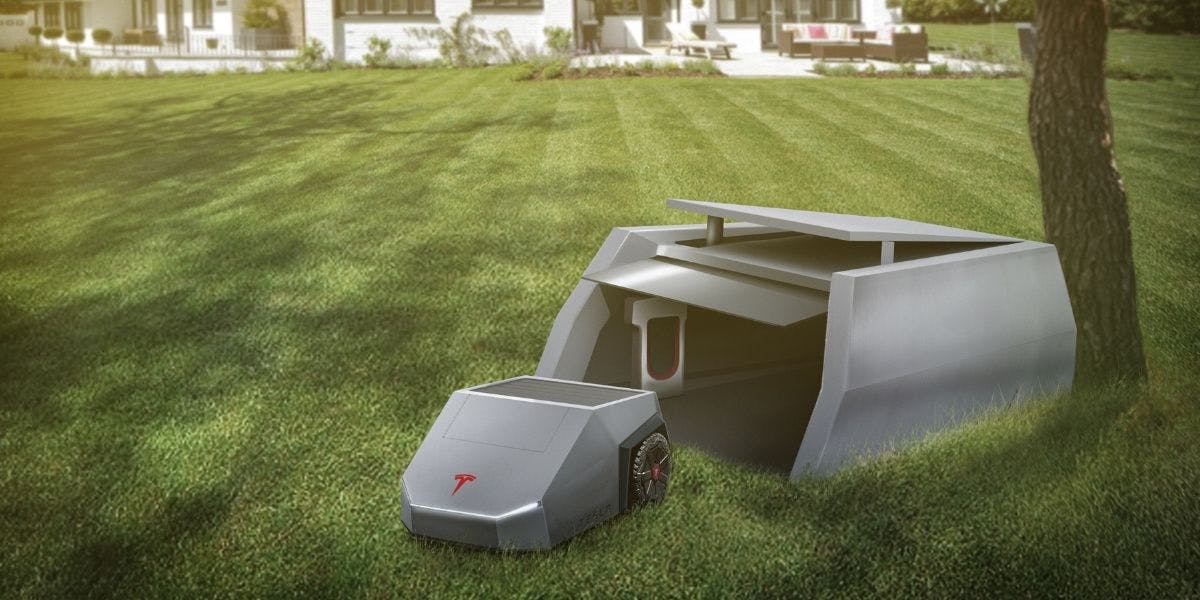 As pre-orders for the Tesla Cybertruck surpass the 1 million mark, there's no way we could have left the most anticipated vehicle on the market from our list.
Based on the compact Bosch Indego 400 Connect, our Cybertruck-inspired autonomous lawnmower looks like it has the foundations to eclipse any past winner of Robot Wars thanks to its impenetrable exoskeleton meshed together with a silky stainless steel skin.
The 'CyberMower' draws more inspiration from the real-life car model with its retractable grass storage compartment that mirrors the Cybertruck's storage bed. Not to mention the single front headlight that means this baby can mow your lawn 24/7 whilst never being out of sight!
When it comes to the garage, the apple doesn't fall far from the tree. The futuristic stainless steel structure makes the 'CyberMower' feel at home as it nestles into its customised mini Supercharger in preparation for the next mow-ning.
'Grass-ton Martin DB5'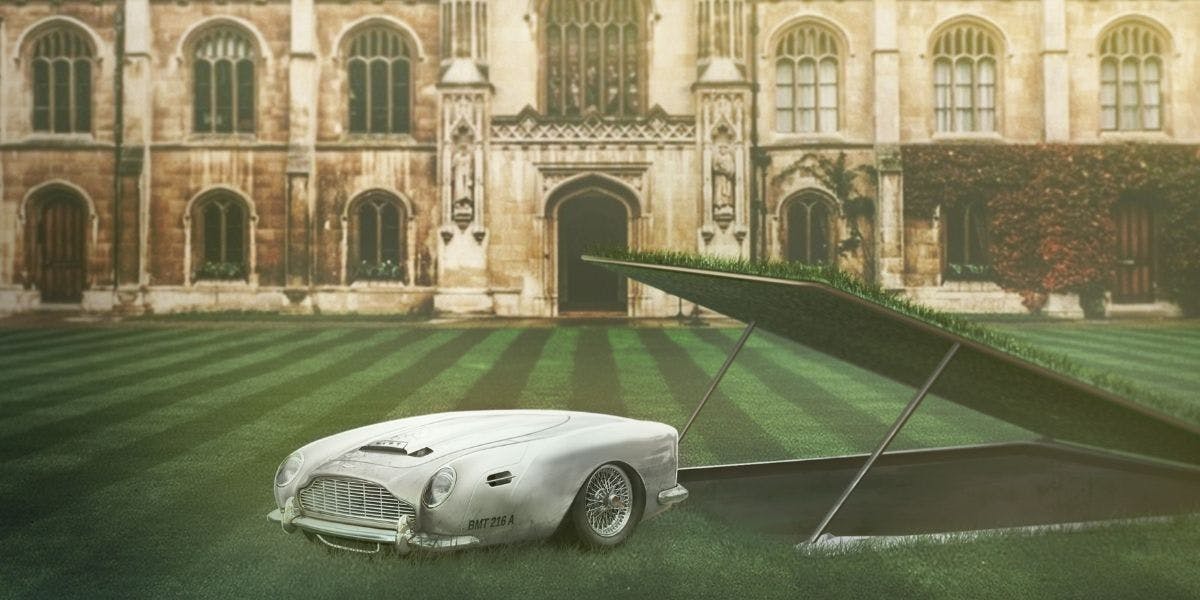 A timeless classic.
And no, we're not talking about the fact that we've had to wait 18 months or so to watch the new James bond film - No Time To Die.
Steeped in prestige, the DB5 is often referred to as 'The World's Most Famous Car' given its Hollywood status of appearing in multiple James Bond Films.
As a tribute, we've created this 'limited edition' James Bond-inspired robo-lawnmower which some of you may have clocked from the iconic silver birch tint and 'BMT 216 A' licence plate embellished below the vintage air vent.
The bamboozling intricacy of the alloy wheels complements the traditional front-end which also boasts a subtle leaf blowing grille feature to avoid clogging up the grass compartment. The grass compartment is, of course, only unlocked using a thumbprint mechanism. Wouldn't be a James Bond object without a few gadgets!
Speaking of gadgets, the 'Grass-ton Martin's garage inconspicuously emerges from the turf in true espionage fashion.
'Bugatti La Voiture Mo-ire'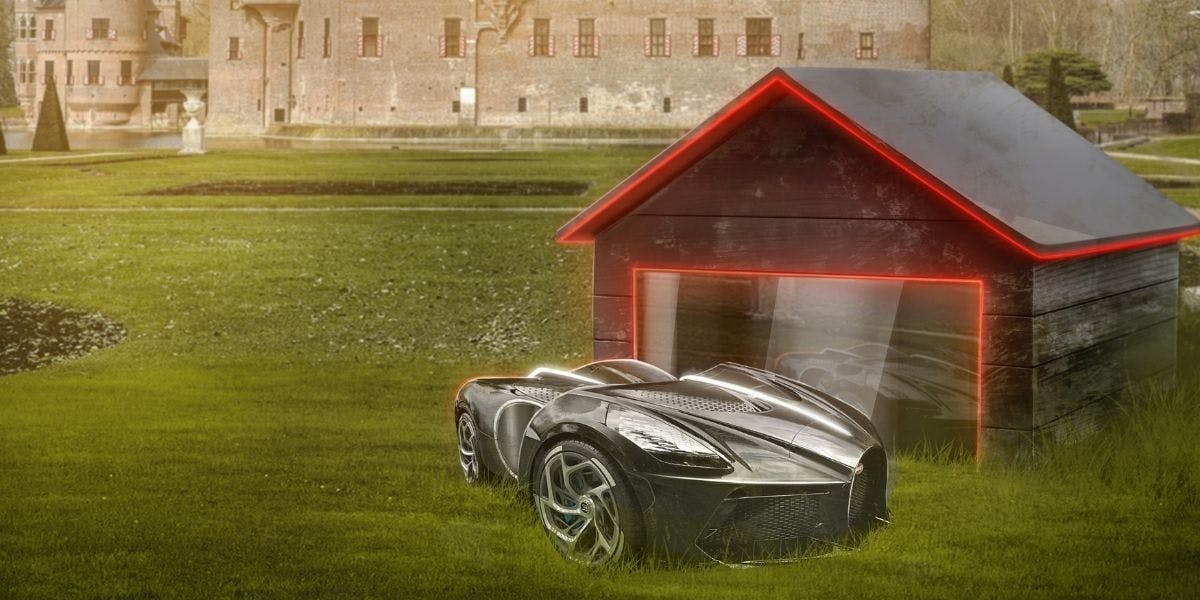 If you've not got a spare £10 million lying around the house, but picture yourself as a bit of a high-roller, the Bugatti La Voiture Noire robo-lawnmower might be what you're after!
Where to start on this one?
Inspired by the menacing Husqvarna 435X AWD, this Bugatti lawnmower is brimming with glitz and glamour everywhere you look. The windmill-Esque alloy wheels with the standard blue callipers show that this robo-lawnmower means business.
Moreover, the commanding front-end looks like it would give the Batmobile a run for its money with an intimidating grille and piercing headlights.
The two-tier functionality ensures that this mower can handle the steepest of slopes and it wouldn't be a Bugatti mower without 'Sport Mode' to get that lawn trimmed in record time.
The LED lights around the garage mirror the captivating single rear headlight on the La Voiture Noire. Nothing beats home comforts.
'Land Mower Range Mower'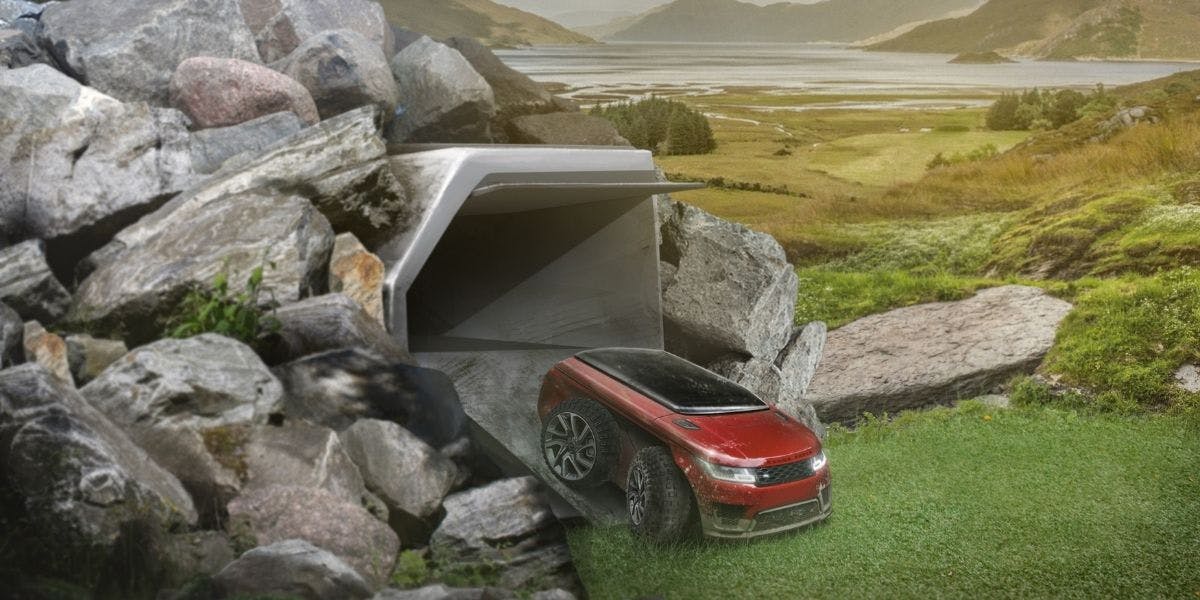 Gaining design inspiration from the workhorse-like Ambrogio Robot L60, our Range Rover lawnmower provides the power and control needed to tackle the weediest gardens on the wettest of days.
Renowned for their 4x4 prowess, Land Rover ensured its lawnmower wouldn't be restricted to the perimeter of any garden.
With its 21" 5 Split-Spoke Diamond Turned Alloy wheels and formidable yet distinguished front end, I wouldn't bet against this mountainous vehicle reaching the summit of Everest.
When the day is done the 'Range Mower' tackles treacherous terrain to return home to its sea-view pad beneath the rocks.
'Ferrari 812 Supergrassed'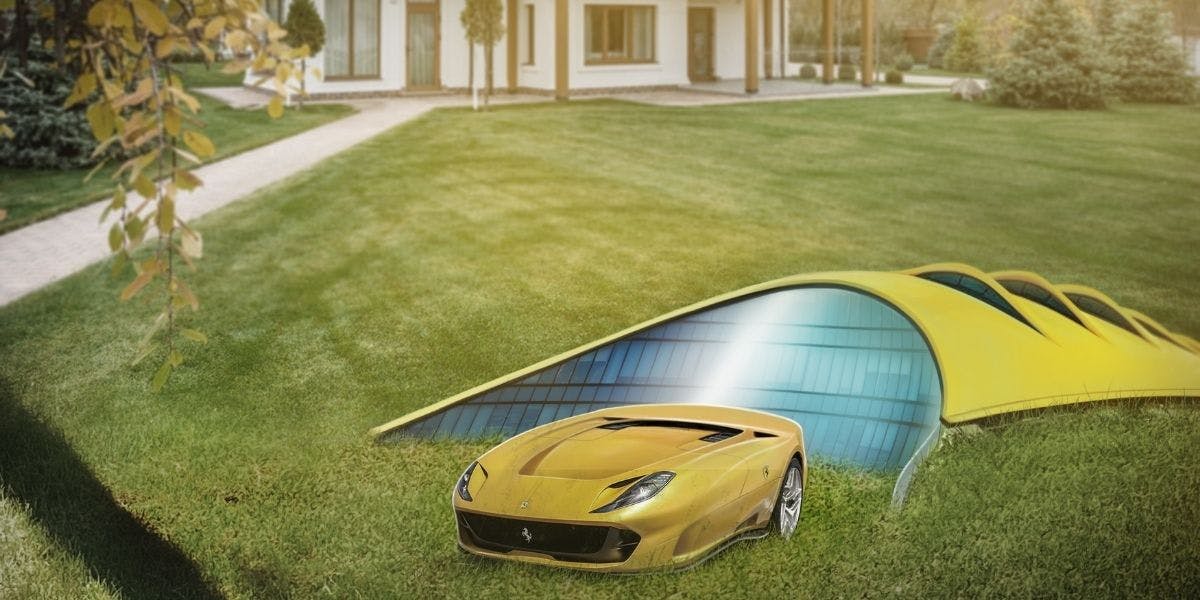 As the fastest road-going Ferrari, the 812 Superfast does not disappoint thanks to its maverick design cues.
As you can see, the 'Ferrari 812 Supergrassed' robo-lawnmower dons the symbolic Giallo Modena Yellow in homage to the birthplace of Ferrari founder, Enzo.
From the sleek air vents to the glossy silver rims, this robo-lawnmower isn't messing around when it comes to getting the job done. Its streamlined design and Electronic Power Steering (EPS) technology ensure no corner is left untrimmed.
Those of you that fancy yourself as a Ferrari connoisseur might recognise the customised garage that houses this little pocket-rocket of a lawnmower.
It would be rude not to use the scintillating Enzo Ferrari Museum building as inspiration for our lawnmower garage so we've created a mini replica which is exactly what the '812 Supergrast' mower deserves!
Conclusion
I wouldn't be surprised if you've already left our site for the checkout page of a robot lawnmower, but if you're still here we salute you.
Despite the fact that these designs are completely concept, there's no denying the potential of luxury autonomous lawnmowers.
You could even make them a little bigger to emulate Kid's Ride On Cars so children can learn to actually enjoy chores at an early age! Their potential knows no bounds.
Ok, maybe we're getting a little bit carried away here, but if recent crazes like the 'Tiny Football Car' from Euro 2020 or Toyota's own 'Tiny Rugby Bus' from the 2020 Tokyo Olympics are anything to go by we might be onto something here!