'CyberLand' - The Place Where Intergalactic Dreams Come True
Picture the scene. Driving across the barren Mojave desert knowing that you're about to infiltrate the mind of Elon Musk for the afternoon.
Although it sounds like you've just been cast in the latest Black Mirror episode or you're about to commit some sort of cognitive intelligence heist, rest assured, it's the next best thing.
You're on your way to...'CyberLand' - the place where all your intergalactic dreams come true (sorry Disney).
By digging through the Tesla archives - past, present and future - we've laid the blueprint for a concept Tesla Theme Park through a series of illustrations.
At Car Lease Fetcher, we've tried to encapsulate Tesla's innovative vision, whilst also keeping it realistic to modern-day engineering. There'll be no occupying Mars just yet, I'm afraid.
CyberLand Map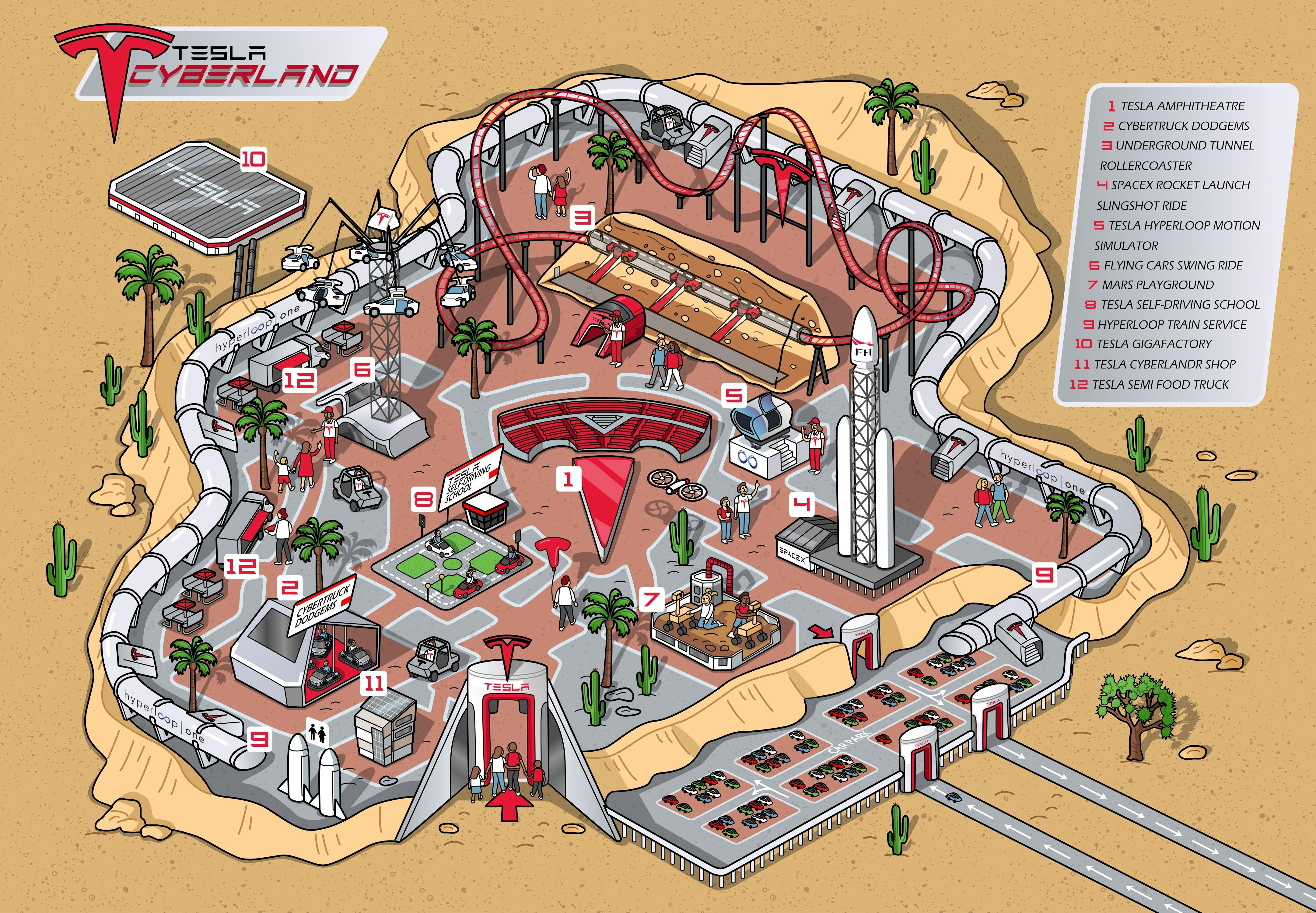 Park Features
Packed to the rafters with groundbreaking tech and innovative features, 'CyberLand' is an adrenaline-filled exhibition of Tesla's trailblazing vision.
And, from recent publicity, some credible industry sources don't think we're too far off the mark.
Thom Taylor at Motor Biscuit claims that "Maybe it is time to liven things up with active theme parks where you can mix fun with your favourite brand? Making the adventure around vehicle ownership might be a great way to associate your products as fun just for having something like a CyberLand."
It appears we're not the only ones to have had the thought of a Tesla theme park...
Matt Pressman at Evannex reminisces about his tour of the Tesla factory in Freemont when he recalls "While getting an inside look at the production process, the tour guide told me that Elon Musk was planning, someday, to install a rollercoaster in the factory. This got me thinking — what if Elon Musk created an entire theme park dedicated to Tesla and his many other ventures?"
From a design perspective, Georgia Coggan at Creative Bloq says "We have to be honest, at first we put this up with the wildest of Musk's ideas but seeing how neatly the Tesla product range and concepts tie in with theme park rides makes us kinda want to visit."
Theme park industry expert, Susan Veness at Attractions Magazine also claims that 'CyberLand' could be "a mega-hit" with Tesla fanatics and all those crazy "Musk-mania zealots" out there.
At Car Lease Fetcher, we've identified most of the park features through the information key on the illustration above, but now it's time to have your own say on CyberLand. Let's get started.
1 - Tesla Amphitheatre
A stage fit for a King, the Amphitheatre would offer the perfect platform for Tesla leader, 'Elonidas'.
Perceived as some intergalactic god-like figure, Musk would no doubt get a kick out of seeing an army of fans at his very own theme park.
We also envisage the amphitheatre as a venue to launch the latest Tesla products, presenting Tesla with a fresh start following the Cybertruck reveal fiasco!
2 - Cybertruck Dodgems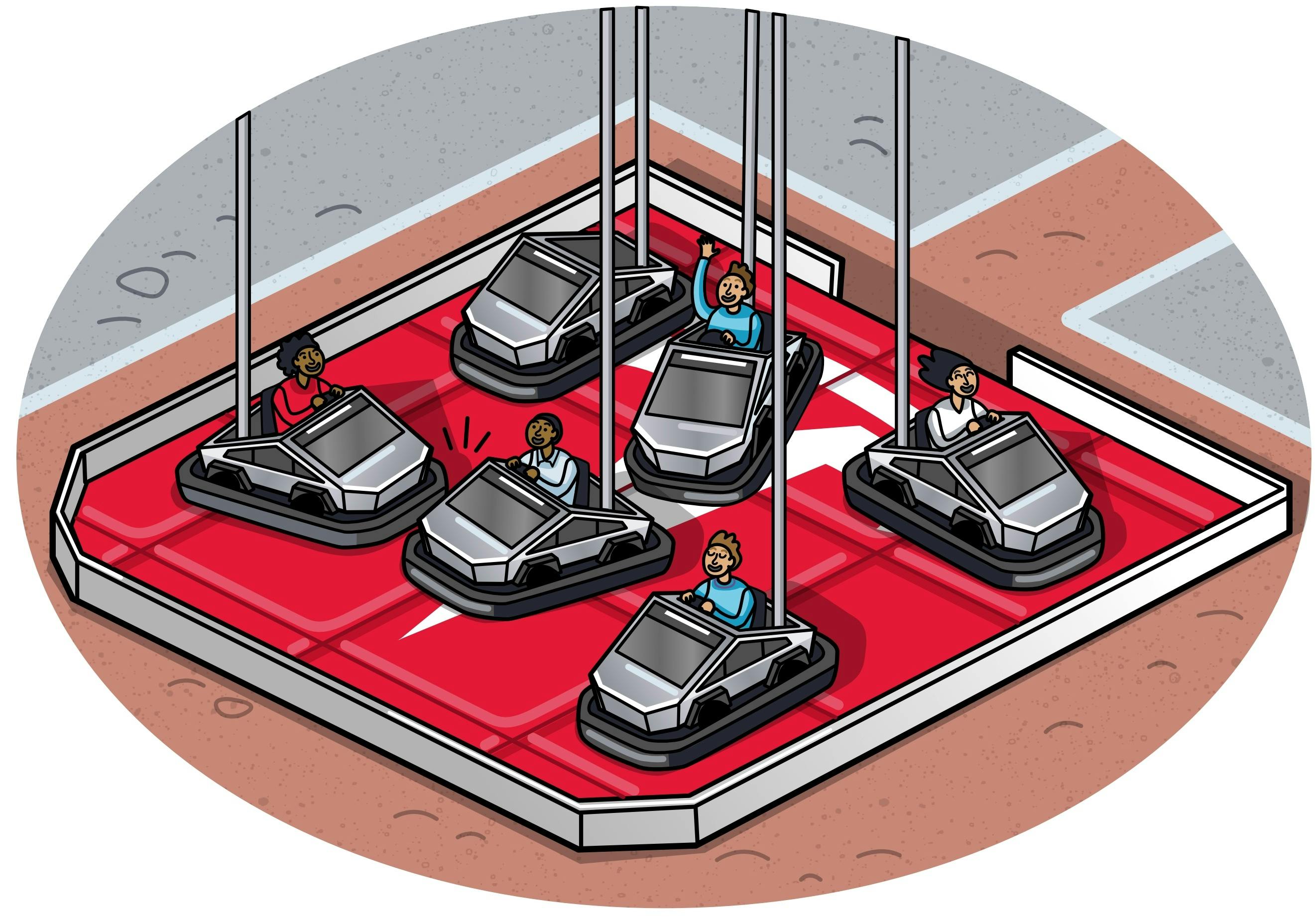 Having a theme park without dodgems is like eating a McDonalds with a knife and fork - it's just not right.
The Cybertruck is yet to hit our streets, but the world waits patiently for its potential release later this year.
What better way to inspire the younger generation into buying a Cybertruck than letting them hop into the front seat and bash into their mates for a few minutes?
Don't forget to watch out for the self-driving dodgems too!
3 - Underground Tunnel Roller Coaster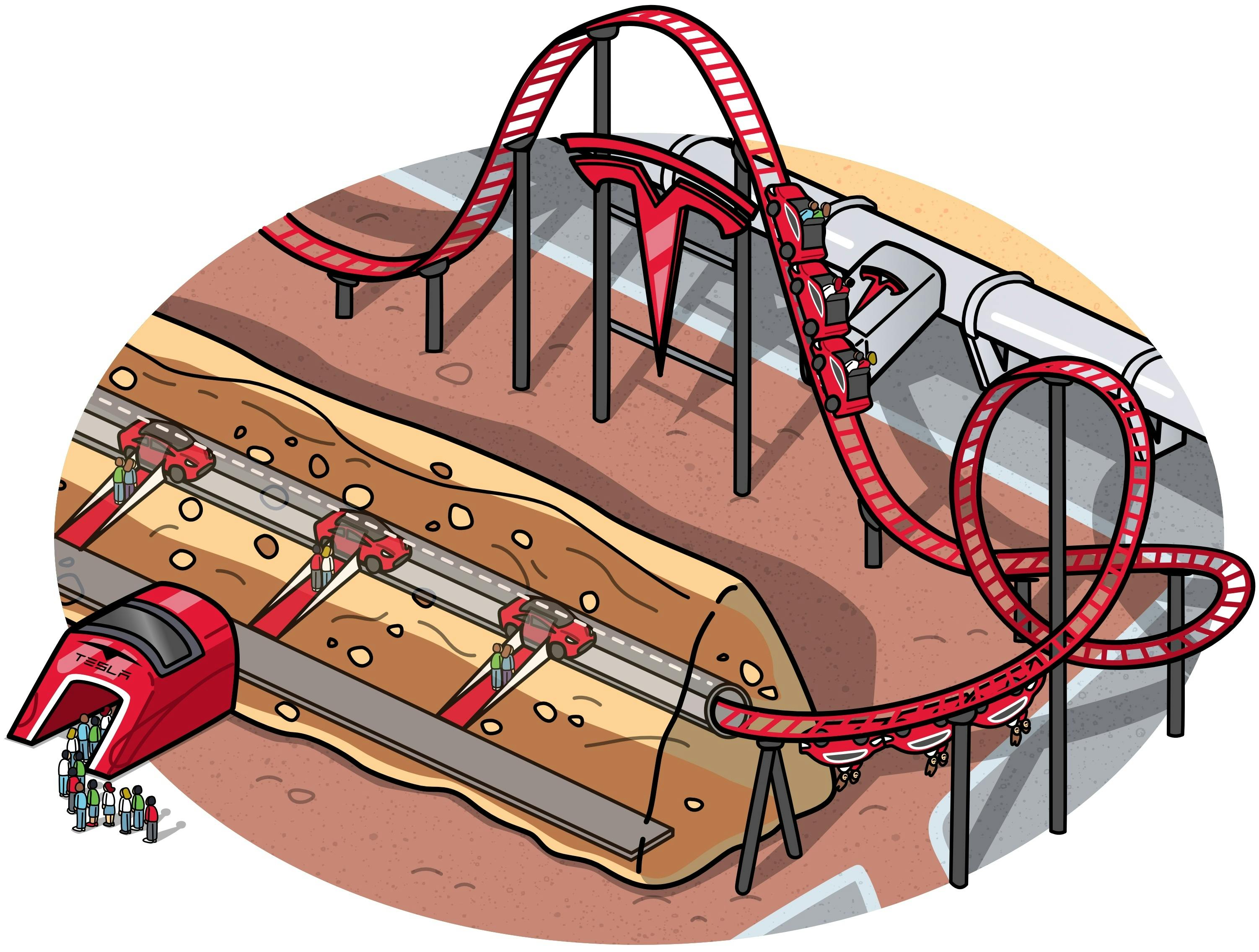 Working in collaboration with the Boring Company, the underground tunnel roller coaster is undoubtedly the hottest attraction at Cyberland.
The ride is meant to emulate the freight tunnels currently being constructed underneath some of America's busiest streets.
The roller coaster gives guests the opportunity to immerse themselves into the much-anticipated Tesla underworld, which subsequently emerges into a breakneck rollercoaster. Exhilarating.
4 - SpaceX Rocket Launch Slingshot Ride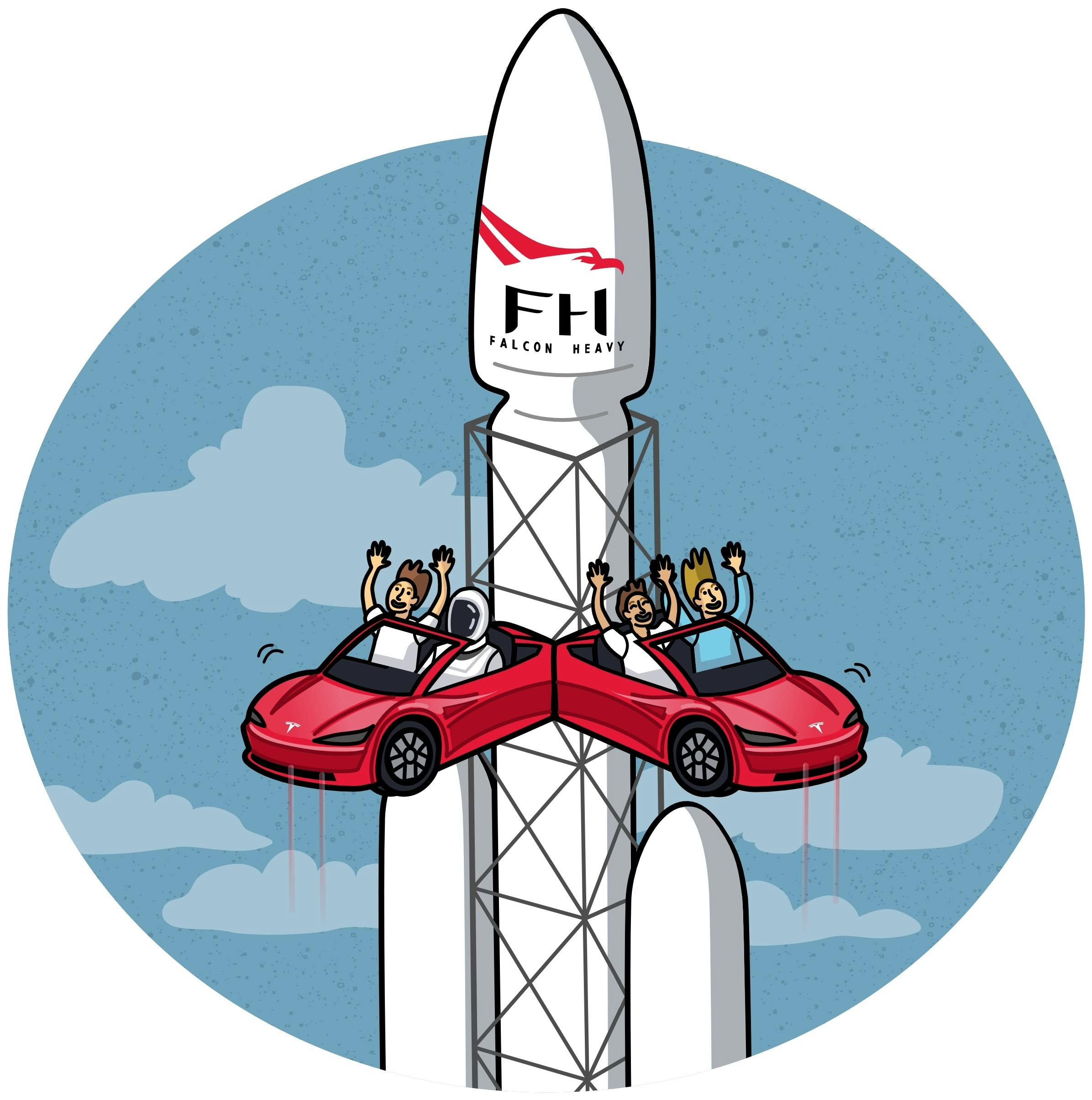 Starman and his Tesla Roadster are well into their third orbit of the sun, and little does he know that he's inspired a theme park ride in his honour. His parents must be so proud.
To commemorate Space X's successful launch of the Falcon Heavy in 2018, we've envisioned a ride where you can be (and even join) Starman for at least 20 seconds.
Everyone loves a stomach-jerker!
5 - Tesla Hyperloop Motion Simulator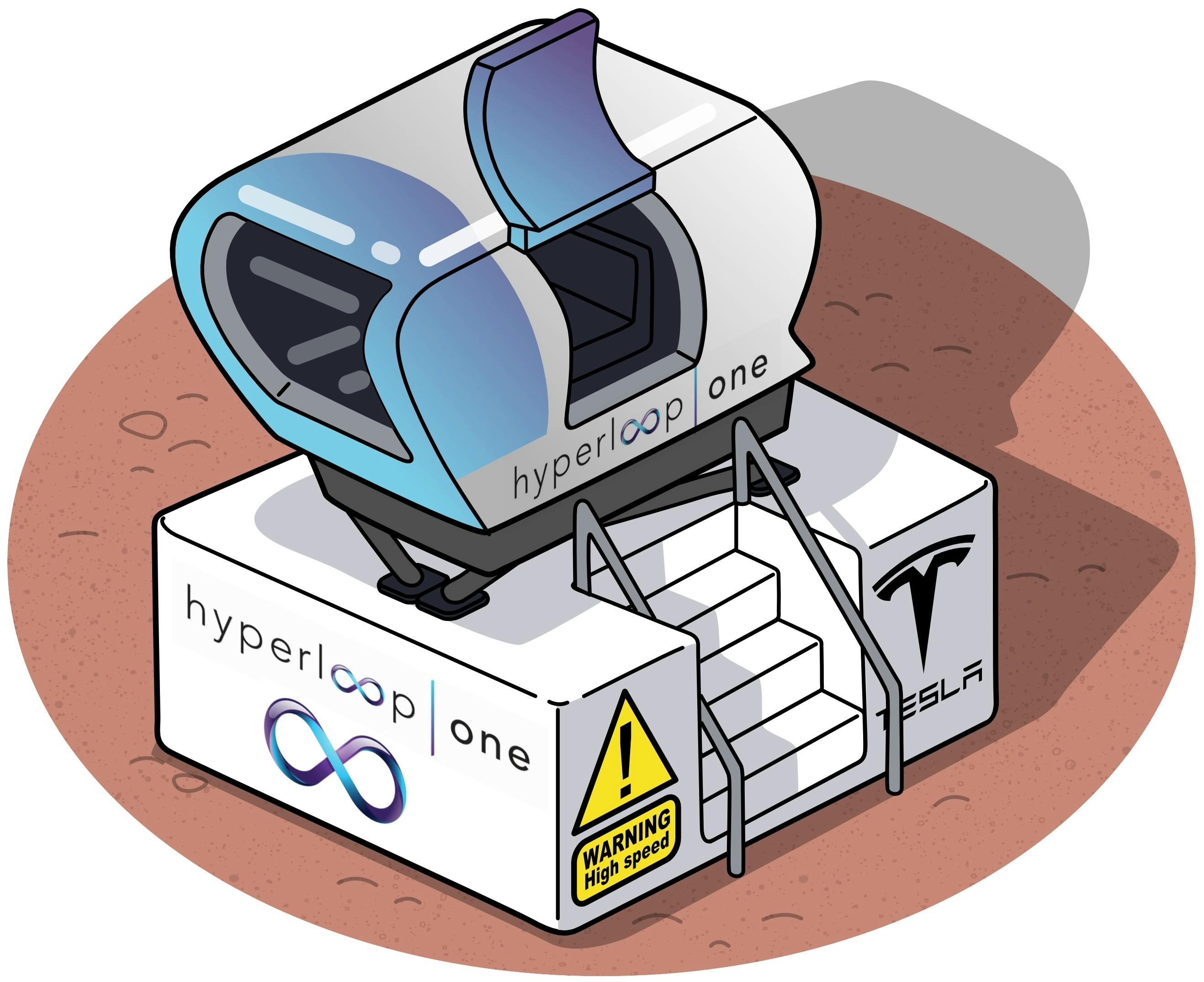 Back in 2013, Elon Musk envisioned a futuristic transportation system of pods that could travel up to speeds of 760mph. Back then we all thought it was bonkers but last year the Virgin hyperloop successfully completed its first human passenger test.
The Tesla hyperloop motion simulator would allow you to pick from a number of high-speed routes across the world and would be accompanied by a virtual reality experience. Not for the faint-hearted!
6 - Flying Cars Swing Ride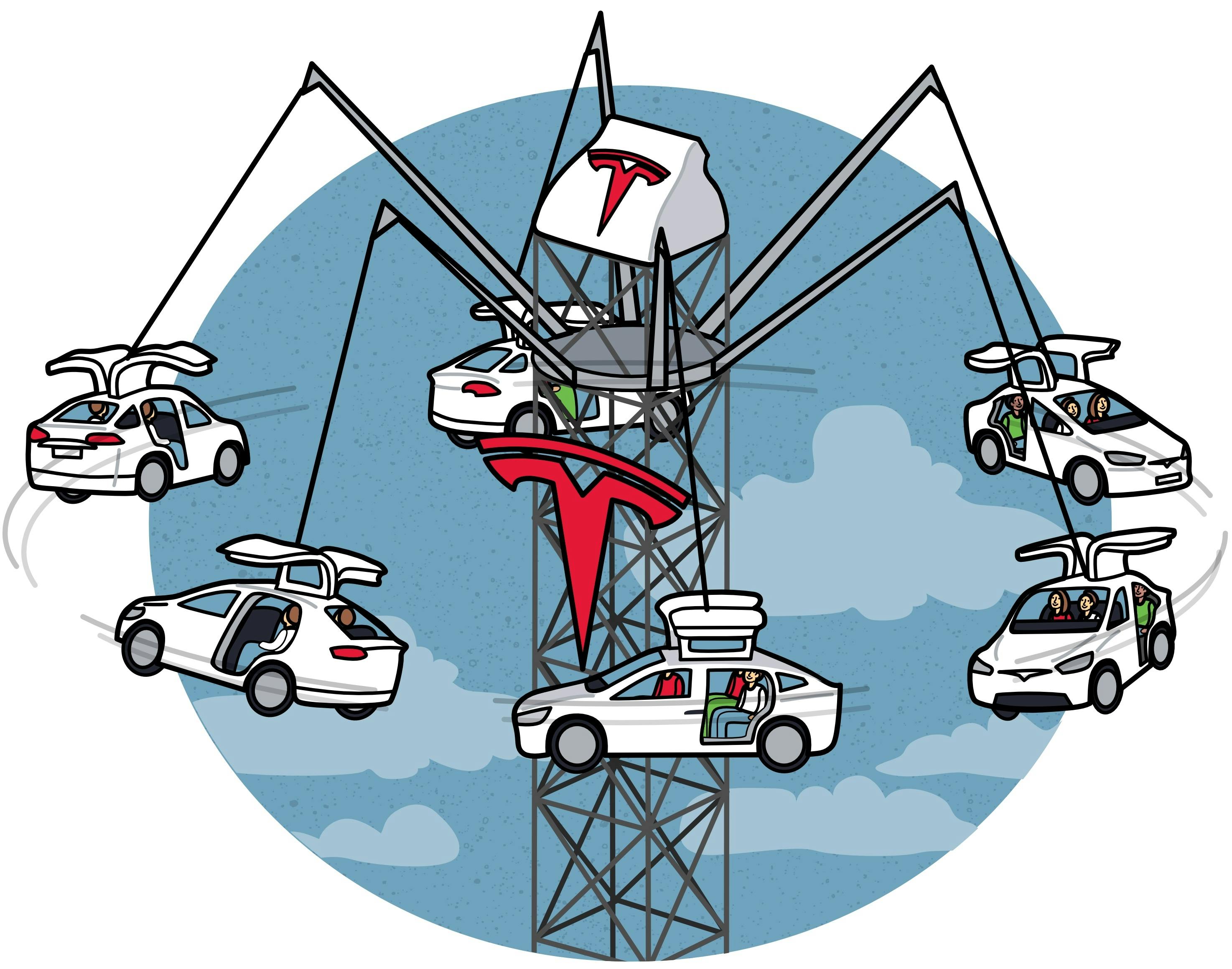 We might be a few years off the reality of flying cars hovering over our homes, but in the realms of CyberLand, anything is possible.
Replicating a Tesla Model X with their gullwing doors out in full force, the seats on the swing ride allow guests to dream of the day when they can hop into their car for a sunset drive in the sky.
7 - Mars Playground
No matter what your age, Tesla is always on the lookout for new recruits. That drone isn't hovering over the sandpit for no reason!
The Mars Playground gives toddlers and parents the chance to unleash their inner astronaut whilst playing fetch with the pet rovers.
8 - Tesla Self-Driving School
Ensuring the park is tailored towards all ages once again, the Tesla Self-Driving school offers young children the opportunity to cruise around the track in a safe and controlled manner.
Through the combination of sensor and software control, parents will be able to breathe easy knowing they can plonk their offspring in a shiny new Tesla and off they go!
9 - Hyperloop Train Service
Acting as a 'hop-on/hop-off' service around the park, the hyperloop train service gives guests a glimpse into the future of high-speed travel.
The pods may not have the ability to reach 760mph in such a short distance, but the experience will mirror what's to come.
Plus, what better way to end your visit than getting a lift straight back to the car park? Practicality at its finest.
10 - Tesla Gigafactory
In order to supply the park with enough electricity to run on a daily basis, there's going to have to be a big ol' gigafactory working its magic.
So, not only will you be dying to come back, but you've also had a wicked time while doing your bit for the planet. Green fun is the best fun!
11 - Tesla CyberLandr Shop
There's only one place to go for all your Tesla merch - the CyberLandr shop.
Resembling the concept 'pop-up camper' accessory for the Tesla Cybertruck, the CyberLandr shop has all your Tesla treats including balloons, t-shirts and Musk face masks.
Unfortunately, the Boring Company's 'Not a Flamethrower' failed to meet the necessary safety guidelines. We can't see why.
12 - Tesla Semi Food Truck
Cyberland offers a whole new meaning to the 'Food Truck' game thanks to their Tesla Semi replicas.
Serving everything from burgers to space food, the menu at CyberLand appeals to all requirements.
You can even sample the Elon plate, featuring some of his daily staples: hot dogs, pasta, green peppers, and orange. Delish.
Conclusion
From the moment you walk through those supercharger doors, a new world beckons.
We know these might only be concept illustrations, but there's no doubt that all these features are realistic prospects for an ambitious company like Tesla.
Ferrari has already entered the amusement park market with promising success and don't forget that Elon Musk promised to install a roller coaster into Tesla's Fremont factory back in 2017.
The stars are aligning Elon. Get CyberLand built.
'CyberLand' - The Place Where Intergalactic Dreams Come True by LeaseFetcher is licensed under CC BY-SA 4.0