Audi Q2 Review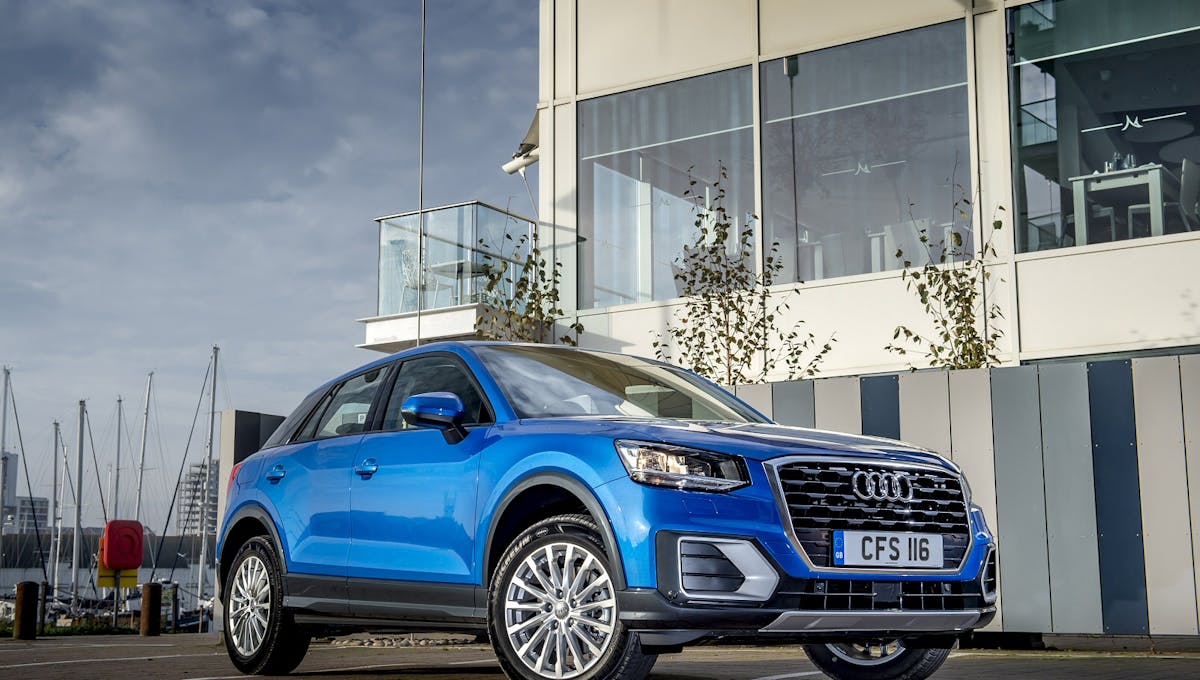 SUVs are all the rage and with a premium badge, the Audi Q2 is a great choice. Read on for the rest of our Audi Q2 review.
Pros
Decent fuel economy for an SUV

Great handling
Cons
Cheaper alternatives such as the Nissan Juke and Renault Captur

Not much space
---
Overall Verdict
Believe it or not, the short, squat Audi Q2 is actually classed as an SUV. It's not a real off-roader, by any means. In fact, the Audi Q2 might well be described as a slightly taller Audi A3 Sportback. It shares the same platform, the same engines, and the same array of safety features - only it's slightly shorter and wider.
Audi is clearly eyeing up the ever-growing 'small SUV'/crossover market with this offering, with the Audi Q2 being the first luxury car of its kind. It has a classy interior, all the optional high tech features you could ask for, and the raised driving position that you'd expect from an SUV.
That being said, not all passengers are treated equally. You won't be mistaken for thinking that 'small SUV' sounds like a bit of an oxymoron. The decision to shave an extra 200mm off the length of the Q3 meant that something had to give and, in this case, that something was rear passenger space. Upright rear seats make long-distance journeys less comfortable, and while the added height should allow taller people to more easily slide in, narrow door openings add an extra challenge for big kids and baby seats alike.
It's not the cheapest compact SUV, and if you like your gadgets you're going to have to be prepared to part with a little extra cash. That said, this small crossover is a pleasure to drive, and if you're looking for a car with top-notch tech, super safety features and a badge you brag about, then like most Audis, the Q2 is a safe bet.
---
Available Trims
Technik
The Technik is the most stripped-back version of the Audi Q2, offering very little to get excited about. Sure, you'll get 16-inch alloy wheels, a DAB radio, air-con and a 7-inch inch infotainment screen, but these come as standard on many much cheaper cars.
Sport
Audi expects most buyers to opt for the Sport line, and we can see why. For a modest price increase, you'll also get larger 17-inch '5-arm star' wheels, front 'sport seats', sat-nav functionality, automatic lights and cruise control. The black C-pillars of the Technik are replaced with a bright white, which brings a nice contrast and will help you stand out from the crowd.
S Line
If you're happy to part with a bit more cash, the S Line trim will bring you 18-inch '5-spoke Y' design alloy wheels, brighter LED headlights and LED daytime running lights, more aggressive S-Line exterior styling. The interior will also feel slightly more upmarket, with part-leather seats and a leather-trimmed multi-function steering wheel.
Black Edition
The Black Edition brings larger, 19-inch '10-Y-Spoke' design alloy wheels, black detailing and privacy glass for a more refined look and feel. If you're mad about sports cars, you'll appreciate the flat-bottomed leather steering wheel that comes with this trim and is most commonly associated with Audi's roaring supercar, the R8.
Vorsprung
Want to go all out? The top-tier Vorsprung trim boasts stylish 19-inch '5-arm rotor' black alloy wheels, adaptive suspension and damping control and a panoramic sunroof. It all packs a lot of extra tech features, including Audi's MMI Navigation Plus infotainment system with MMI Touch input, driver assistance, adaptive cruise control and a rear view camera.
---
Exterior
When it comes to the exterior, Audi hasn't diverged much from their standard offering. It doesn't look much like an SUV - by which we mean it doesn't look very rugged or sporty. That being said, if you're a fan of big grilles and you like what Audi has put out so far, then you'll like the Q2.
For a fierce aesthetic that is sure to turn some heads, we'd recommend the Q2 Black Edition. Its large black alloy wheels and black grille lend it a much classier look than some of the cheaper models. If you can't stretch that far, the sport trim is set apart with its contrast rear pillars, and the slightly larger 17-inch wheels are much nicer to look at than those on the Technik which frankly look like they belong in a Lego set.
---
Driving Experience
The Audi Q2 comes with a range of engine choices to suit everyone from the casual driver to the weekend warrior.
---
Engine and Performance
As you'd expect from Audi, the Q2 offers high levels of refinement and a largely enjoyable driving experience, with a selection of six-speed manual and seven-speed s-tronic automatic gearboxes. The entry-level 1.0-litre petrol (30 TFSI) is perfect for popping into town and the occasional trip on the motorway. Fill it to the brim for a family holiday however and getting up to high speeds can become a bit of a battle.
The 148bhp 1.4-litre engine (35 TFSI) takes some of the stress away, with plenty of kick in the middle range. The 187bhp 2.0-litre petrol (40 TFSI) is better still - the quickest of the lot, but you'll have to be prepared to shell out for a more expensive trim as well.
The 148bhp 2.0-litre (35 TDI) diesel is easily the quickest diesel in the range but, like the top petrol engine, will require you to get the Sport trim or above. For low-running costs and decent performance, the 115bhp (30TDI) engine is a reasonable compromise. It's not the quickest, but it's got enough fight in it to pull your family and all their luggage along easily.
When it comes to performance, the mid-range petrol and diesel engines fare the best. The 1.6-litre diesel is the most frugal offering, but the 1.4-litre turbo petrol isn't far off when it comes to emissions and mpg. The 1.4-litre petrol also manages 0-60mph in a respectable 8.5 seconds, nearly 2 seconds quicker than the 1.6-litre diesel.
---
Handling
As we've already mentioned, the Q2 is built on the same platform as the Audi A3 Sportback (MQB). The A3 grapples corners with gusto, so it's no surprise that the Q2 also excels in this department. The taller profile of the Q2 means that there is a little more body lean around corners than in the A3, but it still does a better job than some competitor SUVs like the Mercedes Benz GLA and the Mini Countryman.
The optional sports suspension keeps the car even straighter in and around bends, but you're better off sticking with the adaptive set-up which allows you to stiffen the suspension as and when you need. You won't find yourself flailing around corners as the Q2 grips tightly to the road, while the four wheel drive setup will see you power out of corners with no trouble.
All trims come with Audi's progressive steering, which steers more quickly as you turn the wheel further. This should make parking and general maneuvering that bit easier, while still allowing you to glide along comfortably on the motorway without any sudden changes in direction.
---
Suspension
The Audi Q2 comes with three different suspension options to suit your preference. The softer, dynamic suspension comes as standard on each model, but with S line and above you can opt for the former sports suspension at no extra charge. If you're tempted by the sports suspension, we'd recommend paying the extra for the adaptive suspension, which will allow you to change the ride height and stiffness as you please. The sports suspension, while great for handling corners, is much less forgiving on potholes and patchy surfaces - trust us, your back will thank you for it.
Compare Deals
---
Compare deals from over 42 brokers
Find a great deal in under 1 minute
Comparing car leasing deals is free, fast and simple!