Audi RS 5 Coupe Review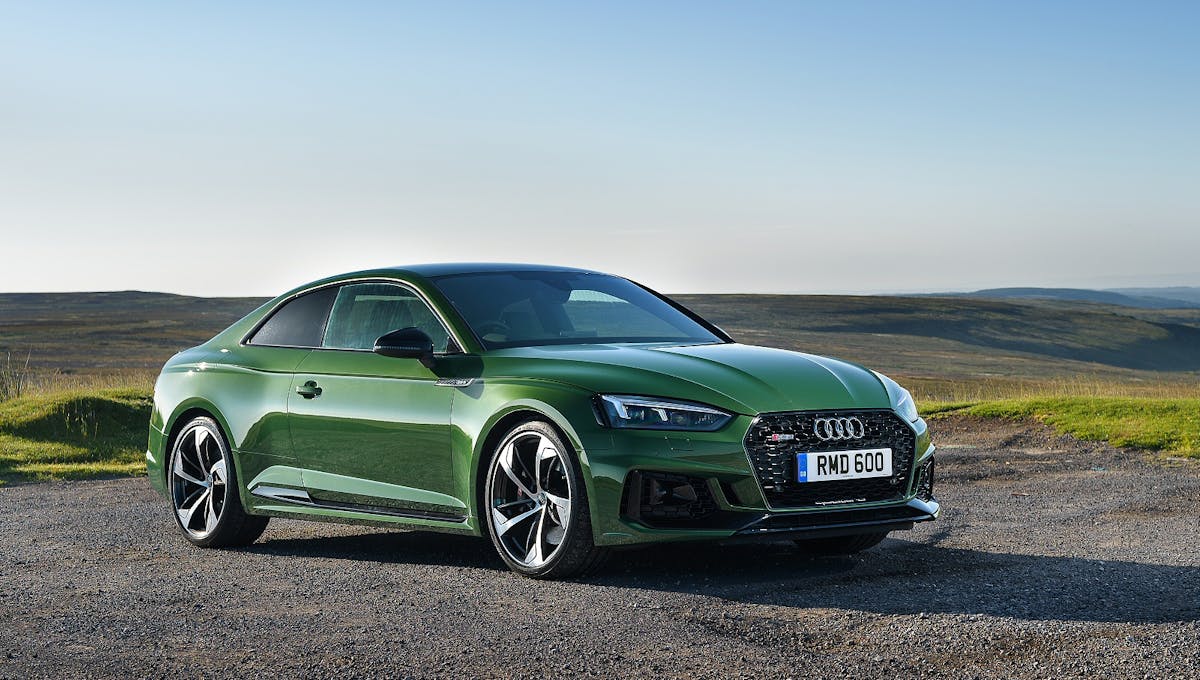 Standing in the middle of the Audi RS performance range, how does the RS5 Coupe square up to its Audi siblings and competitors?
Pros
Chic interior

Incredibly comfortable
Cons
Expensive to buy and run

BMW M4 is more enjoyable
---
Overall Verdict
The Audi RS5 Coupe is a stunning sports car with a top-notch interior. It's just a shame that it lacks the same enjoyable driving experience as its competitors, namely the Mercedes-AMG C63, Alfa Romeo Giulia Quadrifoglio and BMW M4.
One thing the RS5 Coupe doesn't lack is outright pace. Powered by a twin turbo V6 engine and quattro all-wheel drive powertrain - that is shared with the Audi RS5 Sportback - the RS5 Coupe is an all-weather grand tourer that is built for high-speed, long-distance driving.
The high-performance sports car combines exhilarating speed with a luxury interior to create a comfortable ambience in the cabin. Premium features include a 3-spoke flat bottomed, leather steering wheel, heated front sports seats and a state-of-the-art infotainment system that all combine to make it one of the best affordable sports cars on the market.
In terms of practicality, the Audi RS5 is relatively decent for its class. With more boot space than close competitors and versatile seat folding capabilities, you won't struggle to pack a few large suitcases or a couple of golf clubs for a weekend getaway.
With a high-powered engine, it's inevitable that running costs are going to be through the roof. Even though the RS5 Coupe compares well against the BMW M4 and the Mercedes AMG C63 price-wise, the average joe will be looking at the car's MPG and CO2 emissions in disbelief.
All things considered, the Audi RS5 Coupe is a striking car with four-wheel drive capabilities, a ferocious engine and a classy interior cabin. It's a true all-rounder, but unfortunately can't match the outright thrill or enjoyment provided by some of the best small luxury cars like the BMW M4 or Mercedes AMG C63.
Like the look of the RS5 Coupe, but fancy something a little more family-friendly? Check out our alternative RS5 Sportback review. If you're on the hunt for something even faster, our Audi R8 Spyder review is sure to raise a few eyebrows! Feel like something more iconic? Have a browse through our Audi TT Coupe car review.
---
Available Trims
Audi RS5 Coupe
The entry-level RS5 Coupe comes with a whole host of standard features to get excited about. The 19" '10-spoke star' design Audi Sport alloy wheels are ravishing, while the Audi Matrix LED headlights with LED rear lights and dynamic front and rear indicators have the technological prowess to adapt to different situations. The MMI Navigation Plus system gives you the pleasure of both an MMI central touchscreen and Audi's very own Virtual Cockpit system. You can enjoy all this innovative tech from the comfort of your RS Super Sport heated front seats,embroidered in Fine Nappa leather with contrast honeycomb stitching. Tasty.
Audi RS5 Coupe Carbon Black
The mid-tier Carbon Black trim is very enticing. Its glossy carbon black styling pack. The front spoiler, front side flaps, side sill extension and rear diffuser are all bestowed in gloss black. This includes the Audi rings, logos and radiator grille that displays them. You'll also receive larger 20" '5-segment-spoke Evo style' Audi Sportalloy wheels in - yes, you guessed it - glossy black.
Audi RS5 Coupe Vorsprung
The Vorsprung trim is the mac-daddy of the RS5 Coupe range. In addition to the RS5 Coupe spec, the Vorsprung offers matrix LED headlights with Audi laser light that has twice the reach of conventional LED high beams. Sticking to the theme of LED lights, the interior cabin also gets an extended, multi-coloured LED interior lighting pack to go alongside the slick panoramic sunroof. You'll also have access to Audi's driver assistance 'Tour Pack', which offers a range of convenient systems like Adaptive Cruise Control, Park Assist and Audi Pre-Sense. If you love banging out the tunes, you're in for a treat thanks to the integrated Bang & Olufsen 3D Sound System.
---
Exterior
You can tell the Audi RS5 apart from its Sportback equivalent by its wider wheel arches and more dominating bumpers.
The wheel arches are 15mm wider than the standard A5 which plays its part in hiding the fatter wheels and twin oval exhaust pipes. Inspect the bonnet and you'll see a silhouette of symmetrical contours with hypnotical appeal.
Honeycomb seems to be an ever-present theme for the RS5. The front end of the car is dominated by the wide single-frame honeycomb grille, where ventilation slits above it are reminiscent of its 'big brother' - the classic 1984 Audi Sport quattro.
It certainly doesn't look out of place when lined up next to alternatives such as the Mercedes AMG C63 and the BMW M4 which is partly down to the standard aluminium styling pack that features distinctive matt aluminium details throughout including the iconic four rings that command the front end.
---
Driving Experience
Pitted against similarly priced rivals, the Audi RS5 Coupe lags behind in terms of outright performance. Saying that, there's no doubting that the Audi RS5 will put a huge grin on your face once you stretch its legs.
---
Engine
Compared to it's more subdued family members, the Audi RS5 Coupe boasts a monstrous high-powered engine.
Available in one petrol output, the 2.9-litre (444bhp) TFSI quattro 8-speed tiptronic automatic gearbox certainly has some bite. The RS5's motor gets an additional turbocharger which gives it the oomph to overpower the S5's 3 litres despite being a smaller unit.
The RS5 also shares its V6 petrol engine with the highly regarded Porsche Panamera 4S. The engine feels much more involved in lower revs compared to the previous V8-powered unit the RS5 used to store.
---
Performance
Rev the V6 engine hard, and you'll benefit from the RS5's peak performance. Thanks to Audi's quattro four-wheel drive system, the rejuvenated Coupe has the ability to go from 0-62mph in 3.9 seconds. Despite reaching an impressive top speed of 155mph, the RS5 never feels as nippy as the Alfa Romeo Guilia Quadrifoglio, BMW M4 or Mercedes AMG C63.
The 8-speed automatic gearbox behaves well when you're driving at low speeds, but there's a delayed response when you ask it to burst into life. Despite the delay, the RS5 Coupe is up there with some of the best automatic cars around!
---
Handling
Once you get the RS5 Coupe on a straight stretch of road, you'll unleash its true capabilities. It's quick and responsive and even manages twisty roads with no major issues.
The four-wheel drive system ensures that the RS5 Coupe is always in control despite the unpredictable weather conditions thanks to its tremendous grip.
Put the car into Dynamic mode on the Audi Drive Select system and the RS5 turns into a different beast. The automatic gearbox responds faster, holds onto gears for longer as well as letting everyone know it's a true sports car with its growling engine noise from the optional sports exhaust. However, the novelty wears off pretty quick when the drone noise drowns out the music.
In Dynamic mode, steering becomes even heavier than the already weighted Comfort mode. This makes 3-point turning on a busy street an absolute mission and getting out of a busy supermarket car park an even bigger chore. All the RS5 Coupe's competitors steer with more conviction thanks to their rear-wheel drive powertrain, but on a lovely summer's day, the traction you get out of corners from Audi's quattro system is unbeatable.
---
Suspension
The entry-level RS5 Coupe comes with RS Sport suspension as standard. It does a great job of adjusting to different road conditions by harnessing power through its dynamic handling.
If you pay an additional £2000 (standard on Vorsprung trim), you'll receive the RS Sport Suspension with Dynamic Ride Control adaptive dampers. This gives you the option of switching between either Auto, Comfort or Dynamic mode. Comfort is a softer, more relaxing choice, while Dynamic is a lot stiffer and firmer which makes it the golden ticket for the racetrack. Auto mode provides favoured equilibrium between comfort and body control.
Compare Deals
---
Compare deals from over 42 brokers
Find a great deal in under 1 minute
Comparing car leasing deals is free, fast and simple!