Audi A7 Sportback Review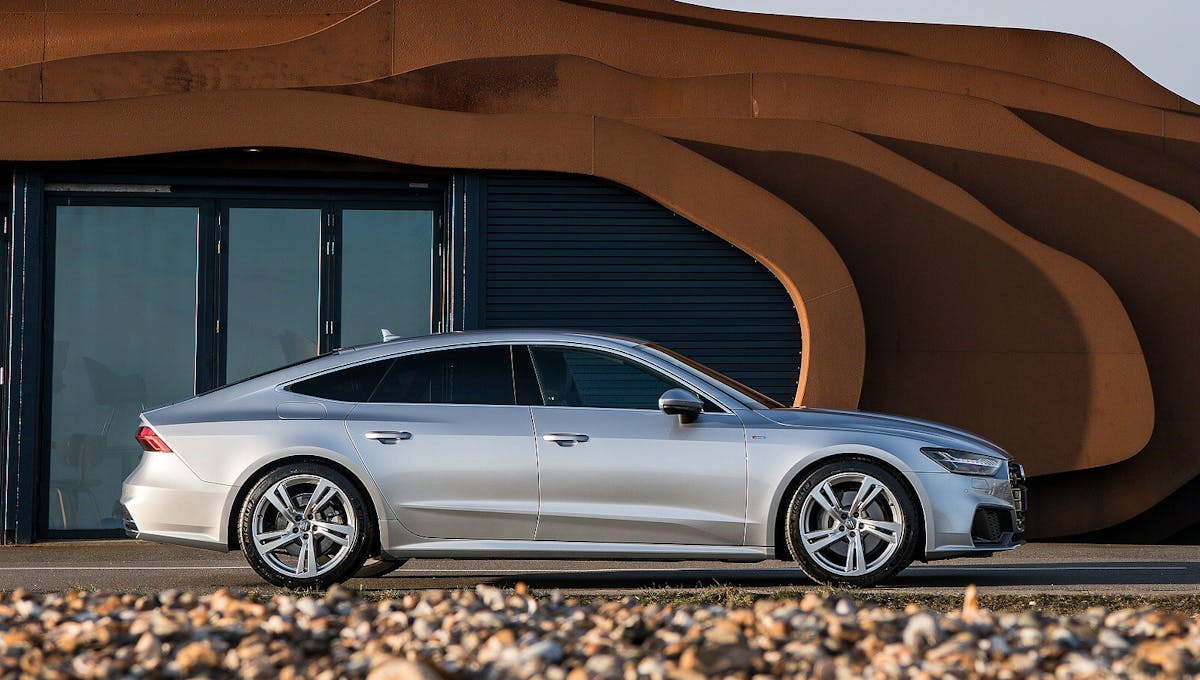 The Audi A7 Sportback combines sporty looks with practicality to offer a superbly enjoyable driving experience. It's 48V mild hybrid system will also improve fuel consumption.
Pros
The interior is incredible

Spacious and practical
Cons
Expensive running costs

Much-needed optional extras (like adaptive air suspension) are expensive
---
Overall Verdict
The A7 Sportback is a stunning car. It offers an executive 'coupe' look without sacrificing practicality. This is the kind of car you can feel good about driving to a business meeting but also feel confident in its ability to conquer the much-loathed school run. In terms of interior quality and styling, it easily competes with the likes of the Mercedes-Benz CLS.
Technology in the A7 is excellent, even on the basic Sport trim. It has everything you could possibly want from a car, and also includes things you didn't know you wanted. The MMI touchscreen infotainment system is excellent, and once you start using the Virtual Cockpit, you'll never go back.
The A7 drives well - it's incredibly comfortable and manoeuvres like a much smaller car. Audi's four-wheel-drive quattro system and an excellent range of engines ensure that you're going to get some nice power out of whatever A7 trim you opt for, particularly with the turbo engines. Every Audi A7 comes with an excellent automatic gearbox, and you've got the choice between a seven-speed or an eight-speed.
All A7 Sportbacks also feature mild hybrid technology, which helps improve the fuel economy. In terms of handling, the A7 isn't the best, and it's certainly not as good as a BMW 6 Series GT. In the A7's defence though, it isn't designed to be a sporty car.
The unique sportback bodystyle has plenty of practicality, with 535 litres of boot space and spacious rear seats offering plenty of headroom.
Running costs are predictably expensive, due to the cars high value and large engines - again though, that's a given if you're looking at a top-range Audi. Overall, the A7 makes for an excellent car - it knows what it is, a luxury executive car, and doesn't try (or need) to be anything else.
---
Available Trims
Sport
The A7 Sport packs plenty of tech, especially for being the cheapest trim. The Sport includes a dual-screen infotainment system, three-zone climate control, LED headlights, 19-inch alloy wheels, cruise control, and much more.
S Line
The A7 S Line comes with a souped-up interior, as well as some extra features. Inside, there's a new leather steering wheel and metal trims on the pedals. The S Line comes with 20-inch alloy wheels, matrix LED headlights, as well as a lower suspension, to make for a more sporty driving experience.
Black Edition
The Black Edition offers pretty much the same tech as the S Line, but with a different look. It still has 20-inch alloy wheels, but with a different '5-double-arm' design. There are also black trims on the car windows and grille.
Vorsprung
The Vorsprung costs quite a bit more than the lower trims, but it's for a good reason. This trim comes with 21-inch alloy wheels, a heads-up display, 360-degree camera (to prevent blind spots), wireless phone charging, an improved Bang and Olufsen premium sound system and much more.
---
Exterior
The exterior of the A7 Sportback will appeal to most drivers. It has the sleek angles of a coupe, but the practicality of a hatchback. It's the perfect compromise between sporty fun and a car that your family can approve of. The design of the sloping "Sportback" roofline is well-executed and it gives the car a distinctive and robust look.
---
Driving Experience
The entry-level model is the 40 TDI, which has a 2.0-litre diesel engine and is equipped with 198bhp. The 40 TDI is the only A7 engine that doesn't come with quattro (Audi's all-wheel-drive system) as standard, but it's an optional extra. Performance is decent on this engine, with a 0-62mph of 8.3 seconds (or 7.0 seconds with quattro) and a respectable MPG of 57.6.
A popular mid-range model, the 45 TFSI offers a nice compromise between performance and price. This 242bhp 2.0-litre petrol engine is excellent, and it can reach 0-62mph in just 6.2 seconds. As expected with a petrol engine, the fuel economy suffers a bit compared to diesel counterparts. Still, with around 40 mpg, it's not too bad at all.
If it's pure performance you're after, consider the 55 TFSI. This option comes with a 335bhp 3.0-litre V6 petrol engine, and it packs a serious punch, going from 0-62mph in 5.3 seconds. With a fuel economy of 39.8 mpg, this isn't the cheapest car to run, but having such a powerful engine requires sacrifices!
---
Driving Position
The driving position on the Audi A7 Sportback is exceptionally comfortable. At a glance, the A7 is low to the ground, but it's not hard to drive. There are very few blind spots in the front and side of the car. Rear visibility isn't the best, due to the sloping roofline. To be fair, with a reversing camera as standard, this likely won't bother you much at all.
---
Handling
The Audi A7 is a big car, so it's surprising that it handles so well. The steering is light, and Audi has a "four-wheel steering system." This means that the rear wheels go the opposite way of the front wheels, making it easier to nip around tight city corners. The A7 is definitely better suited to the motorway than fast country roads, but that can't be used too much as a criticism. The A7 is marketed towards those who want a smooth and comfortable drive - for a sportier drive, the BMW 6 Series might be a better option. For what it is though, the A7 handles well.
---
Suspension
The basic Sport trim has passive springs and dampers, which do the job, but the S line and up have a stiffer, lower suspension that prevents body rolls when driving around a corner. To do this though, you sacrifice a bit of comfort, due to the ride not being as firm. The optional 'adaptive dampers' lets you actually choose how stiff the ride quality it is - if you can afford it, we'd highly recommend it.
Compare Deals
---
Compare deals from over 42 brokers
Find a great deal in under 1 minute
Comparing car leasing deals is free, fast and simple!