Audi Q8 Review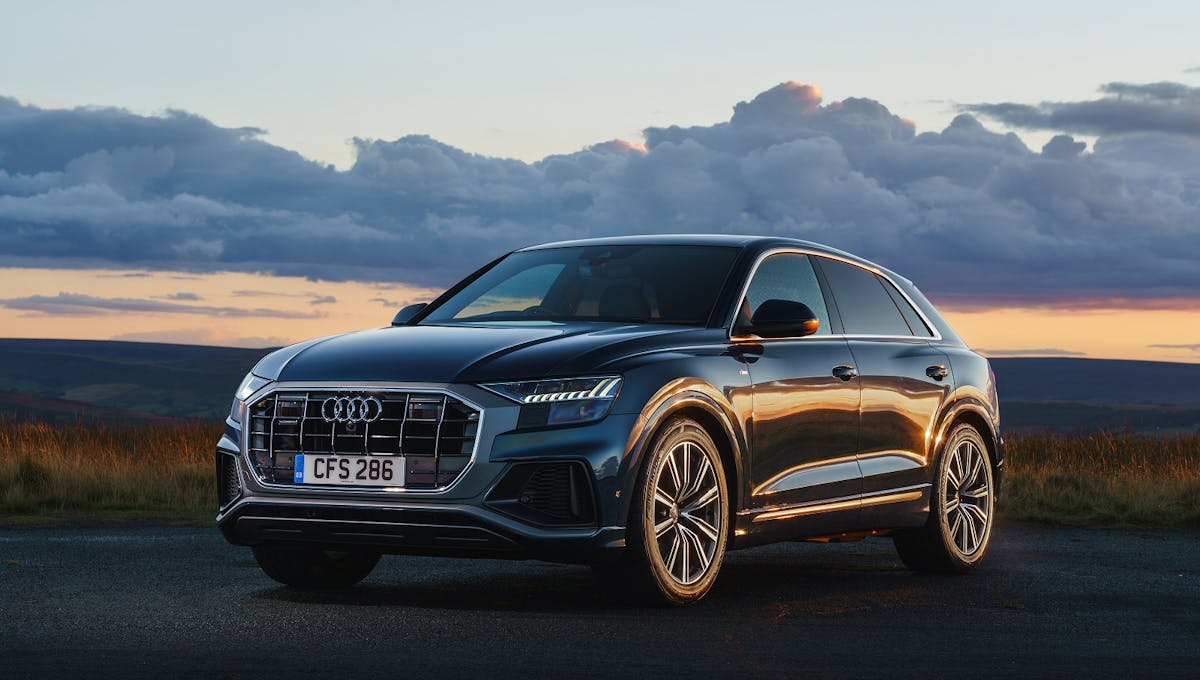 As one of Audi's largest SUVs, you may have been considering it for your next family car. Let our review help you make your mind up!
Pros
Great standard safety features including emergency braking and lane departure warning

Respectable mpg with the 50 TDI
Cons
Automatic gearbox is a little slow to respond

Drivers have to rely on touchscreen with haptic feedback to control the infotainment system while driving, which can be distracting
---
Overall Verdict
When we say the Audi Q8 is an upmarket SUV, we mean it. The range-topping Audi Q8 - that's Q for quattro, Audi's four-wheel-drive system - is also 'Q for quadruple-the-price' of a bog standard SUV. But make no mistake, that abstruse letter 'Q' could also just as easily stand for quality - something that this car has in abundance.
In fact, in a market increasingly saturated with luxury SUVs like the Range Rover Sport, and prestige crossover coupes like the Volvo XC60 Polestar, Porsche Cayenne, and the Lamborghini Urus, the new Audi Q8 still manages to dominate both the best family car and best luxury car classes. It's not going to win any awards for its off-road performance, but its V6 turbo engine and mild-hybrid system make it a competitive choice when it comes down to running costs and there are plenty of high tech features to keep you entertained.
Let us be clear from the outset, if the main thing you're looking for is space, the Audi Q8 probably isn't going to be the car for you. Like the BMW X6 and Mercedes GLE Coupe, this crossover-coupe sacrifices what would be the third row of seats for a shorter overall footprint (Check out the Audi Q7 car review to read about the Q8's big brother). This also means that you've also got less boot space if your intention was to fold down the third row anyway. If the Q8 has previously caught your fancy, chances are you've been ogling that oblique roofline, which also comes at a price - reduced headroom for those sitting in the rear seats (though we'll admit, the Q8 isn't the worst in this department).
Overall however, if you're looking for a car which balances sporty styling with practicality, the Q8 is one of the best SUV cars going. It's more frugal than most SUVs of this size and comes with tonnes of top tech and safety features, both free and optional, like Audi's best-in-class infotainment system and adaptive cruise control.
---
Available Trims
S line
The Q8 S Line may be the cheapest trim on offer, but it doesn't skimp on features. You'll get 21-inch '5-V-spoke S' alloy wheels, HD matrix LED headlights with lighting animations, Audi's Virtual Cockpit with MMI Navigation Plus infotainment system, Valcona leather sports seats and adaptive air sport suspension.
Edition 1
The next step up, the Edition 1 trim brings larger 22-inch '5-twin-spoke' design alloy wheels, a 'titanium black' styling pack, a panoramic glass sunroof, 4-zone deluxe automatic climate control and Audi's Virtual Cockpit Plus.
Vorsprung
Audi's top tier Vorsprung trim is pretty much your home away from home. It comes with 22-inch '5-V-Spoke star' design alloy wheels, all-wheel steering, 'Super Sport' seats in Valcona leather, front seat ventilation, a massage function and a Bang & Olufsen Premium Sound system. What more could you want?
---
Exterior
Audi is well known for its sleek aesthetic and the Q8 is no exception. It borrows much of its design language from sportier cars in the Audi range, including a giant octagonal grille and fierce headlights, which, when combined with its colossal size, is enough to chill the blood of any unsuspecting city car owners.
---
Driving Experience
The Audi Q8 melds the practicality of an SUV with the agility and composure of a sports car.
---
Engine and Performance
The Audi Q8 is available with a choice of two engines: a 3.0-litre V6 50 TDI diesel and 3.0-litre V6 55 TFSI petrol. The petrol engine is naturally quicker, but the diesel makes more sense for most people because of its stronger performance at low revs and its greater fuel economy.
The diesel engine will see you from 0-62mph in just 6.3 seconds and reaches a top speed of 152mph. If that's not fast enough, the petrol version can manage 0-62mph in 5.9 seconds and peaks at 155mph. One major gripe that we have is with the eight-speed automatic transmission that's on each model. It can feel a little slow to respond, which is frustrating when you are trying to overtake.
---
Handling
Considering this is an SUV, it handles surprisingly well. There is minimal body lean through corners, and the Audi quattro all wheel drive setup ensures that there is always enough traction. You can reduce body roll even further with the optional air suspension set to Dynamic mode, but it's never going to disappear on quick, sharp corners. Four wheel steering comes as an option, or as standard on the Vorsprung trim, which can make turn in a bit sharper and will of course reduce your turning circle - particularly useful when you've got a body this large.
---
Suspension
Adaptive suspension comes as standard, and whether you opt for the 21-inch wheels or the larger 22-inch (which comes as standard on Vorsprung trim), the Q8 handles rough roads reasonably well. You will feel a bit of a judder going over potholes or expansion joints but it tackles irregular surfaces with more finesse than a BMW X6.
Compare Deals
---
Compare deals from over 42 brokers
Find a great deal in under 1 minute
Comparing car leasing deals is free, fast and simple!